Zee5 is available in 190+ countries for a premium subscription, however, its Club subscription is only available for Indian viewers.
You see, Club subscription is entirely free to watch for Indian residents and contains extremely engaging content. With the use of a VPN such as Surfshark, we tell you how to watch Zee5 in Canada for free.
With a VPN, you can easily get a Club subscription and then watch its amazing content without paying any money for its premium content.
Also, when you consider the premium content, Zee5 Canada has a different, more traditional interface that isn't as impressive as the Indian Zee5.
If you want to jump straight into getting access to the Indian Zee5 hop over to our quick guide. If you want recommendations for what to watch, keep reading below.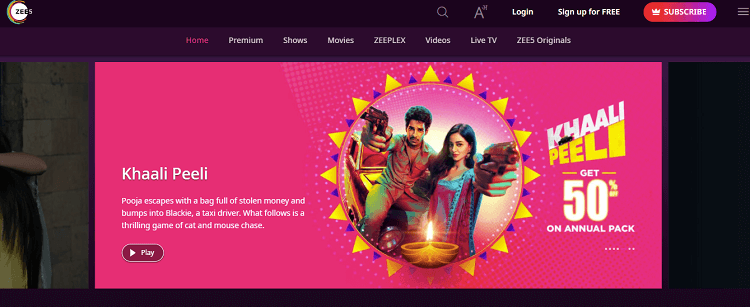 ---
How to Watch Zee5 in Canada With a VPN
As we've said before, if you want to watch Indian Zee5 in Canada, you're going to need a VPN such as Surfshark. Follow this step-by-step guide to get access to the original Indian Zee5:
Step 1: Subscribe to your VPN of choice (We recommend using Surfshark VPN)
Step 2: Download and Install the VPN app
Step 3: Open the app and enter your login details
Step 4: Connect to an Indian server
Step 5: Open the Zee5 website and head over to the free section and enjoy!
---
What to Watch on Zee5?
When you have access to the Zee5 library, navigating all the movies, shows and live streams it has can be right maddening. But don't worry, because we'll help you through this, Canucks!
For those of you looking for a drama with a pointed message, we recommend the female-led Churails, a show that critiques harmful patriarchal norms in Pakistan.
If you want something a tad more light-hearted, we recommend the newly released Atkan Chatkan, a show about underprivileged children pursuing their musical dreams.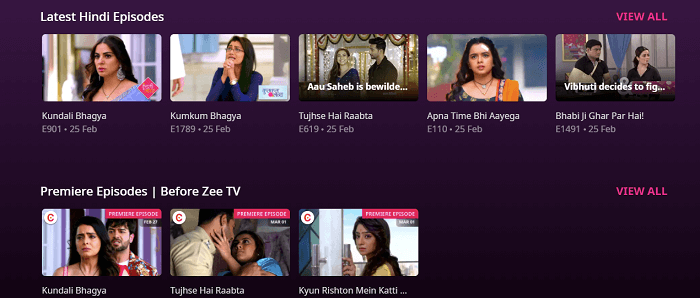 If it's the action you want, Yaara is sure to scratch that itch, with its tale of a group of criminals rescuing their friend from police custody.
Prefer comedy? Check out Cocktail, a Tamil movie about four friends attempting to get rid of a dead body, and ending up in a trickier situation than before.
Some Zee5 originals that you should definitely check out their Ghoomketu, Operation Parindey, and Bamfaad.
---
Our Recommended VPNs to Watch Zee5 in Canada
We've mentioned Surfshark a lot before now, and the reason for that is because out of all the many VPNs we've tested, Surfshark worked best when watching Zee5.
Surfshark is currently the best in affordability, with a 2-year plan that's now being offered for just $2.49/mo.
If you subscribe to Surfshark, you get access to its VPN service across an unlimited number of devices, from your personal computer to your phone.
Surfshark currently has servers in India spanning 3 different locations. And it has over 3,200 servers in a total of 63 countries, so it isn't just Indian content you can gain access to.
This premium VPN also boasts a camouflage mode, preventing even your internet provider from tracking you, as well as a white-lister, allowing you to enable certain services to bypass the VPN.
For proof, we've shown a screenshot of Zee5 accessed without a VPN in Canada, followed by a screenshot of Zee5 accessed with Surfshark set to an Indian server: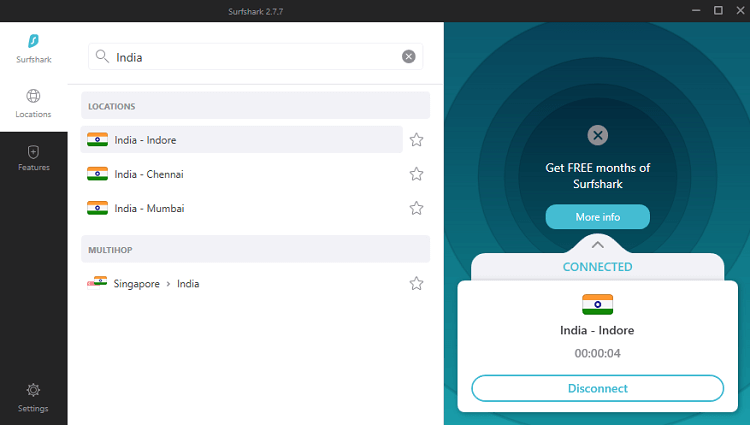 With the help of Surfshark VPN, I was able to stream Zee5 free content from Canada. I was able to stream Dev DD2. Here is the screenshot: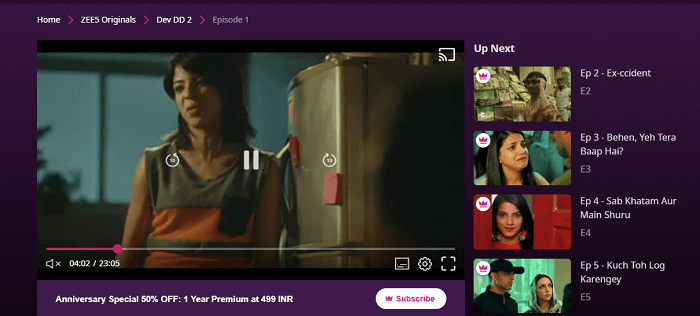 ---
NordVPN
Just like Surfshark, NordVPN also has a special offer on a 2-year plan, though it's at a slightly higher price of $3.71/mo.
This single subscription will allow you to access 26 Indian Servers (of a total of 5456 servers across 59 countries) on the VPN, across a total of 6 devices.
Because there are many different servers available, you can be sure that you won't be disturbed while you watch your favorite Zee5 movies or shows.
NordVPN includes a double-protection feature, changing your IP address twice for added protection, and its CyberSec feature prevents access to known malicious websites and adware.
Just like most of the other VPNs on this list, NordVPN comes with a 30-day money-back guarantee, so you give it a whirl before fully committing to it.
---
ExpressVPN
ExpressVPN comes with a 30-day money-back guarantee and has a 1-year plan worth $8.32/month for those of you looking for a shorter commitment with a low price.
This provider has over 3000 servers across 94 countries, with 3 locations in India.
This VPN comes with an in-built speed test feature, which, with a large number of servers, means you're always getting the best speeds when you stream Zee5 through the VPN.
---
CyberGhost
CyberGhost is a simple VPN and offers an 18-month subscription plan worth $2.75/mo.
Unlike the other VPNs on this list, it provides a 45-day money-back guarantee.
CyberGhost comes with a clean, easily accessible UI; protection from the riskier parts of the internet; and a kill-switch, preventing exposure to harm if the VPN disconnects.
And if that isn't enough, CyberGhost also has servers specifically meant for streaming, so that you always have the best speeds when you want to watch Zee5 originals.
---
IPVanish
IPVanish may be an underdog on this list, but it offers a 1-year plan at $6.49/month, with a 30-day money-back guarantee.
Features that set it apart include 250GBs of cloud storage at SugarSync, which is secured with IPVanish's encryption.
With this subscription, you get access to 1500+ servers across 75+ locations. 6 of these servers are Indian and will allow you to access the Indian Zee5 with no issue.
---
Why a VPN is Needed, and Why Some Don't Work?
Zee5 is based in India, and its regular domain is accessible only in Indian localities. If you attempt to access it anywhere outside, you'll either get an error message or will be redirected to the global domain.
The problem here is that, because of licensing agreements between production companies and service providers, certain content can only be showed within regions that come under those licenses.
If a service provider doesn't attain the rights to show a particular show or movie in a certain country, it will necessarily remove it from the library that's open to that country.
In order to get around this, you would have to disguise your IP address (your identification on the internet), to make it seem like you are within India.
A VPN (Virtual Private Network) does this by mimicking a private network and adding security to your connection to the internet so that you can't be traced.
Once you connect to an Indian server through a VPN, Zee5 will become available as it is in India, with no variations.
We recommended premium VPNs that require paid subscriptions because they are tried, tested, and are known to work with the Zee5 online platform.
VPNs that are advertised as free usually have limited servers, are unreliable, or are cesspools of adware and malignant programs, so it is best to stick to premium VPNs.
Other than free unreliable VPNs, a lot of premium VPNs may not even work properly with Zee5, because the service specifically targets their servers. Thus, the VPNs we recommended are safe options.
---
Related Questions
Can I Watch Zee5 For Free?
You can indeed watch a lot of content for free in Zee5. However, if you want to access everything Zee5 has on offer, you will have to pay for a premium subscription.
Where Can I Watch Zee5?
Zee5 is a browser-based streaming platform, but it also has an app that can be downloaded and installed on tablets and phones, so you can enjoy their content on-the-go.
How Can I Watch Zee TV Online Free?
You can watch Zee TV for free on their online streaming platform www.zee5.com if you're in one of the 190 countries it's available in.
If you are in the US, or another country that it isn't available in, you will have to use a VPN. However, some of the content is locked behind a subscription service you will have to pay for.
---
Other Streaming Services You Can Access in Canada With a VPN
If you tire of Zee5, don't worry, there are other streaming platforms you can access in Canada, for which we have guides, once you have a VPN subscription:
---
Closing Words
A VPN will not only let you access Zee5 as it was originally intended but will also let you browse the internet in peace, without worrying about being traced.
If you get a VPN subscription, the risks of browsing the internet the way you want are less imposing.
The internet as it is today is a dangerous place, with people actively trying to attain your information to do harm, so a VPN may be helpful for entertainment, but it is also a necessity now for security.