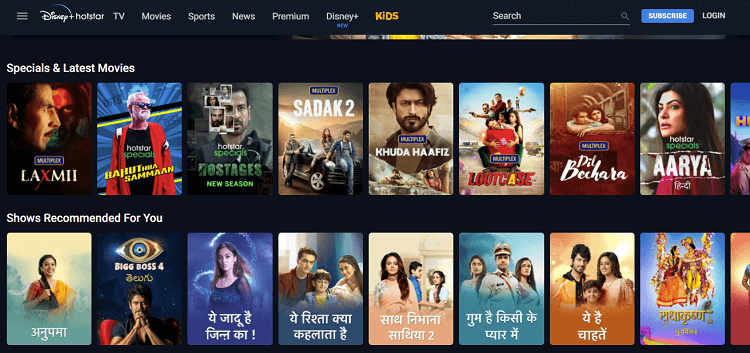 Hotstar is now Disney+ Hotstar and is available in the Canadian region despite being an Indian streaming service. However, the free Disney+ Hotstar content is only available for Indian residents. To watch Disney+ Hotstar in Canada, you need to use a VPN. 
The reason for the unavailability of 'free content' in Indian and not in Canada is because the licensing agreements secured in India do not extend across the entire world, and so some of the content is restricted to only being available there.
So Canucks, if you want to access Hotstar in Canada with no restrictions like in India, you need to use a VPN. We recommend using Surfshark.
If you're in a rush and want to get straight into how you can do this, go to our quick guide. Also, if you'd like to know how to watch IPL for free, follow these steps.
---
How to Watch Disney+ Hotstar in Canada
As said in the intro, you're going to need a VPN to fully experience Hotstar, as Hotstar CA doesn't have the same content. Follow the steps below to quickly get access to Hotstar India:
Step 1: Subscribe to your VPN of choice (Our top choice is Surfshark)
Step 2: Download and Install the VPN app
Step 3: Open the app and enter your login details
Step 4: Connect to an Indian server
Step 5: Open Hotstar India and Sign In with your Hotstar account and start streaming!
Note: As we've said before, Hotstar has both free and paid content. If you want to access the majority of the content on Hotstar, you're going to need to pay for a premium subscription.
When registering, you also have the option to add a Hotstar CA promo code, if you have one, to reduce the subscription fee.
If you already have an account, you can use your Hotstar CA log in on the Indian Hotstar without issue.
---
What are the Best VPNs to Watch Disney+ Hotstar in Canada?
We've tested many different VPNs with the platform, and we've found that Surfshark is the best for streaming Disney+ Hotstar, which is why we've used it in this guide.
Surfshark currently offers the cheapest subscription plan amongst all the highly-rated VPNs, offering 2 years for just $2.49/mo.
Subscribing to this VPN gives you access to it across an unlimited number of devices, from your home computer to your smartphone.
Surfshark currently has servers in India spanning 3 different locations. And with over 3,200 servers across 63 different countries, there are certainly other geo-restrictions you can bypass.
Other features that this VPN has are a camouflage mode, disguising you from your internet provider, and a white-lister, allowing you to select which programs can bypass the VPN.
Below is a picture of Hotstar India accessed using Surfshark (the app is also shown):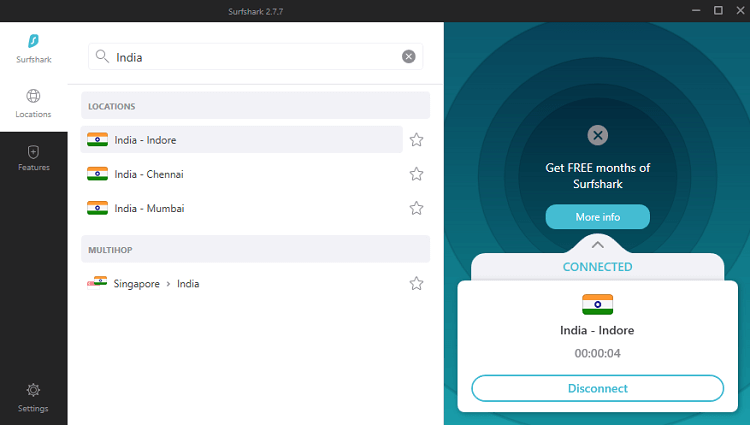 While using Surfshark VPN, I was able to watch Tanhaj Movies. Here is the screenshot: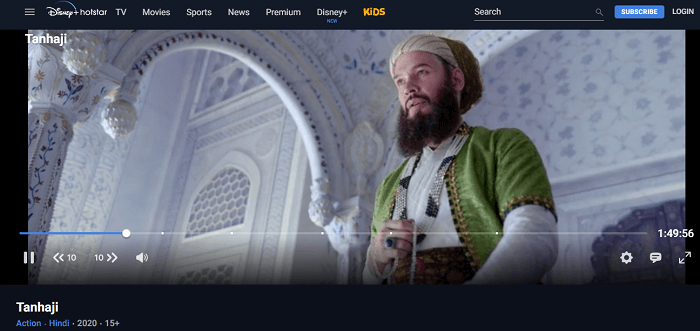 ---
NordVPN
NordVPN, like Surfshark, also offers a special deal on their 2-year plan, with it being at a slightly higher price of $3.71/mo.
However, it does have a larger number of Indian servers, boasting 26, out of a total of 5456 servers across 59 countries, which can be accessed on 6 devices simultaneously.
A large number of servers isn't just for show, it means that you can always be sure that you'll have access to Hotstar through at least one of them.
NordVPN's double-protection feature allows you to change your IP address twice for added protection, and its CyberSec feature prevents access to known malicious websites and adware.
As with most of the other VPNs on this list, NordVPN offers a 30-day money-back guarantee, giving you the chance to try it out before committing.
---
ExpressVPN
With a 30-day money-back guarantee, and a 1-year plan worth $8.32/month, ExpressVPN is perfect for those of you who want a shorter commitment with a decent price.
This provider has over 3000 servers across 94 countries, with 3 locations in India.
ExpressVPN comes with an in-built speed test feature, which means you'll always know which server gives you the best speeds for when you're watching Hotstar.
---
Why you need a VPN with Disney+ Hotstar?
A VPN (Virtual Private Network) uses special private servers to mimic a private network, in order to disguise your IP address, which is how you're identified on the internet.
When you connect to an Indian server in a VPN, Hotstar will assume you're accessing it from within India, so you get access to the local content.
These private servers cost money to maintain, so a VPN that markets itself as free is obviously a little suspicious.
Such free VPNs normally have limited server options, or are riddled with malware and adware, so you're better off sticking with a premium paid service.
The VPNs we recommend have been tested and are known to work with Hotstar, while some other premium VPNs may not because Hotstar specifically blocks them.
---
What Can You Watch on Hotstar in Canada?
Hotstar tv series, movies, and live streams makeup thousands of hours of entertainment and are sure to keep you busy during the pandemic. But the sheer volume can be a bit intimidating.
That's why we're going to list some of the best things Hotstar has to offer to get you started, or maybe rekindle your interest in the platform.
If you're a hardcore cricket fan, Hotstar has a wide coverage of the Indian Premier League, as well as streams of other sports such as football, badminton, and hockey.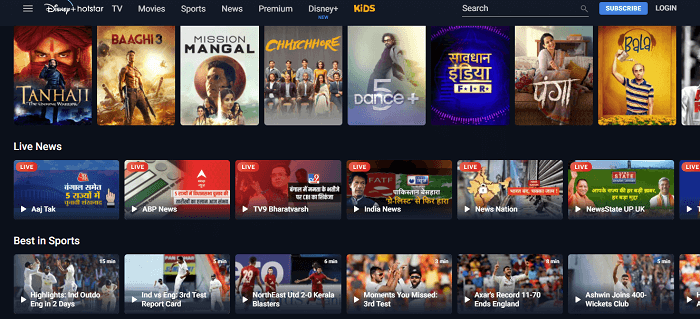 In the mood for a Hindi drama? Panga, a tale of a forgotten female kabaddi champion, and Angrezi Medium, a story of a father struggling to better his daughter's life, are sure to satisfy.
If comedy is what you're looking for, we suggest Written and Directed By, a light-hearted movie about a budding filmmaker, or Yaarian, where five friends try to save their college.
Want a series that you can binge-watch? Check out the Hotstar Special Thriller Hostages, or the insanely popular and long-running Big Boss.
Hotstar also gives you access to big-budget internationally renowned films like Avatar, Avengers: Endgame, or Coco.
English and Hindi, not your first language? Hotstar also has content in Tamil, Telugu, Marathi, and many other languages.
---
How to Watch IPL in Canada for Free
We all know that the Indian Premier League is available for live streaming on Hotstar. But if you don't like to pay for it, then we'll walk you to the easy way out.
Having said that, the process is completely free to watch. This means you need a VPN to hide your IP address if you're watching it from Canada.
You need to use Surfshark VPN as it keeps your online identity completely private. Here's a look at the guides that will help you watch IPL in Canada:
---
Related Questions – Hotstar
Is Hotstar Available in Canada?
Yes, Hotstar is offered in Canada, though its library is limited when compared to its Indian counterpart. We recommend using a VPN to take full advantage of Hotstar in Canada.
How Can I Watch Hotstar for Free in Canada?
Though some content is free on the platform, the majority of it is restricted to premium members. In order to be a premium member, you're going to have to pay for a subscription.
How Much Does Hotstar Cost in Canada?
Hotstar costs C$49.99/yr for a premium membership in Canada.
---
Other Streaming Services to Access in Canada
If you desire to watch similar Indian content in Canada just like Hotstar, here are some of the other options you might like:
---
Closing Words
Though Disney+ Hotstar Canada is a pretty good streaming platform, the Indian version is no doubt superior, and with a VPN you can easily gain access to it.
Not only that, but you also get added security when browsing the entirety of the internet, and it becomes harder for you to be tracked by potentially dangerous agents.
We don't just recommend a premium VPN for Hotstar, but for any time you decide to venture into the depths of the internet.