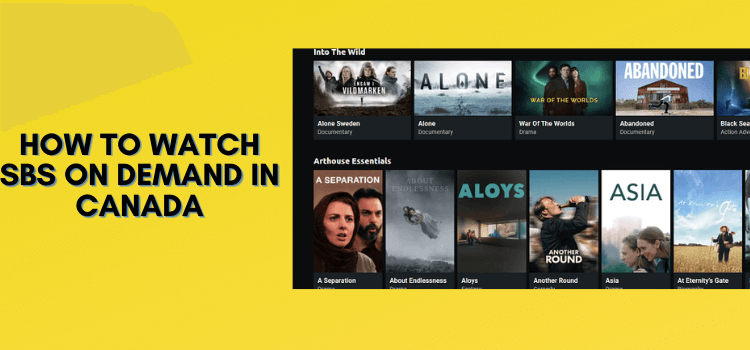 SBS On Demand is a free streaming service that offers Free Movies, TV Series, and Live TV channels. However, the service is only available in Australia. The only way to watch SBS On Demand in Canada is with the help of a VPN. 
Whenever you try to open the SBS On Demand from Canada you will get the following message that says:
"Content may be available in your location.
Most of our content is only available to stream within Australia due to publishing rights."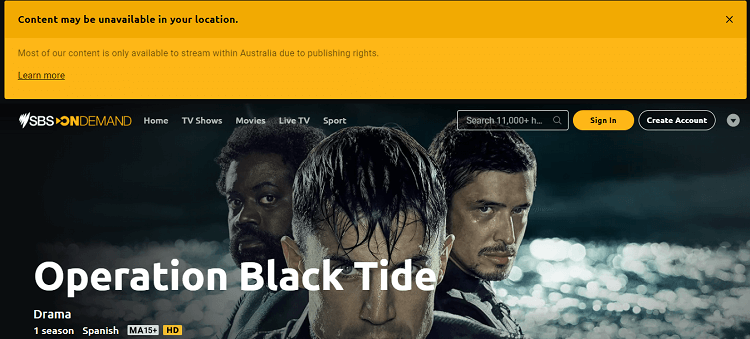 I was able to unblock SBS On Demand in Canada with the help of ExpressVPN (Our #1 choice) and other best VPNs that I've mentioned in this guide.
Our Recommended VPN – ExpressVPN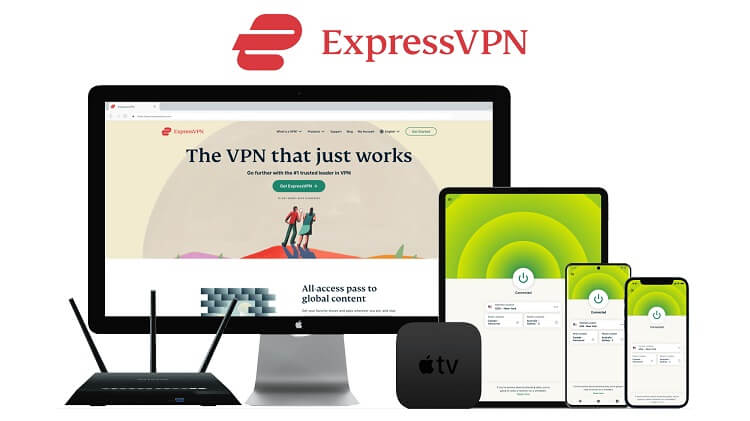 ExpressVPN is our recommended choice when it comes to unblocking SBS on Demand in Canada as it easily bypasses its geo-restrictions and keeps your online identity safe while streaming.
Get yourself ExpressVPN today and enjoy 3 extra months for free. You also get a 30-day money-back guarantee so use all of its features risk-free for 30-days.
---
How to Watch SBS On Demand in Canada
SBS On Demand is a totally free streaming service but it requires you to create a free account before you start watching anything for free.
Also, the only way to watch SBS On Demand in Canada is with the help of a VPN (such as ExpressVPN) because the service is geo-restricted outside of Australia.
Here are the steps you need to follow:
Step 1: Subscribe to a VPN (ExpressVPN is our #1 choice)
Step 2: Download and Install the ExpressVPN app on your preferred device
Step 3: Open the app and connect to the Australian server (e.g. Melbourne)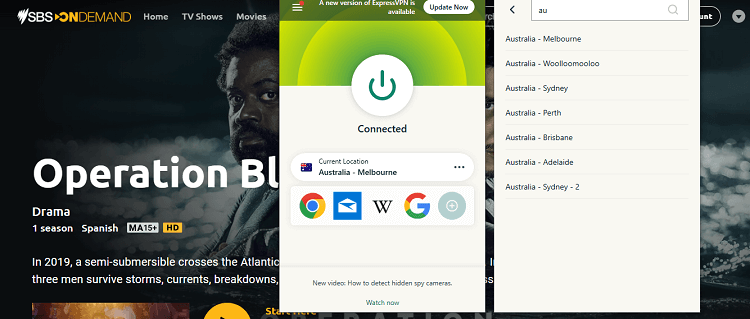 Step 4: Open the SBS On Demand and click on Create Account
Step 5: Enter your details and then click Create Account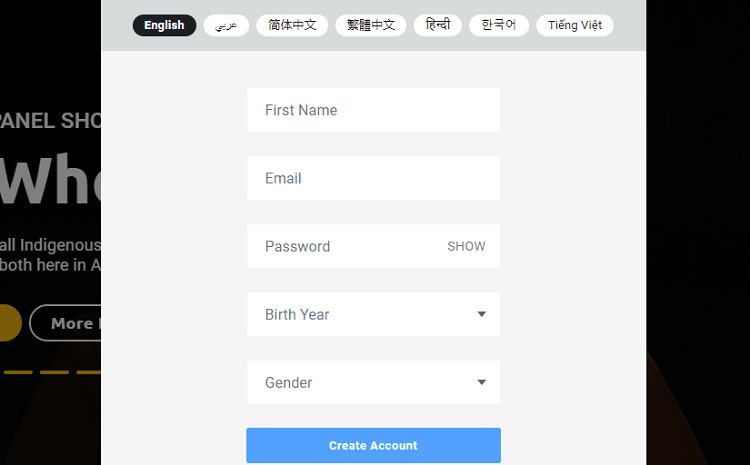 Step 6: Now check your email address for the verification link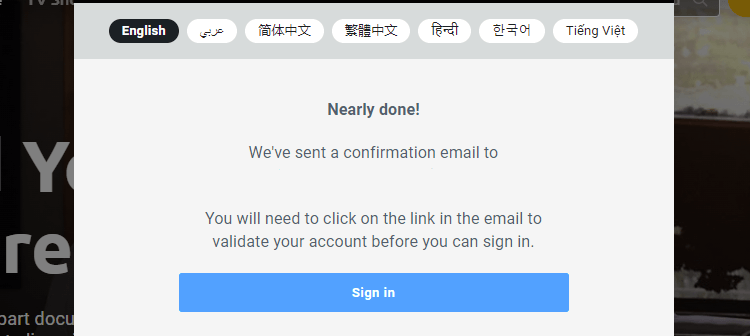 Step 7: Once you verify, it will notify you with a "Your email was successfully verified" message

Step 8: Now go back to the SBS website and enter your email/password and select Sign In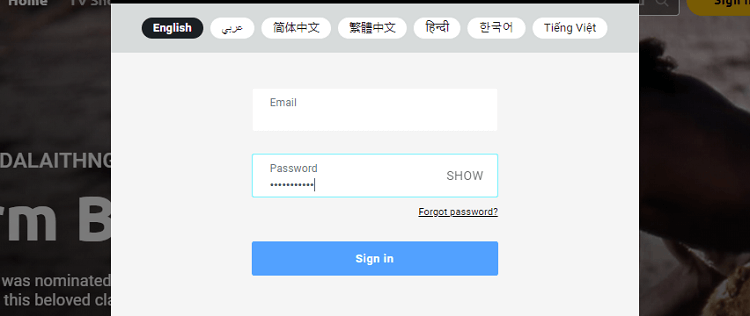 Step 9: Now simply choose a title for streaming e.g. Mohammad Ali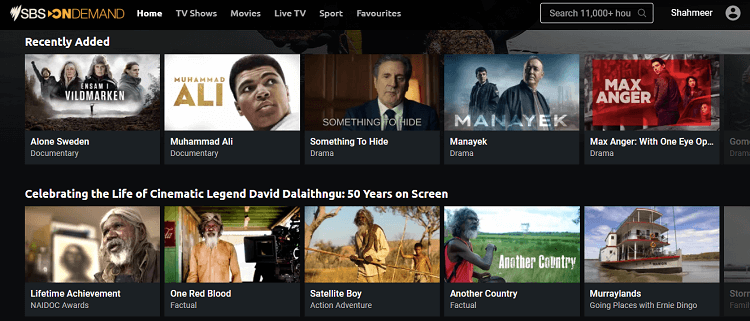 Step 10: Click Play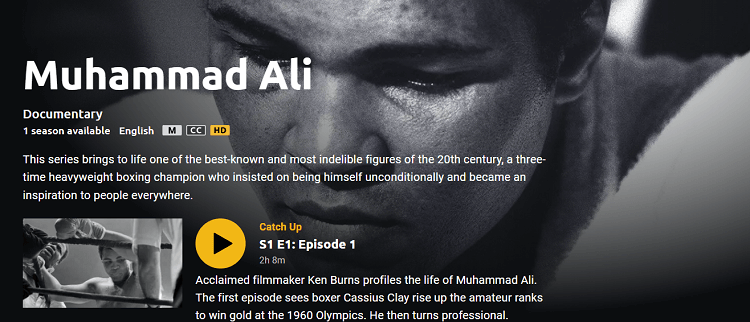 Step 11: Now enjoy streaming!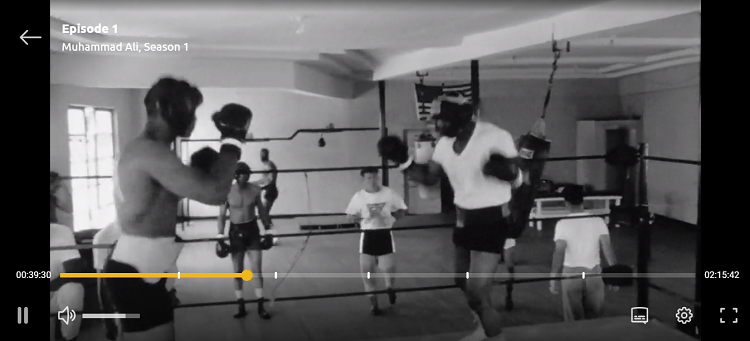 ---
3 Recommended VPNs to Watch SBS On Demand in Canada
We tested about 35+ VPNs to see whether they were able to unblock SBS On Demand in Canada. We suggest using the 3 best VPNs because they were able to bypass SBS On Demand restrictions in just one attempt.
Here's a look at our 3 recommended VPNs to watch SBS On Demand in Canada:
---
1. ExpressVPN
ExpressVPN is our most recommended VPN as it offers over 3000 servers in more than 90 countries. In addition to that, they have servers in 4 cities of Australia alone to unblock SBS On Demand outside Australia.
It has a blazing fast speed (89 Mbps out of 100 Mbps) that prevents any buffering issues while streaming. Its AES-256 bit encryption ensures strong security with a kill switch feature as well. Moreover, it is also possible to connect to more than 5 devices simultaneously with a single ExpressVPN account.
Apart from unblocking SBS On Demand, it also helps you access other streaming services like US Netflix, Hulu, Disney+, and more.
ExpressVPN is available for $6.67/month (3 Months Free). In case you aren't satisfied with its services, you can get your money back within 30 days.
---
2. Surfshark
Streaming outside Australia is best done through Surfshark as it is the second-best VPN after ExpressVPN. There are more than 91 servers in Australia that you can choose from to access SBS On Demand in Canada and more than 3200 servers to access content from around the world.
Similar to ExpressVPN, it has a fast speed too (83 Mbps out of 100 Mbps) and you will never get any of these annoying ads or pop-ups while streaming.
It offers an unlimited number of simultaneous connections on a single account as well as compatibility with several devices to watch shows on multiple devices at once.
With its AES-256-bit encryption and a Kill Switch feature, it protects you against malware, and trackers, and keeps your identity anonymous.
The best part is their 24/7 customer service so you can communicate in case you need help with anything. There is also a 30-day money-back guarantee and its price is very affordable too which is available at $2.49/month.
---
3. NordVPN
NordVPN is also one of our top three recommendations for watching Australian programs such as SBS On Demand. It has more than 190 servers located in 5 cities of Australia, which is incredible. Overall, it has over 5,100 servers in 60 countries.
NordVPN has strong security features such as Double VPN, Mult-Factor authentication, Split-tunneling, and more to protect your online identity.
With NordVPN, you can use 6 devices at the same time with a single NordVPN account. Moreover, this VPN is also affordable at just $3.29/month and you also get a 30-days money-back guarantee.
Lastly, it has amazing customer service with a live chat option 24/7. You can contact them to get help if you are facing any issues.
---
Why do you need a VPN to access SBS On Demand?
Since SBS On Demand is not available outside of Australia, a VPN is required to access the website. Due to licensing agreements and copyright ownership, many websites including SBS On Demand is geo-restricted outside of Australia.
By simply using a VPN, your original IP address is completely hidden and so is your online identity. On top of that, when you connect to any country's server such as an Australian server, you will be assigned an Australian IP address.
Once you are assigned an Australian IP, SBS On Demand thinks you're from Australia and grants you access. Isn't that great? With just using a VPN you could access tons of content by just connecting to a server.
There are plenty of VPNs in the market, but we only suggest the ones that have fast speed so it doesn't cause any buffering issues like other VPN does.
---
What Other Benefits Does VPN Provide?
It is safe to say that using a VPN comes with a lot of benefits other than just "breaking" into different websites.
Firstly, VPNs are designed efficiently to protect users' privacy. You can be confident to browse the internet knowing that VPN will keep your sensitive information secure.
It uses military-grade encryption to encrypt your data, creating a barrier between your activities and a third party's access to it.
Apart from that, it blocks malware and ads to keep your device safe from prying eyes. It also keeps your network secure whenever you are working remotely or using banking transactions.
---
Does a Free VPN Work with SBS On Demand?
No, free VPNs will not work with SBS On Demand because of their highly capable VPN detection system that will block any free VPN and its IP address that tries to access SBS On Demand.
There are tons of free VPNs out there for our on-budget fellows, but sorry to burst your bubble, free VPNs are not reliable.
Other than that, a free VPN is not recommended even if you are browsing the internet. Often users who use free VPNs complain about bandwidth throttling and slow networks. Well, this is because these VPNs don't offer unlimited bandwidth like paid providers.
Free VPN apps have limited servers but the user count often exceeds their server limitations. Therefore, they often witness slow speed.
Thus, if you want to watch SBS On Demand at a consistent speed, it is better to use a secure VPN app that ensures security and good customer service.
---
Best Shows on SBS On Demand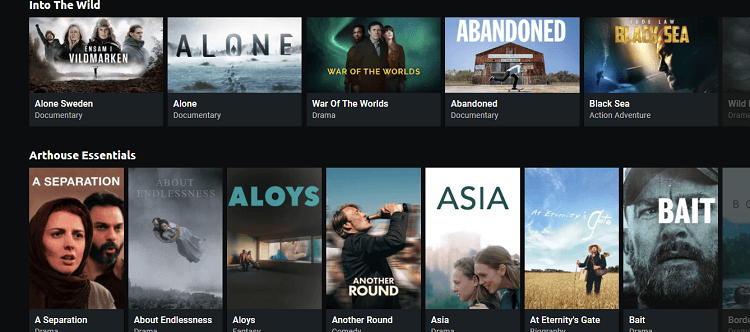 You can have a great time watching some of the most iconic shows on SBS on Demand because it brings you Free Movies, Shows, and Live TV channels (such as SBS, Viceland, NITV, World Movies, Food, etc).
If you're having a hard time looking for something light and breezy, here's a list of shows that are definitely worth a shot!
Operation Black Tide
Interns
Peer to Peer
Seizure
New Girl
Broadchurch
Mercedes
Faking Hitler
Road Open
The Stranger
True Colors
Suspect
The Act
Son of
Don't Leave Me
Aquarius
Shoresy
Mister8
Trom Traitor
Family
Inked
You Shall Not Lie
Limetown
Vienna Blood
Riviera
The Bridge
Mary Kills People
The Runaway
A Class Apart
---
How to Install SBS On Demand App on Mobile
Step 1: Subscribe to a good VPN service (We recommend using ExpressVPN)
Step 2: Download and Install the ExpressVPN app on your preferred device
Step 3: Connect to the Australian server (i.e. Melbourne)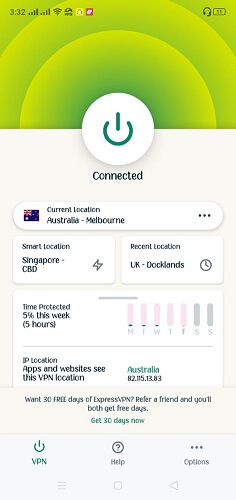 Step 4: Now download SBS on Demand APK from this link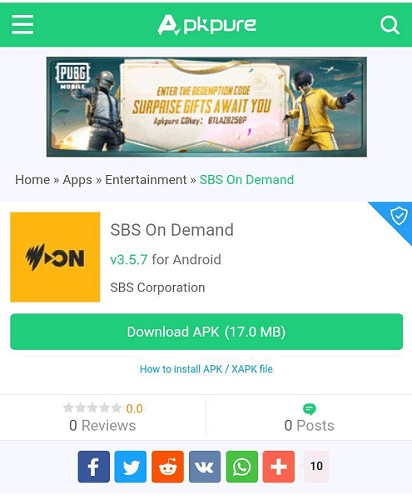 Step 4: Once installed, click Open and go to SBS on Demand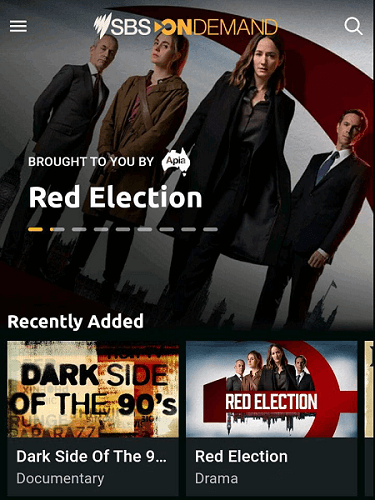 Step 5: Enjoy watching your favorite shows on SBS on Demand!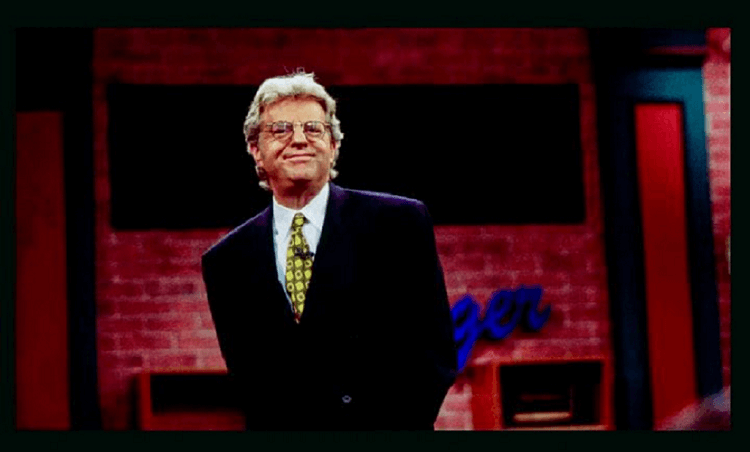 ---
Other Streaming Services to Watch in Canada
You can watch so many other streaming services in Canada with the help of a VPN. Here are a few of these services:
---
FAQs – SBS On Demand
Why is my SBS On Demand not working?
If you have a digital TV or set-top box, you will have to rescan/retune it. Enter the frequency of your area's SBS transmission to scan manually if the automatic scan does not work. Check the antenna system's age and condition, including cabling and connections, if the problem persists.
Can you google chrome SBS On Demand?
SBS On Demand supports Chromecast on both iOS and Android devices.
Is SBS On Demand Free?
There is no charge for SBS On Demand. Accessing SBS On-Demand and other SBS services can be accomplished by creating an SBS account – it's fast, free, and easy. Australia's shows are free to watch, so you do not need to pay a cent to enjoy them.
How do I install SBS On Demand on my TV?
Enter the 6-digit code shown on the TV screen into your mobile device or desktop browser (don't use the TV). Register with your credentials or log in.
---
Conclusion
It is free to watch SBS On Demand, but only Australian users have access to it. You would receive a message saying the video is unavailable in your region if you attempted to access the video outside Australia.
Only through a VPN, you can watch SBS On Demand in Canada. You can watch shows and programs on the Australian server by using the VPN. You won't have any problems watching these shows and programs.
The SBS On Demand service is accessible from any internet-enabled device and is easily accessed through a web browser. Just connect via VPN and you can enjoy Australian television. Using ExpressVPN, you can unblock the SBS On Demand In Canada.