SonyLIV is only available in Indian and some parts of Asian countries but not in Canada. You can watch SonyLIV in Canada with the help of a VPN.
SonyLIV offers both free and premium content, but if you try to access SonyLIV website in Canada, you will be greeted with the message saying:
"We miss you too! Look like we are not here yet. Our services are not available in this country."

Even when you bypass geo-restriction with a VPN, you will still need an Indian Phone number and enter the verification code within a minute.
If you already have a SonyLIV subscription or you have an Indian relative that could assist you with an Indian phone number and verification code, only then you can access SonyLIV in Canada.
This service is also available on Sling TV but that service isn't available in Canada too. So, the only way we can access SonyLIV in Canada is with a VPN and that is what we will be discussing in this guide.
Surfshark VPN is our recommended choice as we have experimented with it ourselves and we will be showing it to you with screenshots.
---
How to Watch SonyLIV in Canada with a VPN

Here are the easy-peasy steps that you need to follow and unblock SonyLIV in Canada and join the bandwagon with your friends living in India.
Step 1: Subscribe to a VPN (Surfshark in our #1 choice)
Step 2: Download and Install Surfshark VPN on your device
Step 3: Open the app and connect to the Indian server (e.g. Indore)
Step 4: Go to the SonyLIV website and it will ask you to either enter your local Indian phone number OR Sign In with an email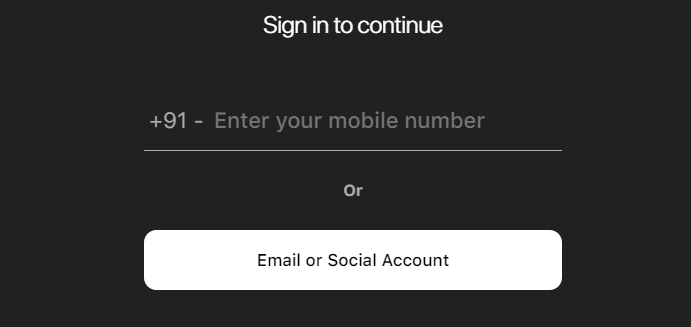 Step 5: Enter an Indian Phone number and then enter Verification Code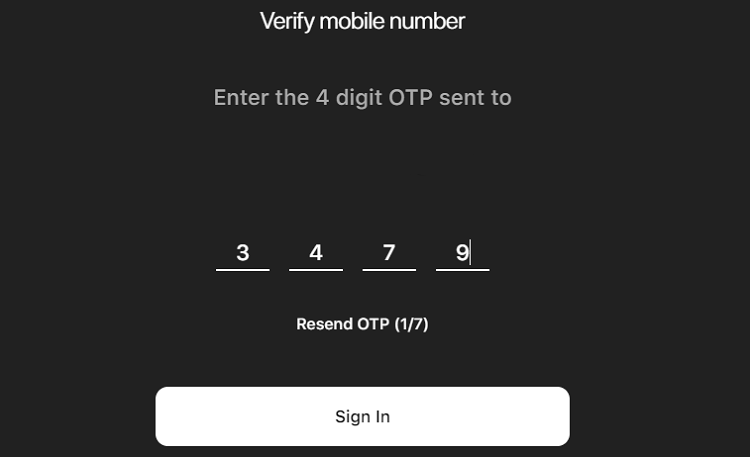 Step 6: Once you're done with registering, you can scroll down to find free content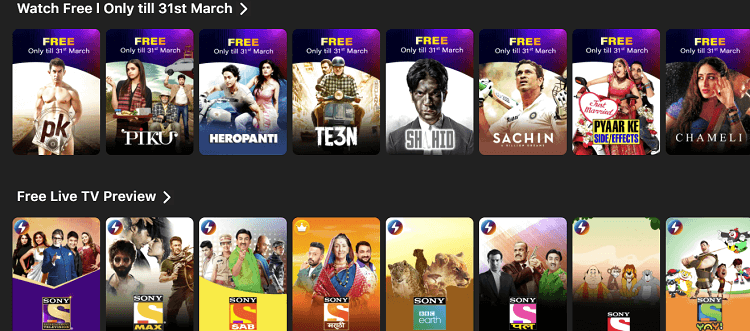 Step 7: Now start streaming!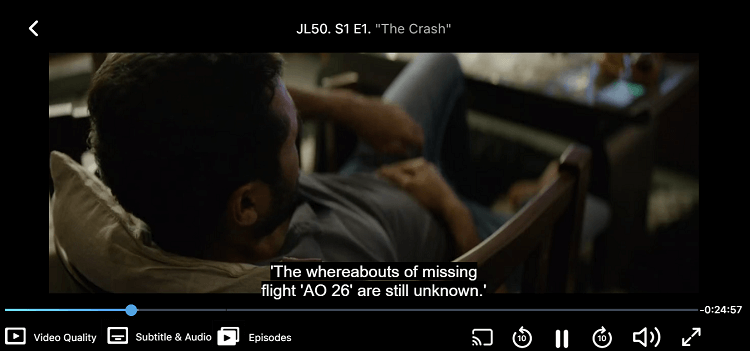 ---
Why Do You Need a VPN With SonyLIV?
It's all the game of geo-blocking. Basically, SonyLIV is an Indian entertainment channel and anyone who tries to watch SonyLIV outside India gets blocked automatically.
SonyLIV is continuously monitoring your IP address and location, so whenever it detects that you are available in Canada or the US, or anywhere where their service is not available, they prevent you from seeing their content.
This is why you need a VPN so you could disguise your IP address and original location. If you connect to an Indian server of a VPN, it assigns you with an Indian IP address.
SonyLIV then thinks you're available in India and grants you access. A VPN allows you to bypass geo-restrictions so you can watch Indian content on SonyLIV.
---
Unblock SonyLIV with These THREE Best VPNs!
After carefully running the VPNs through multiple tests, we can safely say that the best three VPNs will make your browsing entertainment beyond borders super easy and fun.
Our three best VPNs include:
The reason why we chose these 3 best VPNs is because of these criteria:
Helps you unblock streaming services from anywhere in the world.
Offers great privacy and security
Reliable connection combined with high speed- a deadly combination!
Allows unblocks Indian Zee5 and Disney+ as well as other popular streaming services like Netflix, HBO Max, ABC, and Hulu in Canada. Amazing, right?!
Services available on many other platforms like Chrome, Firefox, Android, iOS, macOS, Windows, Linux, or Fire TV. You name it and they have it!
Last but not the least, customer support staff to help you when you feel lost!
We hope that now you know about the criteria based on which we are recommending these three VPNs to help you watch SonyLIV in Canada, let's get into more detail.
---
1. Surfshark
Surfshark VPN is our recommended VPN when it comes to unblocking SonyLIV outside India. It has servers in 3 major cities of India i.e. Indore, Mumbai, and Chennai.
It has an affordable price which is available for only $2.49/month and it gives your 30-days refund policy. With a single account, you can connect to an unlimited device at the same time as well.
It offers a lot of features like Camouflage Mode, MultiHop connection, blocks ads and malware content, and a fast connection speed. I was able to access SonyLIV in Canada in a single attempt.
---
2. NordVPN
NordVPN also makes it in our list of best VPN for SonyLIV because of its vast amount of Indian servers. From a total of 5,400 servers, NordVPN has 30+ servers in 2 Indian cities.
Be it security of data, protection of privacy, speed, bypassing geo-restrictions, or affordable pricing options, NordVPN offers everything.
In addition to the features above, the 24/7 customer support, 6 multiple device connection, dedicated and masked IP features among many others make it our favorite.
NordVPN price is affordable too ($3.71/mo) but not as affordable as Surfshark. However, it does offer a 30-day money-back guarantee as well.
---
3. ExpressVPN
What we love about ExpressVPN is that besides the regular features, its advanced encryption and fast speed adds beauty and worth.
With an option to choose from 160 VPN server locations in 94 countries, you can watch and stream content from anywhere in the world. It has servers in Chennai and Mumbai which helps you unblock SonyLIV in Canada.
Spectacular, isn't so? Let us tell you more. The advanced feature we were talking about is the network lock feature that keeps your data protected even if a VPN connection drops. It runs an own private DNS server to make your connection safe and never uses your data or transfer it, at any cost!
Moreover, public WiFi protection, speed test, blogs, and how-to guides feature simply add to making it the most loved and trusted VPN, ever! It is available for $8.32/month.
---
How Much Does SonyLIV Cost?
Knowing how easy it is to watch SonyLIV in Canada using a VPN, you must be tempted to get a SonyLIV subscription.
We are here to make things easy for you so without further delay, let's discuss pricing and packages offered by SonyLIV.
SonyLiv WWE network plan – INR 299/year
If you are a WWE freak, this one is for you! This plan offers live WWE events and unrestricted access to ENTIRE WWE LIBRARY! Yes! This also includes exclusive WWE series, documentaries, and biographies, offline downloads, and is five-profile compatible.
SonyLiv Special plan – INR 199/year
Provides access to only live entertainment channels, there is live sports preview up to 10 minutes, blockbuster Indian movies will be there with kids' content, offline download for five profiles but a single screen. But this one comes with ads.
SonyLiv Special+ plan – INR 399/year
Provides access to only live entertainment channels, there is live sports preview up to 10 minutes, blockbuster Indian movies will be there with kids content, offline download for five profiles but a single screen. Oh and NO ADS!
SonyLiv Premium plan – INR 299/ month — INR 699/ six months — INR 999/ year
SonyLIV premium offers Sony Liv original TV shows and movies, the latest international shows, all the live sports and TV channels, live events of WWE, hit Indian movie, kids content, no ads with offline download for five profiles and up to two screens.
---
What are SonyLiv Compatible Devices?
Smart devices have made life easier and more fun. With streaming getting popular day by day, smart devices left no stone unturned to be compatible with all the streaming services, in our case SonyLIV.
SonyLIV compatible devices are:
PC
Mac
iPhone
iPad
Android
Sony Bravia
Google Chromecast
Android TV
---
Shows and Movies You Can Binge-Watch on SonyLIV
SonyLIV offers both free and premium content. However, you need to sign up with a local telephone number to watch the free content.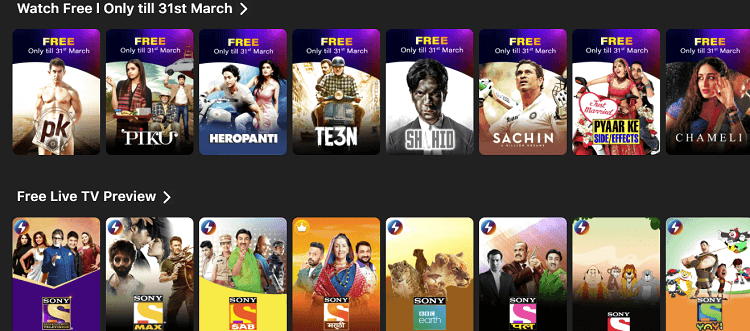 Here is a list of content that you may love watching:
Project 9191
The Kapil Sharma Show
Taarak Mehta Ka Ooltah Chashma
Scam 1992
Shrikant Bashir
Sandwiched Forever
Undekhi
Avrodh
Married Woman Diaries
Just get a VPN to unblock SonyLIV in Canada, grab some popcorn, and trust us, social distancing in current times won't seem so difficult anymore!
---
Other Indian Streaming Services to Watch in Canada
There are other Indian streaming services that you would want to watch in Canada with the help of a VPN. These are:
---
FAQs – SonyLIV
Does SonyLIV work outside India?
With VPN, yes you can watch SonyLIV outside India. You also need a local Indian phone number as well to register with the service.
Is VPN Legal for use in Canada?
Yes, without a shadow of a doubt, VPN is legal for use in Canada. You can watch SonyLIV in Canada using a VPN and no one from Royal Canadian Mounted Police (RCMP) will come after you.
Is SonyLIV free?
Yes and No. SonyLIV does offer some free content to watch, but it also has a premium subscription that you need to watch all of its content.
---
Final Thoughts
SonyLIV offers the kind of content that no one wants to miss. Not being able to watch it because of geo-restrictions can make one definitely sad, after all, entertainment should be beyond borders.
But, with the use of VPNs, you can easily watch SonyLIV in Canada, which we have extensively discussed in this guide for you.
VPN not only offers protection, security, privacy but opens doors to let you enjoy movies, shows, and TV series, no matter where in the world you are.
We hope our guide helped you and in case you have any questions, leave a comment below and we'd be happy to help you out!