Spike TV, now called Paramount Network is only available in the United States. To watch Paramount Network in Canada, you need to provide a valid US TV Cable Provider login (which isn't possible for Canucks).
Another way to access Paramount Network in Canada is with YouTube TV, FuboTV, and Philo.
Because whenever you try to access Paramount Network from outside the US, you will see a message appear that says:
"This content is not available in your region"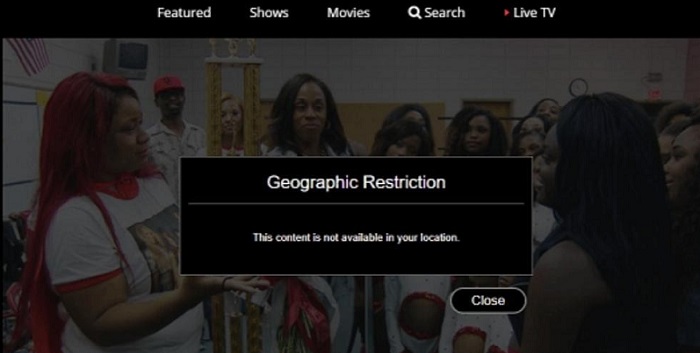 In this guide, I have discussed the 3 best ways to watch Paramount Network in Canada and have mentioned steps as well. We will also help you decide which option suits you best.
---
3 Best Ways to Watch Paramount Network in Canada
You can live stream Paramount Network with an active subscription to Sling TV (via Sling Blue), Philo, fuboTV, AT&T TV NOW (via the Max package), or YouTube TV.
All of these streaming services are unavailable in Canada as well. However, with the use of a VPN (keeping Surfshark as an example), we can manage to unblock these services from within Canada.
I will be discussing the following 3 best ways to watch the Paramount Network channel:
---
1. Watch Paramount Network with YouTube TV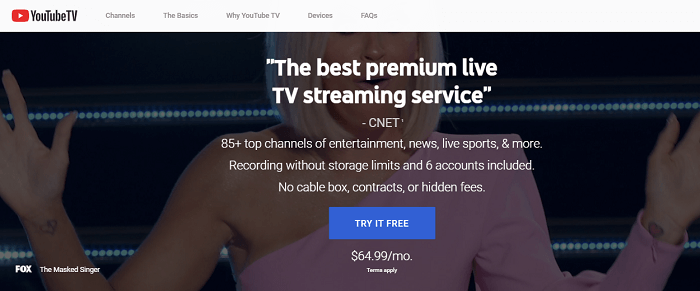 To everybody asking if YouTube TV includes Paramount network or not, it's a 'Yes. It does include the Paramount network. Rather, the Paramount network is a part of the YouTube TV package.
YouTube TV has always kept things simpler and offers a single package for all 85+ channels. It will cost you around $64.99 per month.
Including Paramount Network, you will get 85+ channels on Youtube TV such as FoxSports, ESPN, Food Network, CNN and HGTV, etc.
YouTube TV offers support to almost all the major streaming devices in the market today. These devices include iOS, web browsers, Amazon Fire TV, Roku, Android, and Chromecast, etc.
YouTube TV allows 3 simultaneous streams and there is no other way to add up more streams in this.
One of the major reasons why YouTube TV is best in the business is that it allows you to save unlimited content for up to 9 months. After this duration of 9 months, your previously saved recordings will automatically be deleted.
YouTube TV allows you to watch plenty of past seasons, recent episodes, as well as movies from all the 85+ channels as per your subscription.
---
2. Watch Paramount Network With Philo

As compared to the rest, Philo is a bit newer internet TV service. It has a major focus on entertainment as well as lifestyle content. It is also one of the best options to consider while looking for a cable alternative in order to stream Paramount Network in Canada.
Philo comes up with offering only a single package of the channels. It will cost you around $20 per month. It has 61 lifestyle channels as well as entertainment-focused channels.
Paramount network is also included in this. As there is no contract, you are able to cancel your subscription at any time you want. For $9 per month, you can add Starz, and for $6 per month, you can add Epix as an additional channel.
With Philo, you will not get the streaming of Paramount Network In Canada, but so many other well-rounded networks including food network, DIY network, and lifetime.
One point to remember is that Philo is not offering any of the local broadcast stations such as ABC, NBC, or fox. It also does not include any sports channel.
Philo is now offering its support for the Apple TV, iOS, Roku, and Amazon Fire TV. Recently, it has also offered support for tablets as well as android phones.
Philo allows up to 3 streams at the same time. Without upgrading, it is more than AT&T TV and is equal to that of simultaneous streams of Sling blue, but at a lower price.
Philo also provides you a free DVR for 30 days. Thus, if you want to save plenty of content from the Paramount Network in Canada, Philo can be your choice. Because with Philo, you can save shows for 30 days and this feature is not there in AT&T TV Now and Sling TV.
---
3. Watch Paramount Network with FuboTV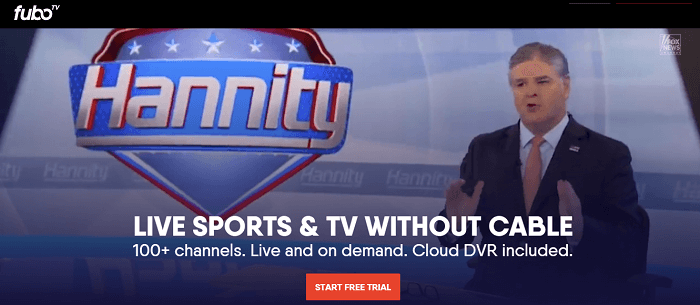 Initially founded as a sports-oriented streaming service in the year 2015, FuboTV has now become a well-known cable alternative in recent years. Thus, it is a good option to watch Paramount Network Streaming on FuboTV.
In order to watch Paramount Network Without cable, you need a really affordable package of FuboTV with a price of $64.99 per month. Any package with more price will come up with a few extra channels as well as extra features.
Including Paramount Network, FuboTV has 80-100+ channels such as TNT, FX, TBS, AMC as well as plenty of lifestyles, sports, and news channels.
Except for gaming consoles, FuboTV has device support for almost all the major streaming devices. So, you are free to stream your web browser, Android, iOS, Amazon Fire TV, Roku, and Chromecast, etc.
On default mode, FuboTV allows 3 simultaneous streams at one time. However, if you have a $9.99/month add-on package, this limit can be boosted up to 5 devices. You can also choose to upgrade to the Elite plan in order to stream 5 devices at one time.
By default, FuboTV has 250 hours of DVR. But after upgrading your cloud DVR, or subscribing to an Elite plan, this time can increase up to 1000 hours of storage. For this, you will have to pay $16.99 per month.
---
How to Watch Paramount Network in Canada
To watch Paramount Network in Canada, we'll be using YouTube TV as an example. But since YouTube TV is a US-based streaming service, it is unavailable in Canada.
This is why we will be using Surfshark VPN to unblock YouTube TV and access the Paramount Network channel.
Follow these steps:
Step 1: First of all, you need to subscribe to a VPN service (Surfshark is our top recommendation).
Step 2: Download and Install Surfshark VPN app on the device you prefer
Step 3: Open the app and connect to a US-Server (e.g Boston server)
Step 4: Now, sign up with YouTube TV (14-day free trial)
Step 5: Once signed up, select Paramount Network from the list of channels
Step 6: Enjoy watching content on YouTube TV (Watching Bar Rescue on Paramount)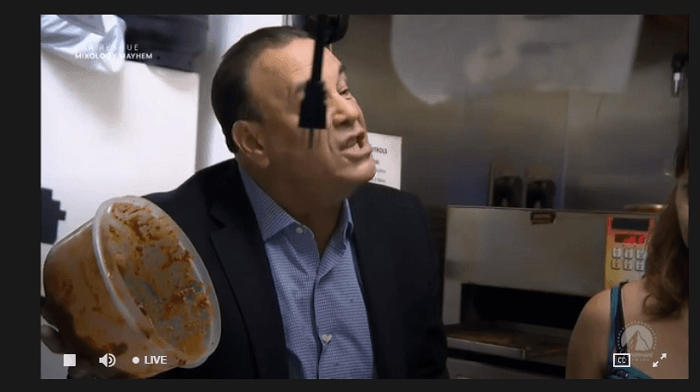 ---
What are the Best VPNs to Watch Paramount Network in Canada?
Here's a list of the best VPNs that help unblock Paramount Network in Canada along with their features.
1. Surfshark
Surfshark VPN is the recommended choice. Whenever it comes to unblocking foreign content not available in your region, Surfshark VPN is our top choice. With 500+ US servers, it enables you to enjoy the streaming of Paramount Network in Canada.
The rest of its 2700 servers help you unblocking content from anywhere else in the world. With an impressive speed, Surfshark has always worked great for its users. It has a feature to work on unlimited devices, that too with a single account.
Surfshark is available for $2.49/month with a 30-day refund policy.
---
2. NordVPN
NordVPN is also one of our recommended choices when it comes to unblocking Paramount Network streaming in Canada. With its 1500+ US servers, NordVPN is guaranteed to provide you fast streaming.
NordVPN doesn't store any type of logs, let it be connection logs or even activity logs. Double VPN encryption keeps your IP address hidden. It also keeps your IP encrypted twice.
One of the best things about NordVPN is that you can use this VPN on 6 devices simultaneously. It is compatible with almost all devices.
This VPN costs you only $3.71 per month, that too with a 30-day money-back guarantee.
---
3. ExpressVPN
ExpressVPN has 3,000 servers worldwide, but in the US, ExpressVPN servers are available in more than 14 cities.
Other than unblocking Paramount Network in Canada, it lets to access US Netflix, HBO MAX and so much more as well.
ExpressVPN service costs you a minimum of $8.32 per month, that too with 30 days money-back guarantee.
---
What Can you Watch on Paramount Network?
Paramount Network has always been an amazing platform for plenty of shows as a part of their cable service. There is so much content available on this website to stream and enjoy.
Still, if you are not sure if this online platform is for you or not, or if you just don't have any idea about what to watch on Paramount Network in Canada, we have got you covered.
Here's is a list of the topmost viewed shows on Paramount Network.
68+ Whiskey
Lip Sync Battle
Wife Swap
I Am
Ink Master
Yellowstone
The Last Cowboy
---
Other Streaming Services Available in Canada
If Paramount Network doesn't entice you well enough, then let's have a look at some of the other streaming services you can watch in Canada:
---
Paramount Network FAQs
Is Paramount Network Free of Cost?
Yes, Paramount Network is free of cost but only for US residents. They can provide their US TV cable provider login to access its content while the Canucks will have to pay in order to subscribe with YouTube TV to watch Paramount Network.
Is Spike TV now Paramount Network?
Yes! On January 18th, 2018, Spike TV was relaunched as Paramount Network and it now represents the company's 'flagship' outlet.
Can you watch Paramount Network without a local US cable provider?
Yes, you can access Paramount Network live without cable by any of these streaming services such as Sling TV, Philo, FuboTV, or YouTube TV.
---
Conclusion
Paramount Network comes up with so many options to entertain you as it has plenty of different shows to enjoy. It streams a huge variety of content. But because of being US-based, it is a geo-restricted platform.
But you don't need to worry, as VPN can help you access all the content on Paramount Network in Canada. VPNs are more than just tools. They don't only help you unblock foreign content but also provides you extra security.
Thus, don't consider VPN as an extra cost. Rather, it serves as an 'added security' for you.