ABC is the flagship American broadcast television network that is only available in the US and requires a US TV cable subscription. You can watch ABC Network in Canada with the help of these services i.e. FuboTV, YouTube TV, and Hulu Live TV. 
If you try to watch ABC Network Online in Canada but select a live stream or an episode of a show that came out within the past week, you'll see the following pop-up:
"You have not been signed in to your TV subscription so you cannot access ABC Network"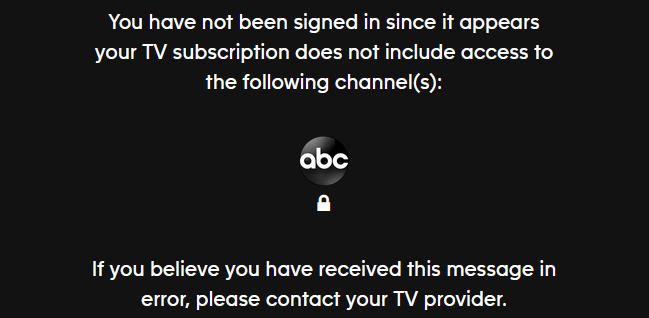 I was able to access the ABC Network channel in Canada via YouTube TV and with the help of using ExpressVPN and other best VPNs because YouTube TV isn't available in Canada.
As a bonus, we've also included the free method to watch ABC Network in Canada which also requires the use of a VPN because the channel is geo-restricted.
Our Recommended VPN – ExpressVPN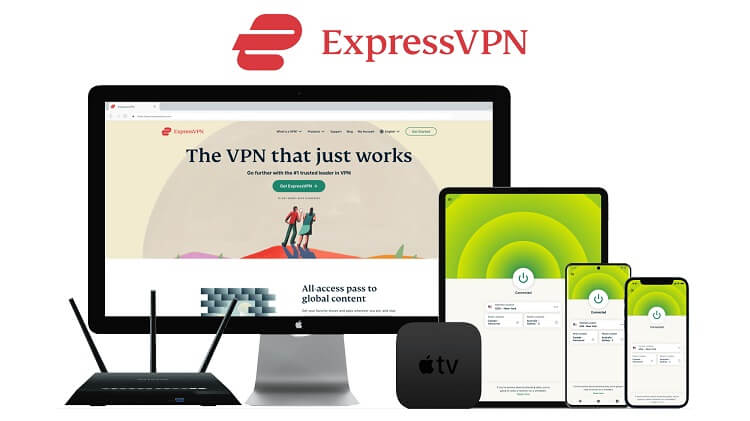 ExpressVPN is our recommended choice when it comes to unblocking ABC Network in Canada as it easily bypasses its geo-restrictions and keeps your online identity safe while streaming.
Get yourself ExpressVPN today and enjoy 3 extra months for free. You also get a 30-day money-back guarantee so use all of its features risk-free for 30-days.
---
Free Method to Watch ABC Network in Canada
This is the free method and that strictly requires you to install and use ExpressVPN to make it work in Canada because it is geo-restricted.
These are the steps you need to follow:
Step 1: Open the USTVGO website and scroll down to select the ABC channel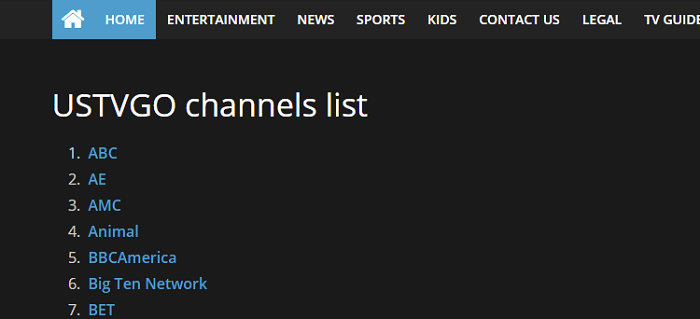 Step 2: Click Play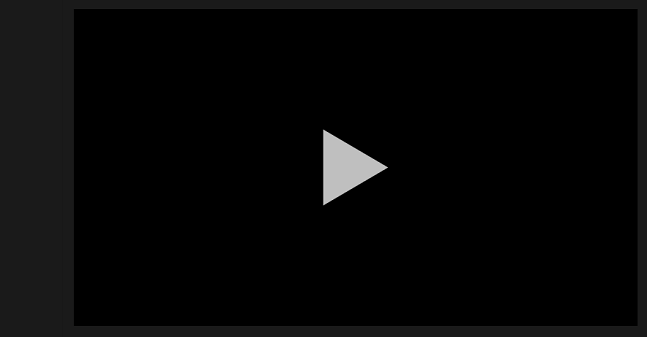 Note: If you see an error that means you have NOT connected to a US server of a VPN or you need to change your server location to another US city.
Step 3: Enjoy streaming!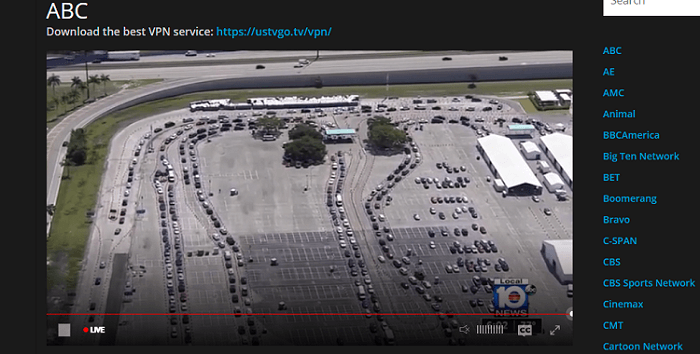 ---
3 Best Ways to Watch ABC Network in Canada
Fortunately, ABC supports and suggests alternative TV provider options that you can subscribe to in Canada.
All of these options are only available in America, so you'll need a VPN to subscribe (ExpressVPN is our recommended choice) and use them to watch ABC Network in Canada.
These services are listed below:
---
1. Watch ABC Network with FuboTV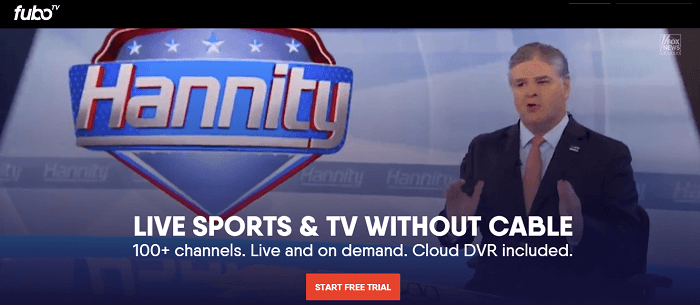 fuboTV started off as a streaming platform that solely stocked sports-related networks and channels.
Now you can also watch content from networks and channels that broadcast movies and shows.
fuboTV offers 3 base packages, but only 2 will give you access to ABC Network content. The 3 packages are, in ascending order of price: Latino Quarterly, Starter, and Elite.
The Starter plan costs $69.99/mo and will allow you to use fuboTV on up to 3 devices simultaneously. This is the cheapest option that lets you watch ABC Network online.
The number of screens which can be used simultaneously can be increased to 5 if you purchase an add-on worth $9.99/mo.
You also get 250 hours of cloud storage for when you want to record a stream.
The Elite plan costs a bit more, priced at $79.99/mo. However, that price is more than justified by the host of added benefits you get.
You get simultaneous access to fuboTV over a total of 10 devices. And we can't leave out the fact that you get 1000 hours of cloud storage, which is much more than the Starter plan.
This plan also has an expanded library, with 47 new channels being added to it, for a total of 163.
fuboTV may be available on Google-approved Android TV devices. It is also available on Samsung Smart TVs, Amazon Fire TVs, Roku, iOS, Chromecast, Web Browser, Apple TV, Xbox One, and certain Hisense TVs.
Though fuboTV is available in Canada as a single base plan, this doesn't have ABC Network in its library. In order to get fuboTV with ABC on it, you'll need a VPN like ExpressVPN.
---
2. Watch ABC Network with YouTube TV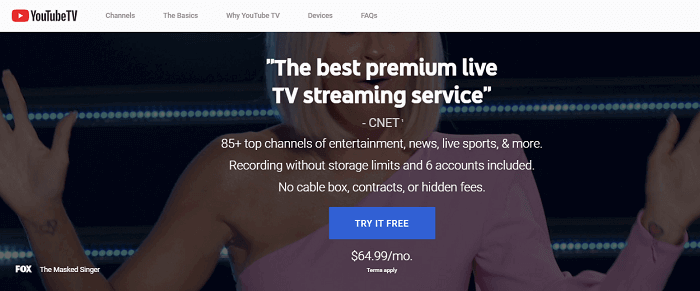 Youtube TV just comes in one flavor, and it costs $64.99/mo. With that single subscription, you'll be able to watch 85+ channels, and that includes ABC Network.
However, as with fuboTV, YouTube TV is not available in Canada, so if you want to use the service, you'll need a VPN like ExpressVPN.
With just one subscription you'll be able to make 6 customizable accounts for your family, and have 3 streams of Youtube TV running simultaneously on various devices.
What really makes YouTube TV shine is its unlimited DVR cloud storage, which comes at no extra cost, so you can record your favorite program when you want to watch it.
There is, of course, a limit. Not to the storage, but to its holding time. Recordings can be stacked to the heavens, but they'll only last 9 months.
If there's another channel you want to watch that isn't available in the base package, you might be able to purchase it in an add-on. These add-on packages can range from $5 to $15.
Youtube TV is available on all smartphones, Chromecast, Apple TVs, Android TVs, Samsung Smart TVs, LG Smart TVs, Hisense TVs, Amazon Fire TV, and Fire Stick, all Xbox devices since Xbox One, Roku, and PS4.
---
3. Watch ABC Network with Hulu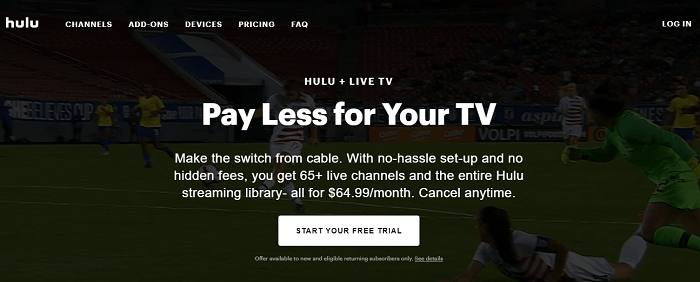 Hulu's 3 basic packages include Hulu, Hulu (No Ads), and Hulu + Live TV. All of these grants you access to ABC Network content.
Hulu + Live TV though, as the name suggests, also gives you live streams of its channels, of which there are over 60, which also includes ABC Network.
This package costs $64.99/mo and will give you 6 customizable profiles that you can share with your family, and 50 hours of cloud storage for your recordings.
You can also use Hulu on 2 devices simultaneously, which you can also do when you subscribe to the other packages.
There are also some add-ons you can purchase to let you watch Hulu on an unlimited number of screens simultaneously and give you +150 hours of cloud storage.
The Hulu package costs just $5.99/mo and will give you access to the entire Hulu library, including Hulu Originals, though streams will include commercial breaks.
With the Hulu (No Ads) package, you won't have to sit through another ad while you watch your favorite show. This ad-free Hulu costs just $11.99/mo.
You should know that some content will still have ads, like How to Get Away With Murder and Grey's Anatomy, due to their respective licensing agreements.
You can purchase add-on packages for all the base plans. These give you access to premium channels like HBO.
Hulu is, as are the other services on this list, restricted to the US, so you'll have to use a VPN like ExpressVPN in order to get a subscription.
---
How to Watch ABC Network in Canada with YouTube TV
So, if you need to watch the latest content on ABC Network's online platform, you'll need to use one of the TV services we mentioned above. We recommend using YouTube TV or FuboTV, but we're going to show steps for YouTube TV. 
Both of these services are unavailable in Canada. However, you can install and use ExpressVPN on your device and then connect to the US server to access YouTube TV. 
Here are the steps you need to follow:
Step 1: Subscribe to your VPN of choice (ExpressVPN is our #1 choice)
Step 2: Download the ExpressVPN app and Install it on your device
Step 3: Connect to a US Server (e.g. New York)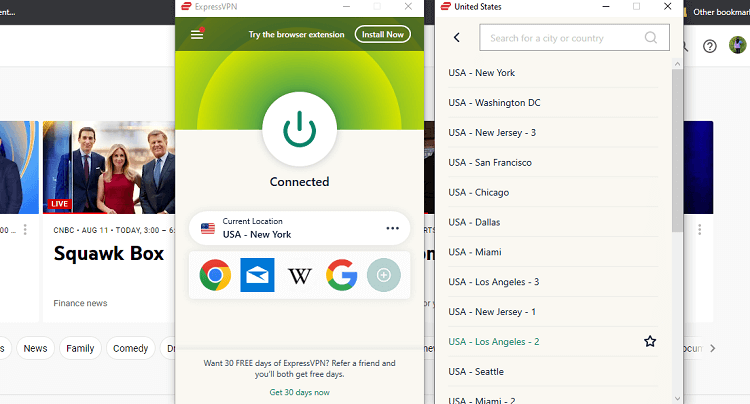 Step 4: Open the YouTube TV website and click on "sign in"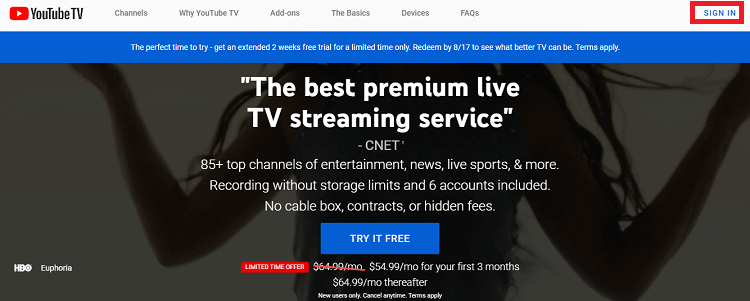 Step 5: Enter your email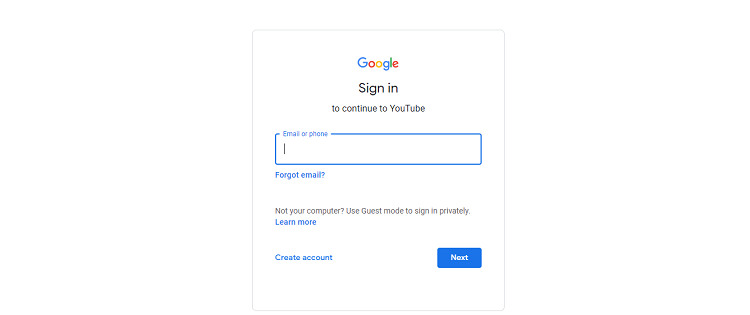 Step 6: Enter a password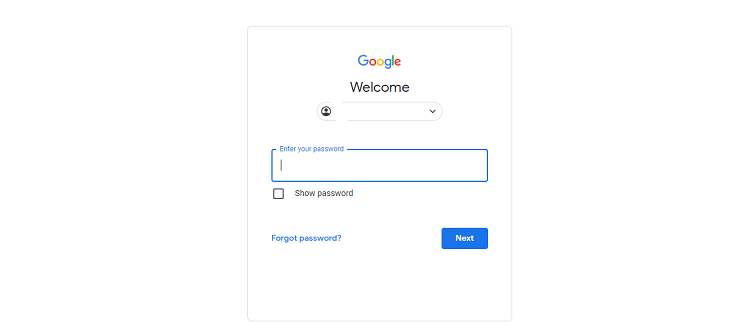 Step 7: Search for ABC Network and choose a live show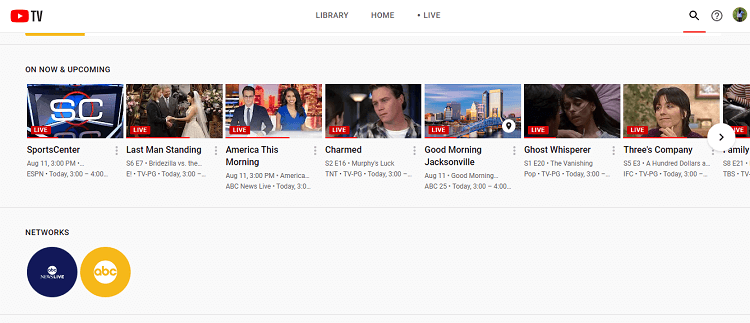 Step 8: Start Streaming

---
How to Use the TV provider to Watch ABC Network
So, once you have a subscription to the TV provider of your choice, you have another choice to make.
Do you want to watch ABC Network on that provider's platform, or do you want to watch it on the ABC platform directly? If you want to do the latter, it's quite simple.
Stay connected to the US server on your VPN, and open abc.com. Select a recently broadcast stream of your choice. When the TV provider box pops up, find yours, and select it.
We used YouTube TV as an example below: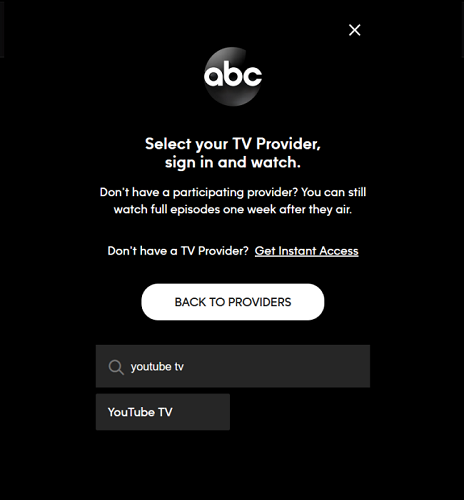 Once you're done authenticating your TV subscription, all you have to do is make your account or sign in, and you'll have access to all the latest content!
---
What are the Best VPNs to Watch ABC Network Online in Canada?
Phew! You now know how to unblock ABC Network in Canada, but you might be wondering which VPN is best for the job.
We've tested 40+ VPNs to see whether they were able to unblock the 3 services that were mentioned above. We found the 3 best VPNs that were able to unblock YouTube TV, FuboTV, and Hulu, in a single attempt.
These VPNs have been listed below:
---
1. ExpressVPN
ExpressVPN is our recommended choice to unblock ABC Network in Canada, offering its 1-year subscription plan for $6.67/month (3 Months Free). It justifies that with tight security and unfailing reliability.
But what should be of most concern to you is its built-in speed test feature.
This feature will let you compare server speeds so that you can select the best one for when you want to watch ABC Network online in Canada.
You can watch American Netflix, CBS, Roku Channel, and many other streaming services in Canada as ExpressVPN helps unblock all of them.
ExpressVPN is truly a global VPN, offering over 3000 servers spread out over 94 countries. And what's great for us is that a ton of these servers are located in 23 US cities.
---
2. Surfshark
Surfshark is another VPN that is on our list when it comes to unblocking any foreign service. With it, you get a ton of great features and a reliable way of watching ABC Network Online in Canada.
That one subscription will enable you to have an unlimited number of devices streaming ABC Network in Canada simultaneously.
The great features we mentioned earlier include a No Borders mode, which is handy for users in regions where it is blocked since it unblocks it.
It also includes a Camouflage mode which allows you to hide from the prying eyes of your ISP. If you spend just $2.49/month, you can subscribe to Surfshark's 2-year plan.
Surfshark's server count is nothing to scoff at, with over 3200 servers which are in 65 countries worldwide. 500+ of these are based in the US, within 20 different US locations.
---
3. NordVPN
NordVPN is a fairly low-costing VPN that has made itself known across the globe in the last few years. For just $3.29/month, though a little steeper than Surfshark, you can get a 2-year plan.
NordVPN gives you access to 1970+ US servers, out of a total of 5441 servers around the world, which will ensure that you always have backups to watch ABC Network in Canada.
Its double-protection feature will disguise your IP address twice for greater safety, and its CyberSec mode will automatically prevent you from accessing malicious content and sites.
If you are new to VPNs and are a bit wary of them, don't worry. NordVPN, as do most other premium VPNs, offers a 30-day money-back guarantee, giving you the chance to test it out.
---
Why is the Latest ABC Network Content Restricted?
This is all down to licensing agreements and legal ownership over the content and the rights to display that content.
You see, if a company wants to display certain content in a particular region, it would need to have the legal rights to do so.
Oftentimes, content is already owned by local companies in those regions. If the company that wants to expand there attains a licensing agreement with the locals, there should be no problem.
However, if the legal rights to do so were not attained, the company's platform cannot legally show that content there.
The company would also need to acquire the legal rights to broadcast in that region as well.
All of this requires time, effort, and money, which a company may not have. And that's the spot ABC is in. It's easier for them to restrict live content to US TV subscribers.
They profit from the agreements they have with those TV providers, which is how they sustain themselves. 
With TV provider authentication, only the people that have subscriptions to partner TV providers can access that content, and that is favorable for the company.
---
Why Do I Need a VPN to Unblock ABC Network?
VPNs (Virtual Private Networks) are built on physical private servers. With them, users can disguise their IP addresses (Your IP address is essentially your online identification).
An IP address can be read and used to tell your location. If you disguise that IP address, you can essentially disguise yourself as a user within a different country or region.
If you connect to a US server with a VPN and then access your online TV provider, the provider will think you're using it from the US, despite sitting in Canada.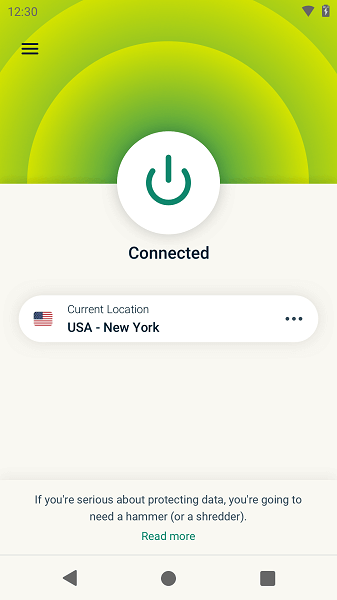 If the service is tricked into thinking you're a US resident, it'll give you the same access to its content as it would any other American resident.
---
Should you Use Free VPN to Watch ABC Network?
If you've come across VPNs that have boasted that they are free, you should be very cautious. These are usually full of malware and adware or are just very limited.
We say that with certainty, of course, because the private servers required to run a VPN service require a lot of maintenance. The cost of that is very high.
In order for that cost to be met, there has to be some sort of revenue stream, if not from advertising. If the source of funding isn't clear, it's likely the service is nefarious.
Products like that either have a ton of adware or malware that can result in harm to your device or worse, to you and your personal life.
And that's why you should stick to premium VPNs, avoiding the risk associated with those dubious 'free VPNs'. The VPNs we recommend are trustworthy and reliable.
---
Watch ABC Network in Canada
Step 1: Connect to a US server through ExpressVPN
Step 2: Download ABC Network APK on your phone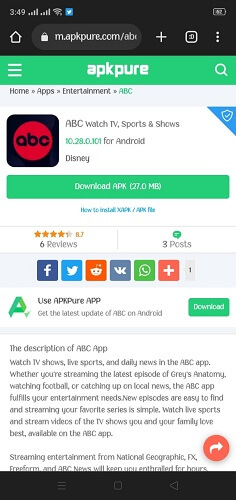 Step 3: Install the downloaded APK file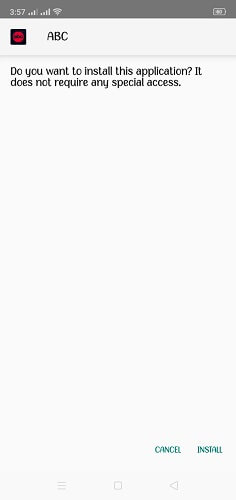 Step 4: Open the app and enter your email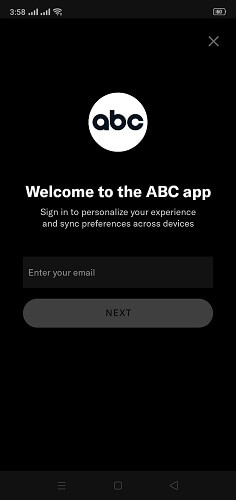 Step 5: Enter your password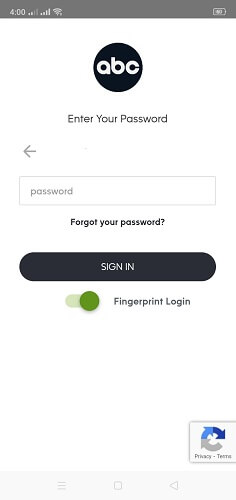 Step 6: Select a show to watch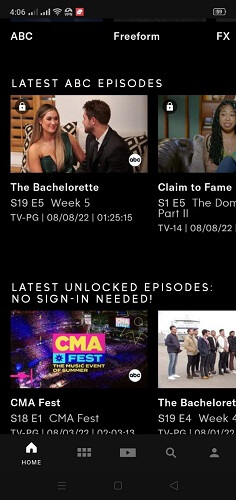 Step 7: Enjoy Streaming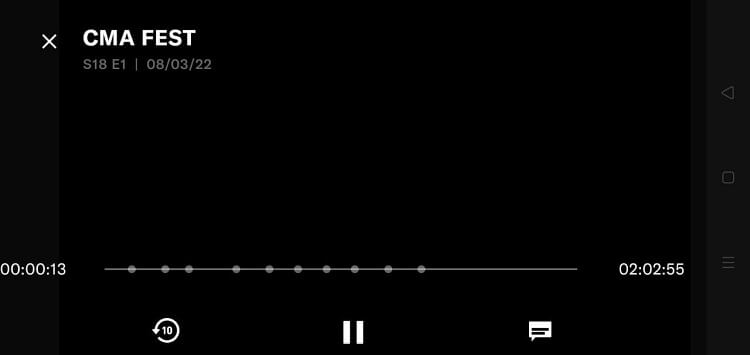 ---
What to Watch on ABC Network in Canada?
So, you've got access to ABC Network in Canada unrestricted. Now all you need to do is binge to your heart's content.
But if you don't know where to start, we've got you covered with this shortlist of recommendations.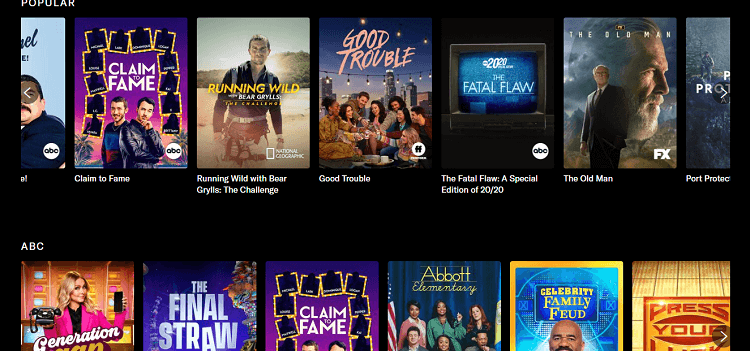 Abbott Elementary
The Simpsons
Black-ish
American Idol
What We Do In the Shadows
We Feed People
Shark Tank
Narco Wars
The Bachelorette
General Hospital
Grey's Anatomy
CMA Fest
Everything's Trash
Jimmy Kimmel Live
The Old Man
Good Trouble
Generation Gap
The Final Straw
---
ABC Vs. NBC Vs. CBS
| | | |
| --- | --- | --- |
| CBS | NBC | ABC |
| A total of 87.5 hours of standard network programs are being shown by the CBS opera. Their prime-time programming is broadcast for a total of 22 hours per week from Monday through Saturday from 8 p.m. to 11 p.m., and from 7 p.m. to 11 p.m. on Sundays. Morning shows are broadcast there from 7 am to 9 am, Monday through Saturday, and soap operas and game shows are shown there from 10 am to 3 pm, Monday through Friday. | The 87 hours that NBC is in operation include 22 hours of prime time television, and its programming schedule follows the same structure as CBS's. | With 92.5 hours of television programming, ABC runs a little bit longer. Additionally, it offers 22 hours of primetime programming to its audience and uses the same programming model as NBC and CBS. |
| The Price Is Right, a tremendously popular game show is part of CBS's morning lineup. More than 35 years have passed since the premiere of this game show. They also broadcast the recently updated version of the game show Let's Make A Deal. The Young and the Restless, The Bold and the Beautiful, and As the World Turns are a few of the well-known soap operas that are broadcasted. | Days of Our Lives, a soap opera that has been on NBC since 1965, is the only one that airs during the day. They broadcast Today for the remainder of the morning. | All My Children, One Life to Live, and General Hospital are among the ABC shows that are broadcasted. Additionally, they have previously shown certain game programs, but they have stopped doing so in popularity of The View right now. |
| The Cookie Jar TV is a children's television program that airs on CBS on the weekends. Cartoons including Strawberry Shortcake, Sushi Pack, and Care Bears are broadcast there. | In contrast, NBC broadcasts Jacob Two-Two, Postman Pat, Dragon, and Veggie Tales for young viewers. | On weekends, ABC Kids has broadcasts alongside Hannah Montana and Power Rangers thanks to a partnership with the Disney Channel.  |
---
Other Streaming Services to Watch in Canada
Have a look at some other streaming services you can watch in Canada with the help of a VPN:
---
FAQs – ABC Network
Why is YouTube TV Not Available in Canada?
This is all down to licensing agreements, YouTube TV doesn't have the legal rights to display certain content in certain regions.
Unfortunately, that means that they simply restrict the entire platform to where they can offer their entire catalog, i.e. America.
What TV Streaming Services are Available in Canada?
There are a ton of great streaming services available in Canada, and most are available at or above the cost of $5.99/mo.
These services include Netflix, Crave, Paramount+, Disney+, and Apple TV+
What TV Channels are Free Online?
There are quite a few 'free' streaming services for channels online. Some of these channels include BBC, ABC, FOX Sports, and CNN.
---
Closing Words
Though unblocking ABC Network may have seemed daunting at first, it's not that much work for the ability to watch ABC Network online in Canada whenever you want.
With a VPN, you not only get that entertainment unblocked but you also get enhanced security and greater privacy on the internet than you've ever had before.
You can finally browse the internet the way you want, without the fear of being monitored, of having your data stolen, or of having your device harmed.