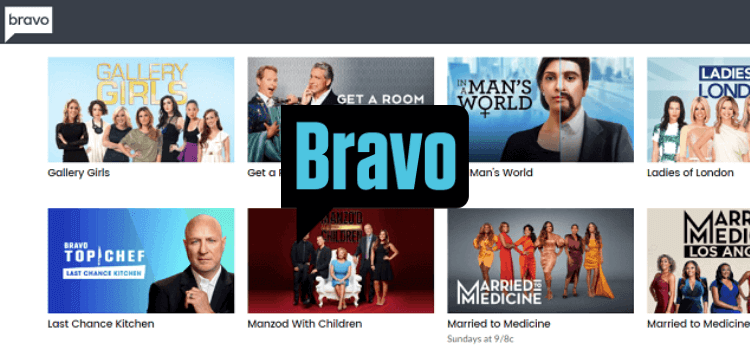 Bravo TV is an America-based cable network that provides you with some of the best TV shows, but unfortunately, it is only available in the US.
You can watch Bravo TV in Canada if you sign in with a valid US TV provider, which Canucks usually do not have. But some of the TV Providers can be accessed from within Canada with the help of a VPN. 
In this guide, we have discussed the 3 US TV providers with which you can access Bravo TV. These are YouTube TV, Hulu Live TV, and Sling.
Also, we've discussed the free method to watch Bravo TV in Canada with a Live TV website. However, we don't know if they have proper licensing to stream Bravo TV Channel, which is why you are recommended to use a VPN to hide your online activity.
We recommend using ExpressVPN along with other bets VPNs that I have discussed in this guide. A VPN completely hides your IP address and keeps you anonymous over the internet.
Our Recommended VPN – ExpressVPN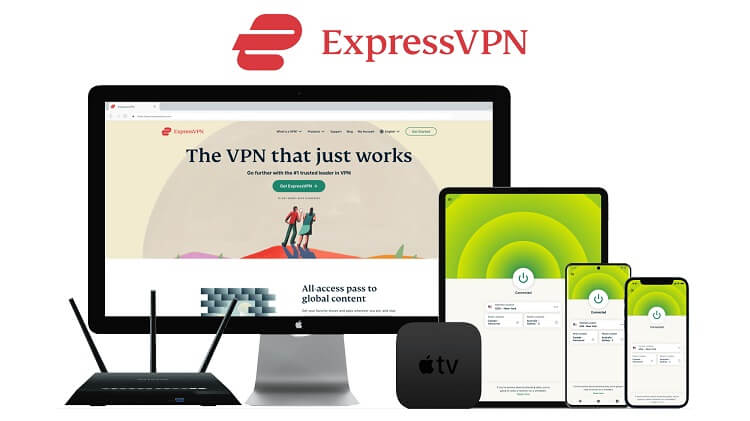 ExpressVPN is our recommended choice when it comes to unblocking Bravo TV in Canada as it easily bypasses its geo-restrictions and keeps your online identity safe while streaming.
Get yourself ExpressVPN today and enjoy 3 extra months for free. You also get a 30-day money-back guarantee so use all of its features risk-free for 30-days.
---
3 Ways to Watch Bravo TV in Canada
Most of the Live TV services have Bravo TV in their channels list but they would cost a few dollars out of your pocket. You can find almost every Bravo TV content on Peacock TV as well and that's for free as well.
But still, if you want to go with Live TV services, then I would recommend you 3 US TV Cable Providers with which you can access Bravo TV in Canada.
These services can be subscribed from Canada but with the help of a VPN. ExpressVPN is our #1 choice – 3 Months Free. 
The 3 ways to watch Bravo TV in Canada are:
1. Hulu Live TV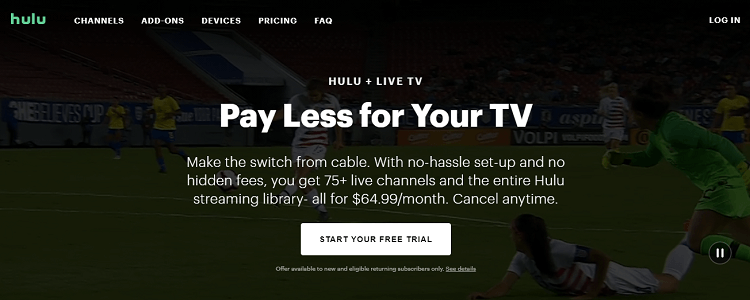 Hulu TV doesn't only offers tons of channels but also on-demand streaming. It offers 90+ Live TV channels including Bravo TV. If you don't have a US-based payment method, you can also use a gift card.
It is available on almost all devices like iOS, Android, Apple TV, Xbox One, Chromecast, Roku, Amazon Firestick, etc. Hulu Live TV also offers a 7-days free trial and charges $64.99 per month.
Read More: How to Watch Hulu Live TV in Canada
---
2. Sling TV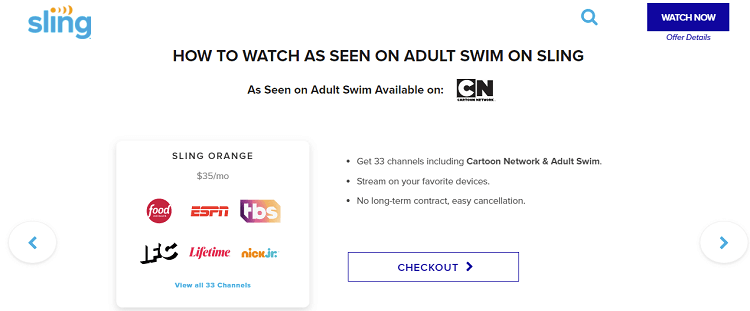 Sling TV offers Bravo TV in their Silver Blue Package and charges $35 per month along with a 3-day free trial. For this streaming service, you will also need a local payment method or gift card.
Sling TV is available on almost all the devices such as android, iOS, Smart TVs, Roku and Amazon Fire TV, etc.
---
3. YouTube TV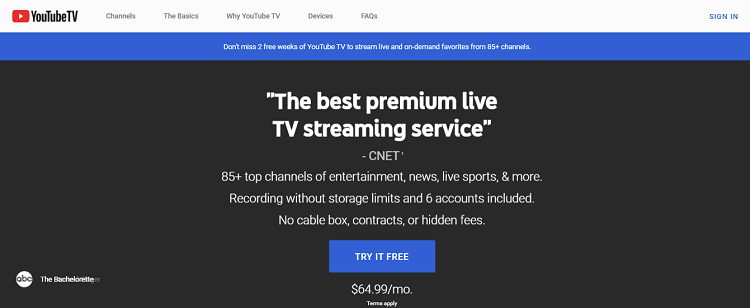 YouTube TV also offers Bravo TV online and provides you with unlimited storage space to record the shows. It charges $64.99 monthly along with a 7-days free trial.
It recently announced that it also uses Canadian-based payment details as well so it's great news for Canucks. YouTube TV is available on all devices except Roku.
Read More: How to Get YouTube TV in Canada
---
How to Watch Bravo TV in Canada
Once you have decided which Live TV streaming service you want to subscribe to that has been discussed above, now you need to use the credentials to stream Bravo TV in Canada. We have considered YouTube TV as an example.
Follow these steps:
Step 1: Subscribe to a good VPN (ExpressVPN is highly recommended)
Step 2: Download the ExpressVPN app and install it on your device
Step 3: Open the VPN app and connect it to a US server (e.g. New York)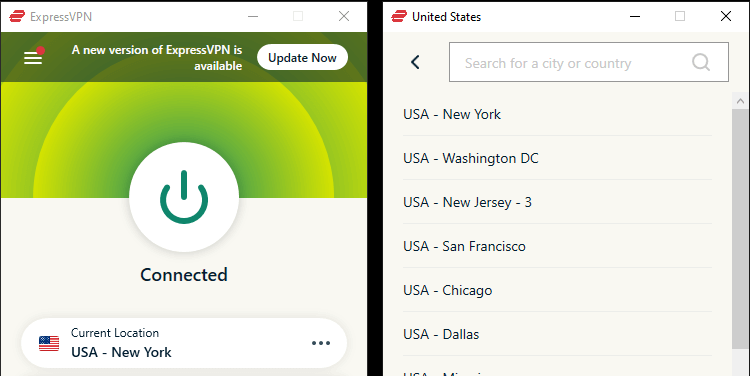 Step 4: Go to the Bravo TV website and Episodes & Videos and then Full Episodes

Step 5: Select the content you want to watch (e.g. Backyard Envy)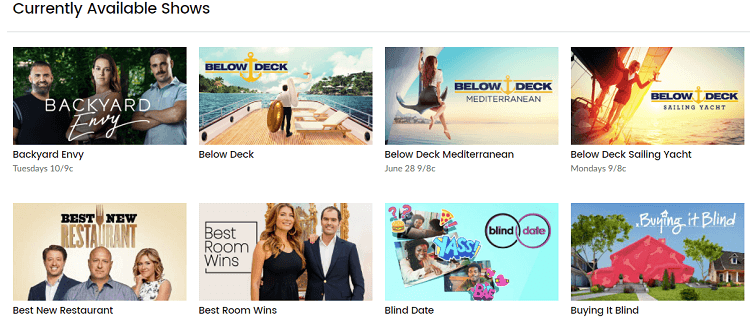 Step 6: Select any Episode (S2/Ep5)

Step 7: Type 'YouTube TV' in the box and click on it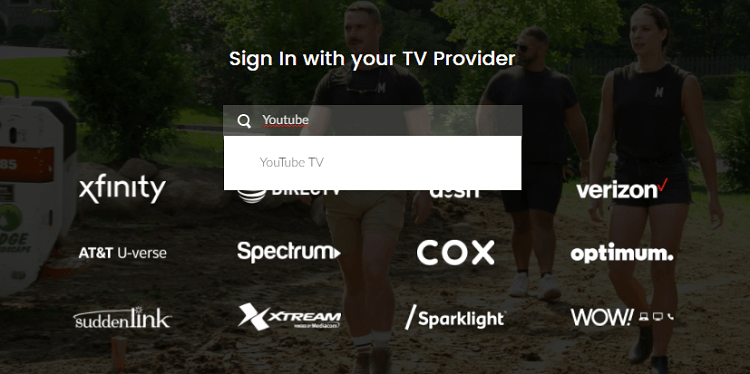 Step 8: It will verify your Google account and will grant you access
---
3 Recommended VPNs to Stream Bravo TV in Canada
After testing multiple VPNs, only the 3 best VPNs were able to stream Bravo TV with the help of US TV Cable Providers. Not only had that but out of all the VPNs we tested, only three were connected in the first attempt.
To save you from all the difficulty, we have created this list of best VPNs that work flawlessly and do not compromise your online security.
Have a look at the 3 best VPNs to unblock Bravo TV in Canada:
---
1. ExpressVPN
ExpressVPN is our recommended VPN to watch Bravo TV in Canada. The interface is user-friendly and with just a single click you can connect to US servers that are available in 15+ different cities.
With the fast and speedy servers of ExpressVPN, you won't find any buffering issues while streaming Bravo TV content. Armed with a no-log policy and DNS leak protection; there is no way that even a single bit of your data escapes its security system.
Currently, ExpressVPN has 3,000 servers in 162 different locations in 94 different countries. It also offers unlimited bandwidth so that you can stream buffer-free even on higher resolutions.
A monthly subscription to ExpressVPN costs you around $6.67/month (3 Months Free) and you can use it on 5 different screens at a time. Express VPN also offers you a 30-days money-back guarantee.
---
2. Surfshark
Surfshark is quickly becoming one of the most popular VPNs in the world. The reason is the low budget and yet premium service that it provides, but it is also able to unblock Bravo TV.
It has 600+ US servers that help you bypass Bravo TV geo-restrictions. For the basic VPN users, Surfshark cuts down on the advanced features and provides you with the best price-to-value deal. It is also free from all kinds of ads, trackers, and hackers.
Packed with 3,200+ servers in more than 65 countries, it surely stands out from the competitors. With its super cool peer-to-peer servers, Surfshark does a great job of keeping you secure while you download your favorite TV shows or games.
A subscription to Surfshark is highly economical and you will have to pay only $2.49/month. It also offers a 30-day money-back guarantee and you can connect Surfshark to unlimited devices.
---
3. NordVPN
NordVPN is also recommended as the best VPN to unblock Bravo TV outside the US. The reason is that this VPN a user-friendly and has an easy-to-use interface. Not only that, it unblocks services like US Netflix, Telemundo, PBS, TVPlayer, and others.
It has 256-bit encryption and a kill switch feature to secure your data and no one can know what you are doing online. NordVPN has got 5,000 servers all across the globe and more than 1,970 servers just in the US. It charges $3.29/month, along with a 30-day money-back guarantee.
You can connect NordVPN to 6 simultaneous devices at a time. NordVPN also offers live chat support for its customers that will walk you through essential steps to solve your problems.
---
How to Watch Bravo TV in Canada for Free
Step 1: Subscribe to ExpressVPN and connect to the US server
Step 2: Go to the USTV Go website and scroll down to select Bravo TV from the list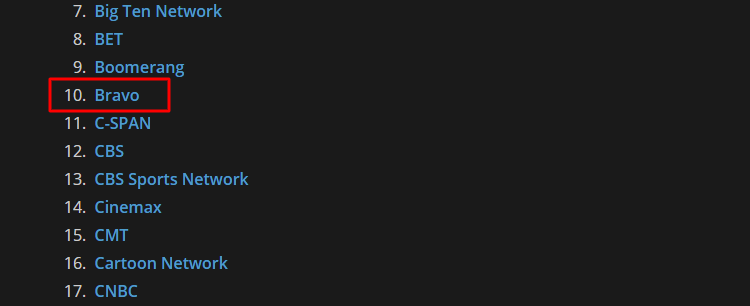 Step 3: Click Play and enjoy streaming!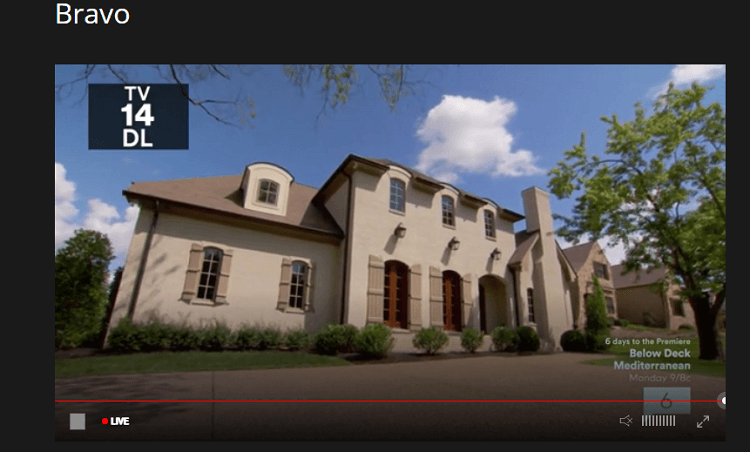 ---
Why is a VPN Required to Watch Bravo TV in Canada?
Most of the content available on these online streaming services is restricted outside the country of origin due to licensing and copyrights. The same is the case with Bravo TV. You cannot stream it outside the United States.
It is because when you connect to a streaming website, these services track your IP address and get to know where you're located. Then these streaming websites, like Bravo TV, block the connections that come from outside the United States.
To watch your favorite show on Bravo TV, you need to make them think that you are present somewhere in the US. For this purpose, you need a US-based IP address. You can get it only with the help of a VPN service (ExpressVPN is recommended).
A VPN can hide your real IP address and establish your connection through a US-based server and it looks like you are there. You will be able to easily bypass the geo-restrictions and stream Bravo TV.
---
 Best Shows to Watch on Bravo TV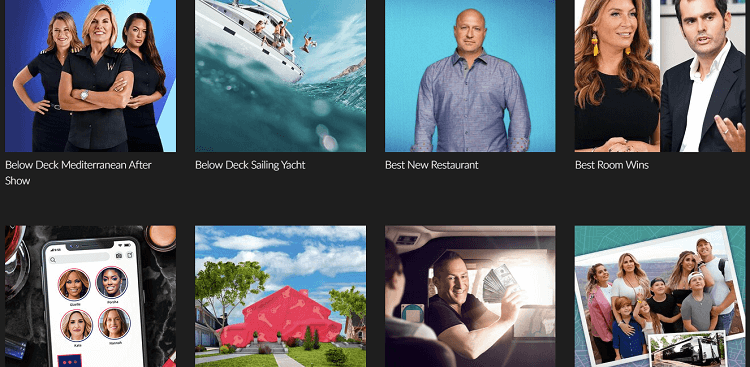 Here is the list of some amazing shows available on Bravo TV:
Million Dollar Listing: Ryan's Renovation
Below Deck Sailing Yacht
Cash Cab
The Real Housewives of Dallas
Don't be Tardy
Married to medicine
Get a Room with Carson & Thom
Married to Medicine
Family Karma
Life after Bravo
---
Bravo TV Compatibility with Devices
You can watch Bravo TV on almost all devices. Some of them are as follows.
Amazon Fire TV Stick
Android Phones
Tablets
iPhone
iPod
iPad
Windows 10
Smart TVs
Apple TV
Freesat
Web Browser
How to Watch Bravo TV Live on Android Devices
Bravo TV can be watched for free on Android devices using the USTVGO app. You will need to download the USTVGO app which I have discussed in the steps below:
Step 1: Subscribe to ExpressVPN and connect to the US server
Step 2: Download USTVGO APK and run the installation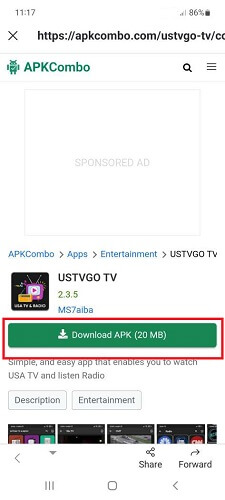 Step 3: Open the USTVGO app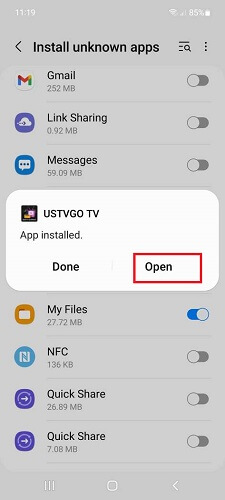 Step 4: Select the Entertainment Category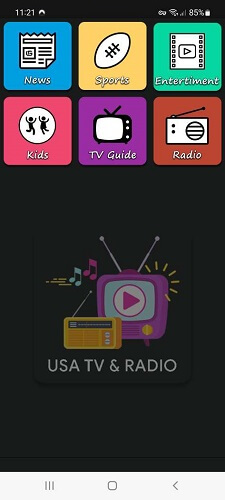 Step 5: Choose Bravo TV from the list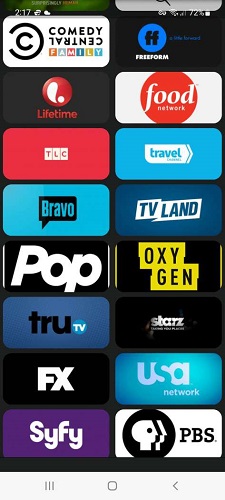 Step 6: Click Play and start streaming!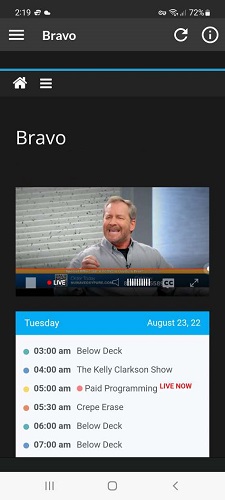 ---
Other American-Pay Channels to Watch in Canada
After buying a subscription on one of the mentioned VPNs you can also unblock these American Pay channels and services apart from Bravo TV in Canada.
---
FAQs – Bravo TV
How can I get Bravo in Canada?
If you live in Canada, you can choose a VPN service and stream your favorite shows by unblocking the geo-restriction.
How can I get the release dates of the shows on Bravo TV?
You can check out the 'schedule' button on the official site. Bravo TV mentions all the release dates there.
Is Bravo TV available on Amazon Prime?
Yes, Bravo TV is available on Amazon Prime.
---
Conclusion
Despite the geo-restrictions, you can still unblock Bravo TV in Canada with the help of a VPN like ExpressVPN and others. You will need a paid subscription to the VPN, but you will never have to worry about that irritating error message again.
With a VPN service like ExpressVPN, you can get high security and privacy. This keeps you safe from the hackers that would steal your data or do you harm and use it against you.
You get to browse the internet freely, without having to look over your shoulder and worry about who's monitoring you, and without restrictions and rules.