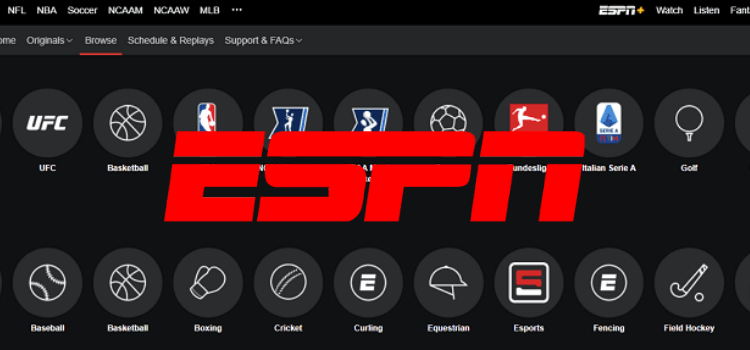 ESPN might be an all-important channel in the world of Sports, but the full version of ESPN is unavailable outside of the US. You can unblock ESPN in Canada with the help of a VPN.
If you try to watch ESPN online, it would ask you to provide a valid US TV Cable Provider which most Canadian users don't have so they use YouTube TV that consists of 85+ Live channels including ESPN, NFL, NBA, etc.
To keep our Canucks into consideration, we have covered the premium method which involves providing a Cable TV provider login and a free method that you can watch in Canada with ease.
Before we begin, you should know that both these methods require you to use a VPN because the full version of ESPN is unavailable outside of the US. ExpressVPN (3 Months Free) is our top choice.
Our Recommended VPN – ExpressVPN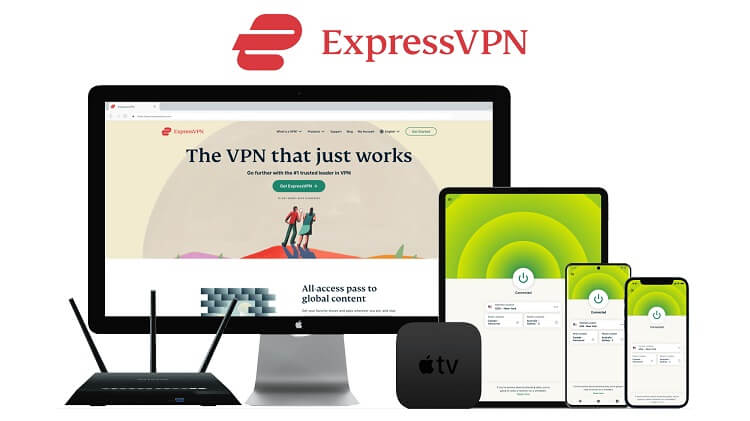 ExpressVPN is our recommended choice when it comes to unblocking ESPN in Canada as it easily bypasses its geo-restrictions and keeps your online identity safe while streaming.
Get yourself ExpressVPN today and enjoy 3 extra months for free. You also get a 30-day money-back guarantee so use all of its features risk-free for 30-days.
---
Method 1: How to Unblock ESPN in Canada Using a VPN
For starters, if you're interested in ESPN+, you should have your payment details ready for the subscription. 
If you're more inclined towards the app, just have your cable TV subscription details at hand. If you don't have a US cable subscription, you can watch ESPN on YouTube TV. 
You may already have experience with these services, in which case you can just focus on unblocking them.
With that out of the way, you can proceed to unblock ESPN in Canada with a VPN. This doesn't take much time at all, and can be done by following these simple steps:
Step 1: Subscribe to a VPN (we've used ExpressVPN here as an example)
Step 2: Download and Install the ExpressVPN app on your device of choice
Step 3: Connect to a US Server (e.g. New York)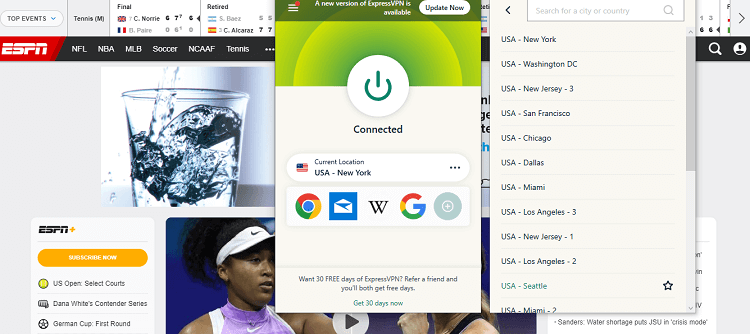 Step 4: Open the ESPN website and click on the profile icon and log in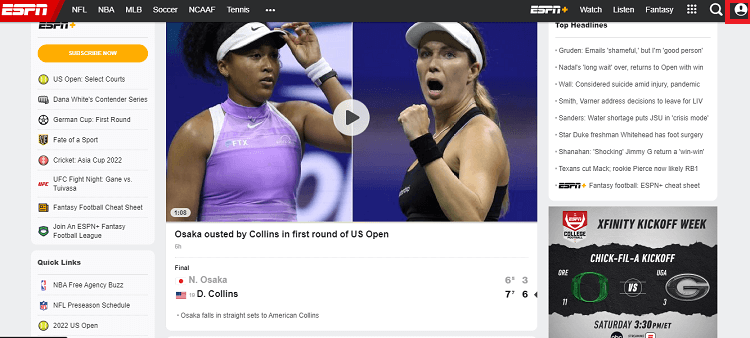 Step 5: Enter your credentials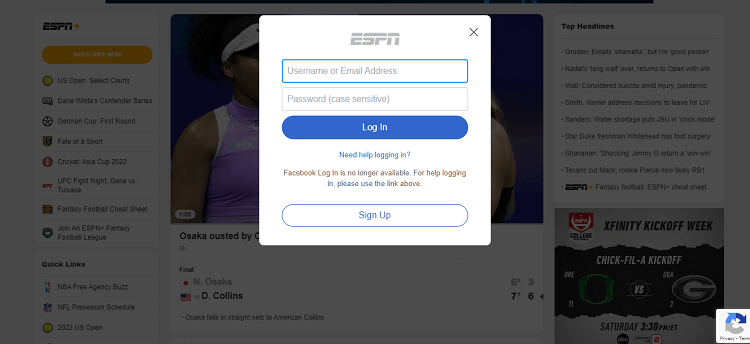 Step 6: Go to the "Watch" section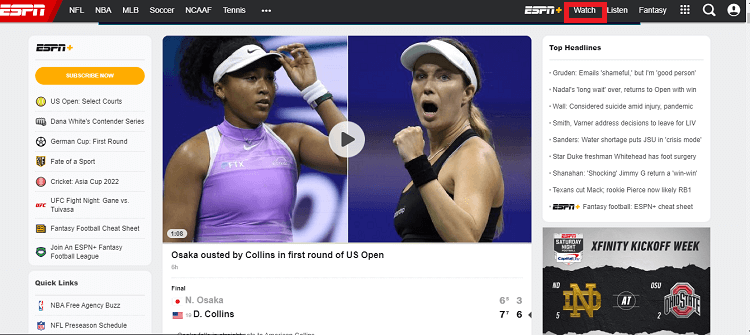 Step 7: Choose a sport to watch, e.g. US Open

Step 8: Choose a match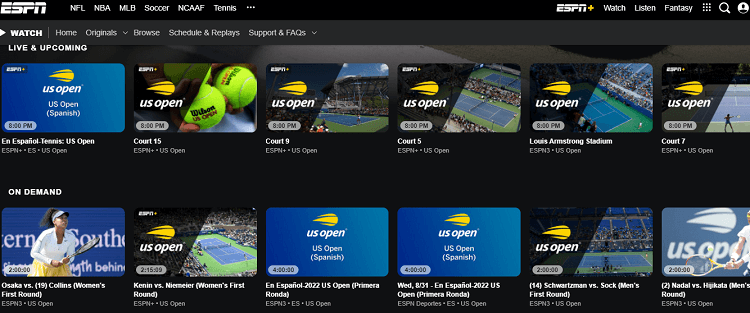 Step 9: Choose a TV Provider, e.g. YouTube TV, and login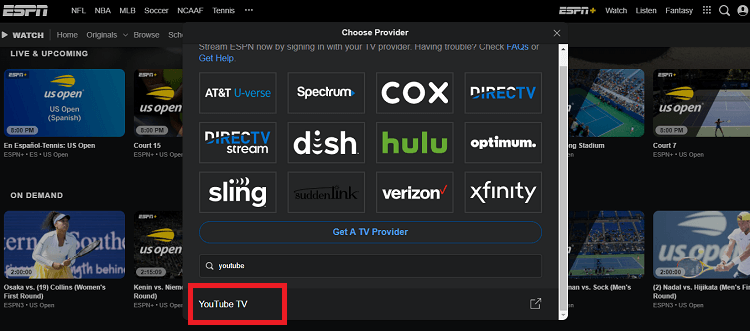 Step 10: Enjoy Streaming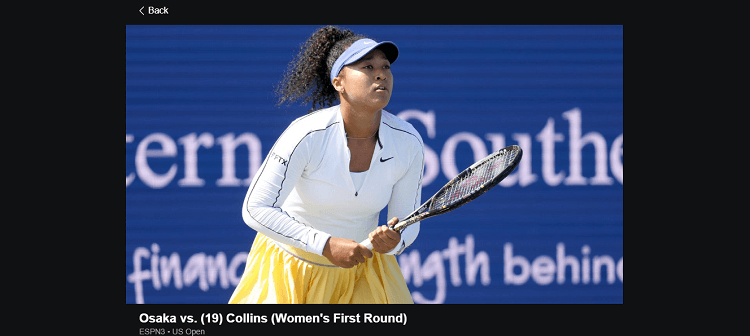 ---
Method 2: How to Watch ESPN in Canada for Free
This free method only requires a web browser, so it can be viewed on any device whether it be your mobile phone or computer.
But since this method is free and is geo-restricted outside the US, people living in Canada or any other country would need to use a VPN. So first, you should download and install ExpressVPN on your device.
Once you have installed a VPN and connected to the US server, then follow these steps:
Step 1: Go to USTV Go and scroll down to select ESPN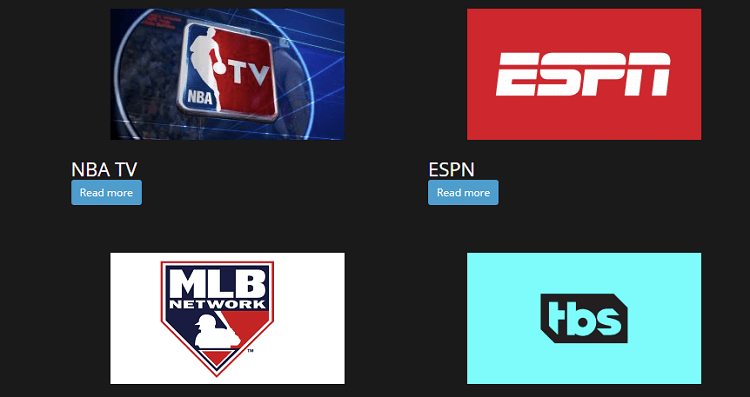 Step 3: Click on Play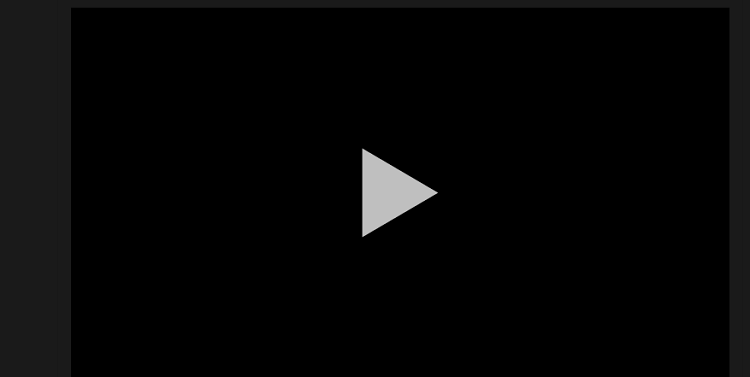 Note: If you are unable to stream even if you are connected to a US server, then make sure to change the US server and then try once again and it will work.
Step 4: Enjoy streaming!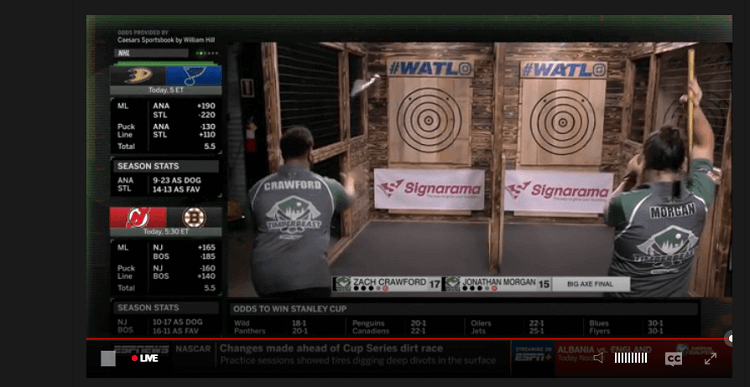 ---
The Difference Between ESPN+ and The ESPN App
First, it's important to know that neither of these services is digitally parallel to the normal ESPN cable channel, though they might at times cover some of the same events.
The ESPN App provides live broadcasts of sports events and ESPN shows. 
The app also gives real-time updates on scores and news. A cable TV subscription is required to get access to everything the app has to offer.
You also get access to a ton of content that you can access on-demand. This includes highlight reels, classic matches long past, and analytical segments or shows.
In contrast, ESPN+ is more like Netflix, offering on-demand streaming of documentaries, ESPN+ original, and very rare coverage of certain sports events.
These offerings are in addition to regular live streams of ESPN shows and events.
As with Netflix, this service has its own subscription fee of $4.99/mo. However, it can also be accessed through the ESPN App.
---
What are the Best VPNs to Watch ESPN in Canada?
If you're expecting an absolute statement about the best of the best, you're going to be disappointed. 
Different VPNs have distinct features that set them apart, and depending on your goal, their value might vary. However, when it comes down to watching ESPN in Canada, ExpressVPN is supreme.
Here's a list of 3 top VPNs to unblock ESPN in Canada:
---
1. ExpressVPN
A sturdy and reliable piece of software, with a minimalist design and a smooth UX. ExpressVPN is our recommended choice and it currently offers 15 months plan for $6.67/month (3 Months Free).
This may seem like a waste of time after seeing the previous deals, but ExpressVPN's strengths are in its foundations, which are undoubtedly very strong.
This has made ExpressVPN extremely popular worldwide. It has 3,000+ servers across 94 countries. Many of these are spread out across 23 US cities.
Telemundo Live, Peacock TV, and Paramount Network are some other services that ExpressVPN helps to unblock in Canada.
What's great about ExpressVPN is that it has an in-built speed test feature, which means you'll always know which server is the best for streaming ESPN in Canada.
---
2. Surfshark
Surfshark offers premium features and services for just $2.49/month if you subscribe to their 2-year plan. This price point for this kind of product is rare in the VPN market.
This subscription will give you access to the VPN across an unlimited number of devices simultaneously, allowing you and your family to use the service at the same time.
On top of this, Surfshark's features include a No Borders mode, unblocking the service in places where it's restricted, and a camouflage mode, which hides you from your ISP.
Surfshark has over 3,200 servers spread out across 65 countries worldwide. Over 500 of these are US servers, spanning 20+ cities.
With this huge number of servers, you can be certain that you'll never miss out on your anticipated ESPN stream in Canada since you'll always have a server available.
---
3. NordVPN
NordVPN offers a 2-year subscription plan for $3.29/month, close to Surfshark's VPN in terms of pricing. The difference is made up thanks to its superb privacy and security features.
In terms of brute force, NordVPN has over 1,970 US servers, and a total of 5,441 servers around the world, which is much greater than ExpressVPN's server count.
This greater worldwide server count means that you will likely have access to more international content. 
The greater number of US servers also means you'll always have backups, in case there are server malfunctions. Redundancy means you'll never have to worry when you want to watch ESPN in Canada.
Now to those features, we gushed about. Double protection will let you disguise your IP address twice, and CyberSec will prevent access to malicious sites and content.
And, if you're uncertain about purchasing this product, you get a 30-day money-back guarantee, as is the industry standard. This means you can test it out before committing.
---
What is a VPN and How Does it Unblock ESPN in Canada?
So, what exactly is a VPN, and why does it unblock ESPN while you stream from Canada? Well, first you need to know that a VPN is a Virtual Private Network.
This virtual private network is constructed using private servers, so when a user connects their IP address is disguised (your IP address is your online ID).
This is very useful in the case of geo-restriction. Geo-restriction is the restriction of services to a particular area or collection of areas. This is usually due to licensing disputes.
If an organization wants to display content on its platform where another group owns the legal rights to that content, then there must be a licensing agreement between them.
This is the same situation that ESPN is in. They have the necessary licenses to show certain content in America and other regions, but not in Canada.
Thus, ESPN simply offers some of its content through other platforms than its own and does not make its own platforms available, as licensing is difficult to attain.
So, putting it all together, when a user connects to a US server through their VPN, while in Canada, their IP address seems like one originating in the US.
This disguise tricks ESPN platforms into thinking you are currently in America. From there, you just have to log in to your account, and you'll have unrestricted access to ESPN in Canada.
Thinking about Free VPNs?
If you've heard of VPNs that tout themselves as being free, you might want to be a bit cautious when considering them. This is because they are likely malicious in nature.
Having tested many VPNs, we've found that free VPNs are usually riddled with malware and/or adware. There's a basic reason why premium VPNs are generally more trustworthy.
The private servers that are required to run a VPN service have high maintenance costs. These costs need to be met through some other means, if not revenue from the service itself.
The term 'free' is used as bait, for the primary purpose of introducing malicious programs that could potentially steal your data, or worse.
This is why you need a premium VPN. The VPNs we've recommended above have been tested, and we can assure you that they work very well when unblocking ESPN in Canada.
---
How to Watch ESPN on Mobile Phone
Step 1: Connect to ExpressVPN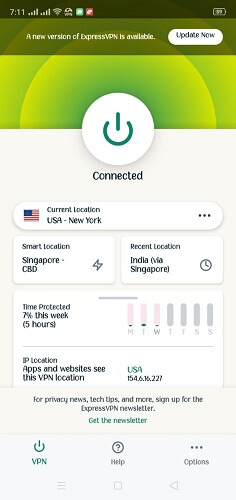 Step 2: Download the ESPN APK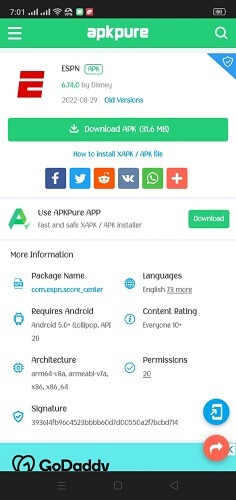 Step 3: Install the APK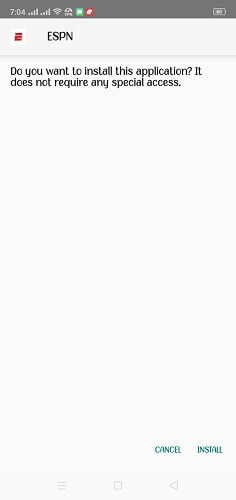 Step 4: Open the app and click on "log in"
Step 5: Enter your email and "continue"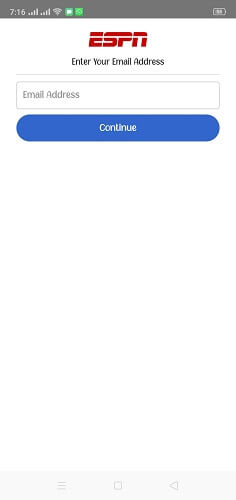 Step 6: Enter your password and log in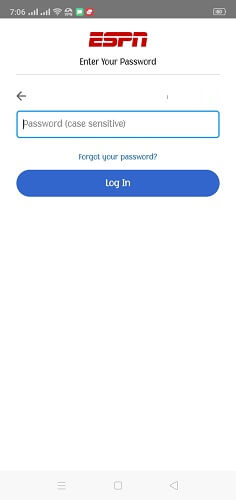 Step 7: Go to the "watch" section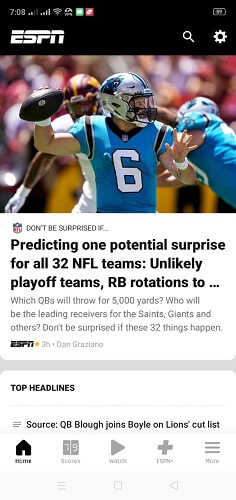 Step 8: Choose anything to watch and enjoy streaming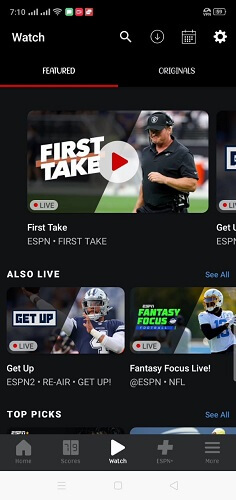 ---
ESPN Fantasy Games
You can follow your favorite professional esports competitions on ESPN Fantasy Games without actually participating. Instead, you place a wager on the success of your favorite teams and players, and you win.
Take League of Legends as an idea. Seven players, one for each position, a coach, and eventually a team would be chosen. You receive points based on your players' performance throughout that week as they compete.
You can play considerably shorter fantasy games that take place over the weekends and don't have very large wagers because certain esports tournaments aren't very long. Or you can wager a lot and make enormous money rapidly.
---
What Can You Watch on ESPN+ and The ESPN App?
Unsure of what to watch after unblocking your ESPN service? Well, we've got a couple of shortlists for you to help you out with your sports entertainment.

ESPN+
UFC
La Liga
Top Rank
NFL
BUNDESLIGA
College Football
Emirates FA Cup
U.S Open Cup
Copa Del Rey
SDC
The Ivy League
The Big West
ACC
The Championships Wimbledon
---
The ESPN App
The ESPN app gives you access to the following
ESPN
ESPN2
ESPN3
ESPNU
ESPN Deportes
SEC Network
SEC Network+
Longhorn Network
ACC Network Extra
ESPN Goal Line
ESPN Bases Loaded Networks
---
What Devices Support ESPN?
This list pertains to both ESPN+ and the ESPN App, as where the ESPN App is available, so is ESPN+. Of course, the main hub for ESPN on desktop computers is the website.
Windows

Mac

Linux

iOS

Android

Xbox One and Xbox Series S/X

PS4 and PS5

Roku

Amazon Fire Sticks and Fire tablets

Apple TVs

Samsung Smart TVs

Oculus Go

Chromecast
---
How to Watch NFL in Canada with ESPN
You can watch NFL live matches with ESPN using the YouTube TV service that costs $64.99/month or simply stream it through NFL Network which also airs on YouTube TV.
However. if you're not a big fan of spending this amount of money on the sport that you love, then I would recommend you watch NFL in Canada for free with this guide.
---
Other Streaming Services to Watch in Canada
You can watch the following in Canada as well, the links for guides are given below:
---
FAQs – ESPN
How Much is ESPN+ in Canada?
Firstly, ESPN+ is not officially available in Canada. In order to get access to it, you're going to need a VPN like Surfshark.
Once you have access, you're going to have to use American Dollars to pay the subscription fee and make an account. 
The monthly subscription plan would be worth around 7.55 CAD per month. The annual plan would cost around 75.66 CAD (As of 03/27/21).
How Do I Watch ESPN+ Online?
If you are using a desktop computer, you can access ESPN+ via its website: plus.espn.com.
If you're using any other device, like an android phone or Xbox, you'll be able to access it through the official ESPN App.
Can I Watch ESPN+ on my TV?
If you reside in the US, you should be able to access ESPN+ through the official ESPN App on many Smart TVs, especially those running on android. Samsung Smart TVs are known to be supported.
You can also use an accessory like a Chromecast or Amazon Fire Stick with your TV so that you can use the ESPN App.
If you do not live in the US, you will have to use a VPN to unblock the service as you use it. This is subject to availability. 
---
Closing Words
ESPN may be a global name, but its online streaming platforms are still restricted to the US and some other regions. The only way around this restriction is a VPN.
If you want to watch ESPN online in Canada, you're going to have to use a VPN. 
Once you have an account made with American credentials (such as an American address), and have your VPN activated and connected to a US server, you'll have no more troubles.
However, unblocking entertainment isn't all a VPN is used for. With a VPN you get greater security and privacy. You can rest a bit easier knowing that your data is safe and encrypted.