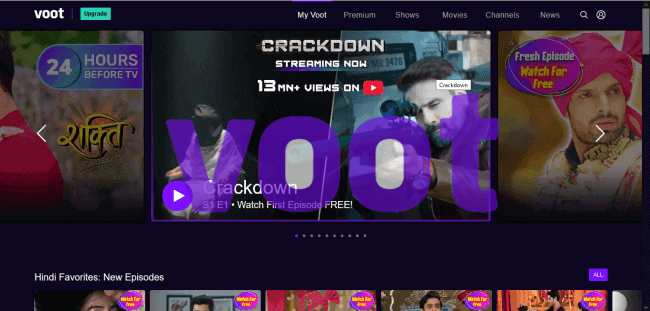 Voot is currently one of the best streaming platforms that is only available in India. You can watch Voot in Canada with the help of a VPN.
If you ever try to access the streaming site in Canada, you'll be held back by a message like this:
"We're expanding one step at a time…
…Until then, we're only available in India."
For that purpose alone, you need a really good VPN that helps you watch Voot in Canada or anywhere outside of India. ExpressVPN is our recommended choice. 
Most of the content available on Voot is free, yet ad-supported. It is very much similar to its counterpart services like SonyLIV or Disney+ Hotstar. 
I was able to unblock Voot in Canada by using ExpressVPN and other best VPNs that I have mentioned in this guide.
Our Recommended VPN – ExpressVPN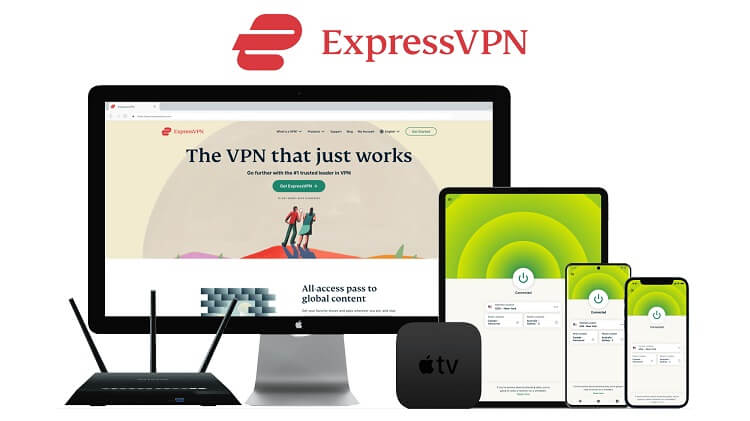 ExpressVPN is our recommended choice when it comes to unblocking Voot in Canada as it easily bypasses its geo-restrictions and keeps your online identity safe while streaming.
Get yourself ExpressVPN today and enjoy 3 extra months for free. You also get a 30-day money-back guarantee so use all of its features risk-free for 30-days.
---
Steps to Watch Voot in Canada
As we've said before, you're going to need a VPN if you want to watch Voot in Canada. Follow the guide below to quickly get access to the service:
Step 1: Download and Subscribe to a VPN (I highly recommend ExpressVPN)
Step 2: Open the app and enter your login details
Step 3: Connect to an Indian server
Step 4: Open Voot, register an account, or sign in, and enjoy!
---
How to Download Voot App in Canada
Here are the instructions with images that you need to follow in order to download the Voot app in Canada:
Step 1: Open this website from within Canada and click on Download APK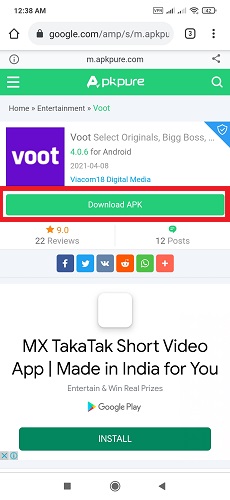 Step 2: It will take a few seconds to download. Click OK if your phone asks you to download APK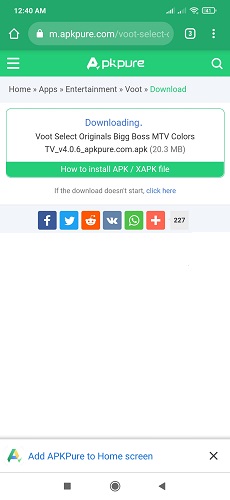 Step 3: Once the download completes, click Install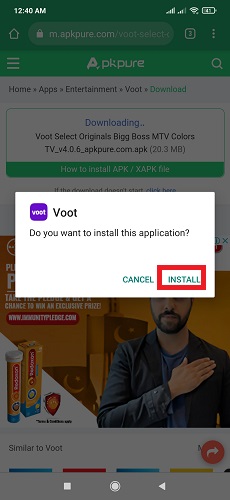 Step 4: Now once the installation is complete, do not open the app yet. First, connect to the Indian server of ExpressVPN
Step 5: Now Open the app and choose any option you like. I chose Connect with Google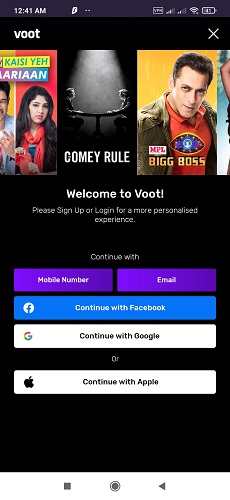 Step 6: You will be given instant access! Choose any free content for streaming.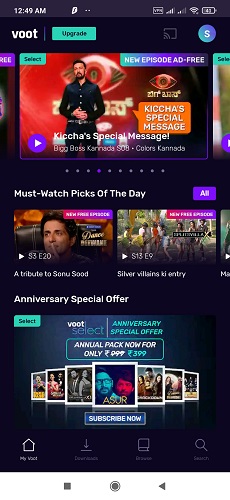 ---
Which are the Best VPNs to Unblock Voot Outside India?
After testing multiple different VPNs with Voot, we've found that ExpressVPN is the best for accessing both Voot and the Voot app on phones, which is why we've used it in this guide.
ExpressVPN
ExpressVPN (our 1st choice) comes with a 30-day money-back guarantee, and a 15-months plan worth $6.67/month (i.e. 12 Months + 3 Months Free), it is great for those that don't want to commit too strongly and want good value for money.
This provider has over 3000 servers across 94 countries, with 3 locations in India.
ExpressVPN comes with an in-built speed test feature, which means you'll always know which server gives you the best speeds for when you're watching Voot.
---
SurfShark
Surfshark currently has the cheapest subscription plan amongst all the highly-rated VPNs, offering 2 years for just $2.49/month.
With a single subscription to this VPN, you get access to it across an unlimited number of devices, from your home computer to your smartphone.
Surfshark currently has servers in India spanning 3 different locations. And with over 3,200 servers across 63 different countries, Voot isn't the only service you can get access to.
Other features that this VPN has are a camouflage mode, disguising you from your internet provider, and a white-lister, allowing you to select which programs can bypass the VPN.
Below is an image of the Voot website unblocked in Canada using Surfshark (Big Boss):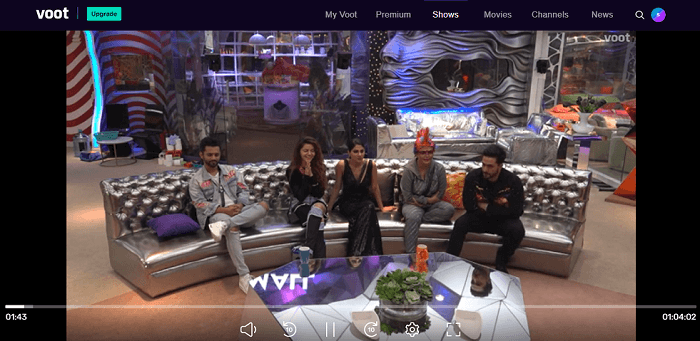 If Surfshark still doesn't seem like it's for you, check out the other premium VPNs we recommend.
---
NordVPN
NordVPN, like Surfshark, also has a special deal on offer for their 2-year plan, albeit at a slightly higher price of $3.29/month.
However, it does have a larger number of Indian servers, boasting 26, out of a total of 5456 servers across 59 countries, which can be accessed on 6 devices simultaneously.
A large number of servers isn't just for show, it means that you can always be sure that you'll have access to Voot through at least one of them.
NordVPN's double-protection feature allows you to change your IP address twice for added protection, and its CyberSec feature prevents access to known malicious websites and adware.
As with most of the other VPNs on this list, NordVPN offers a 30-day money-back guarantee, giving you the chance to try it out before committing.
---
CyberGhost
CyberGhost is a simple VPN and offers an 18-month subscription plan worth $2.75/mo.
This VPN offers a 45-day money-back guarantee, 15 days more than any other VPN on this list, so you have more time to be sure that the product is right for you.
CyberGhost comes with a clean, easily accessible UI; protection from the more dangerous parts of the internet; and a kill-switch, preventing potential harm in case the VPN disconnects.
This VPN also has servers specifically meant for streaming, so you can always be sure that you're getting the best connections for your Voot viewing.
---
IPVanish
IPVanish isn't as prominent as the other VPNs here, but it offers a decent 1-year plan at $6.49/month, with a 30-day money-back guarantee.
What's really special about it though, is the fact that it also provides 250GBs of cloud storage at SugarSync as well, which is secured with IPVanish's encryption.
With this subscription, you get access to 1500+ servers across 75+ locations. 6 of these servers are Indian and will let you connect to Voot in Canada without a problem.
---
Video: How to Watch Voot in Canada
---
What to Watch on Voot?
Whether you have access to Voot and want suggestions, or are looking to justify going through the trouble of getting it, these recommendations are sure to please.
Have a soft spot for romance? Internet Wala Love, a story of two very different people finding love over the internet, and Chandrakanta, an epic drama, are definitely worth checking out.
Looking for some fun comedy? The classic Hera Pheri, in which two tenants and a landlord bite off more than they can chew with a nonsense scheme, is sure to get you laughing.
If you want something more binge-able, check out Majaa Talkies, a long-running sketch-comedy show with popular celebrities.

If you want reality television, well, with Big Boss 13 Voot is sure to satisfy those urges. Watch 22 housemates compete in challenges against each other and suffer the pains of living together.
Also, when Bigg Boss 14 begins, through Voot voting for your favorite contestant has never been easier, allowing you to do it in just a few clicks.
If action is more your style, check out Petta, pitting stars Rajnikanth and Nawazuddin Siddiqui in a head-to-head fight of good and evil.
If you're willing to spend on a premium subscription, you can also access great international shows like Dexter, Masterchef USA, and Catfish.
---
Why is a VPN Needed to Access Voot?
As you now know, Voot is restricted to India. This is known as geo-restrictions and is due to legal disputes that have to do with licenses provided by publishing companies.
Without the proper licensing from these companies that primarily provide entertainment in certain regions, service providers like Viacom have trouble offering their services like Voot worldwide.
This is why you need a VPN.
A VPN (Virtual Private Network) uses special private servers to mimic a private network, in order to disguise your IP address, which is how you're identified on the internet.
When you connect to an Indian server in a VPN, Voot will assume you're accessing it from within India, so you get access to the local content.
These private servers cost money to maintain, so a VPN that markets itself as free is obviously a little suspicious.
Such free VPNs normally have limited server options, or are riddled with malware and adware, so you're better off sticking with a premium paid service like the ones we've recommended.
The VPNs we recommend have been tested and are known to work with Voot, while some other premium VPNs may not because Voot specifically blocks them.
---
Related Questions – Voot
Is Voot Available in Canada?
No, Voot is not available in Canada, as we've already said. In order to access the website at all, you're going to have to use a VPN to disguise yourself as being within India.
How do I Download the Voot App in Canada?
If you attempt to look up the Voot app in app stores while outside India, it will either not show up, or say that it is not available in your country.
However, if you use a premium VPN on your phone, such as NordVPN, you can get access to the Voot app download on app stores.
With a smartphone-compatible VPN and the Voot app Colors TV, and all the other amazing free and premium content can be taken wherever you go.
How Can I Watch Bigg Boss from Outside India?
Bigg Boss is available on Voot. However, Voot isn't available anywhere else other than India. So, if you want free access to Bigg Boss, you're going to need to use a VPN.
---
Other Indian Streaming Services to Watch in Canada
Apart from Voot, there are other Indian streaming services that you can watch in Canada with the help of a VPN. These are: 
---
Closing Words
So, we've shown you how to watch Voot in Canada using a VPN. But that's not all you're getting with that single subscription that costs so little.
You're getting added safety and comfort when you browse the internet. There are tons of harmful agents out there, looking to steal your data, or just disrupt your hardware.
With a VPN, sure you get access to entertainment, but you also get the comfort of knowing your choices and browsing can't be tracked and used to manipulate you.