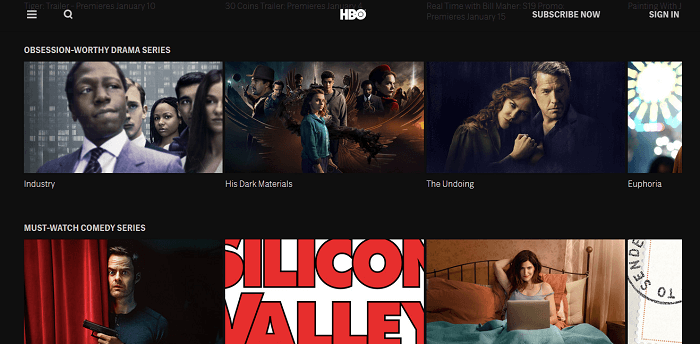 HBO NOW is a video-on-demand service that is only available in the US. The only way you can watch it outside the US is by using a VPN. 
Even if you try to access HBO Now or HBO Max without a VPN, the website will fail to load and will return an error that says:
"Not in Service Area. HBO Now is only supported in the US and certain US territories"
It may seem a long shot or a difficult task at hand, but in this guide, we'll be showing you how to watch HBO Now in Canada or from anywhere. 
But if you're in a hurry, you can jump straight to the steps to unblock HBO Now outside the US. 
---
How to Sign Up with HBO Now (from Canada)
If you don't have an HBO account just yet, you can follow these steps to create an account with HBO.
It's a little tricky because HBO only accepts payments from US payment card so you would need to follow an alternate approach that we are about to show you.
HBO Now pricing starts at $14.99/month and the least value of Gift Card available online is $25 which will cost you about $29.97. 
Step 1: Open this website and buy a $25 HBO Gift Card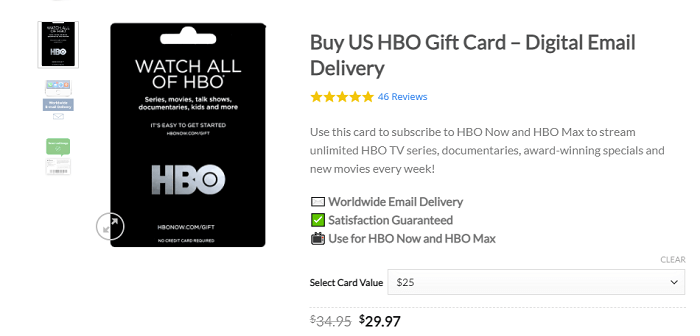 Step 2: Now connect to a VPN (Surfshark is our top choice)
Step 3: Download and Install the VPN app on your device
Step 4: Enter log in details and connect to any US server (e.g. Manassas)
Step 5: Open HBO Now website and click Subscribe
Step 6: Select either HBO Max or Just HBO (both at the same cost) and create an account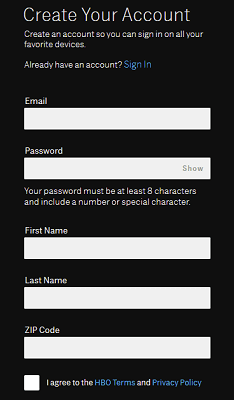 Note: You will need to enter a Zip code as well. Enter 10018 New York code. 
Step 7: Now it will ask you to enter payment details. You DO NOT have to enter you card number. Just cancel the page and redeem your gift card from this page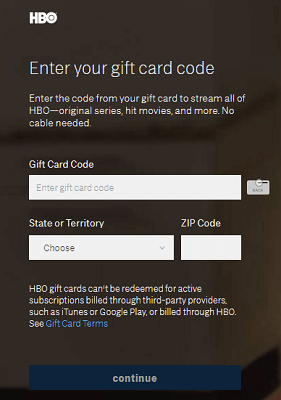 Note: You will need to enter a 10 to 12 digit gift card number, State, and Zip Code once again and you will be able to sign up with HBO. 
---
How to Watch HBO Now in Canada 
Here are the steps you need to follow in order to watch HBO Now in Canada or anywhere around the world:
Step 1: First you need to subscribe to a VPN (Surfshark is our top choice)
Step 2: Download and Install the Surfshark app for your device 
Step 3: Open the app and enter the username/password
Step 4: Now connect to the US server (e.g. Boston or Salt Lake City)
Step 5: Go to HBO Now website and enter login details to start streaming 
Note: If the error comes up again, then you need only to change the US server and then try in Incognito mode of your browser.
---
What are the Best VPNs to Watch HBO Now in Canada?
We tested over 50+ VPN providers that could bypass HBO Now restrictions but only a handful of VPNs passed the test. 
To recommend the best ones, here are the 3 top VPNs to unblock HBO Now in Canada:
1. Surfshark
Surfshark is our top choice when you need to unblock HBO Now service in Canada. I was able to access it in a single attempt by connecting to its Salt Lake City server. 
It has over 500 US servers and in 20+ different US cities which helps you access any US content including HBO Now with ease. 
With a single Surfshark account you can connect with unlimited devices as well and can be used by the entire family. 
It is quite affordable too and is available for only $2.49/month and also has a 30-days refund policy. 
---
2. NordVPN
NordVPN is another top choice that happens to unblock HBO Now from anywhere in the world including Canada. 
It has 1,970+ servers in 15 different cities of the US and all of those servers help you bypass HBO geo-restrictions. 
NordVPN has strong encryption and it's got great speed too. You can connect 6 devices simultaneously with a single account. 
It is available at a reasonable price at $3.71/month and gives you a 30-days money-back guarantee. 
---
3. ExpressVPN
ExpressVPN also helps unblock HBO Now and many other streaming services with the help of its 23 US servers.
I connected to its New Jersey-3 server to unblock HBO with ease. I was able to get access on the first attempt. 
ExpressVPN may be expensive for some (available at $8.32/month), but its undeniably fast and strong enough to hide your IP address and doesn't store your logs either. 
---
List of Shows on HBO NOW
HBO Now has tons of quality Movies and TV Shows that you need to watch right now. In the Comedy section, you will find shows like How To with John Wilson, Insecure, Curb your Enthusiasm, Silicon Valley, Mrs. Fletcher, etc.
You can also watch Movies/TV Shows that are based on the book such as His Dark Materials, Watchmen, The Undoing, Big Little Lies, True Blood, and the all-time popular Game of Thrones. 
Among the festive favorites, you can watch movies like Last Christmas, The Family Man, The Family Stone, Die Hard, New Year's Eve, and more.
You can also find tons of Kids' content such as Diary of a Wimpy Kid, The Call of the Wild, Robots, Dolittle, Spies in Disguise, Madagascar 3, etc.
---
Frequently Asked Questions
What is the difference between HBO GO and HBO NOW?
HBO NOW is a streaming option, and HBO GO is an on-the-go feature that comes with a cable subscription or Amazon Prime. The prices are a little different but with the same content.
Can you stream live on HBO GO?
HBO's live shows and events require a little time to be prepared for HBO GO, normally available within 24-hours of the original broadcast. 
Can I watch HBO for free?
HBO has a free 7-day trial after which you have to get it through Amazon Prime for $14.99 per month.
---
Conclusion
No adherent movies and TV shows fan hasn't heard of HBO. You must have watched Game of Thrones, Veep, Silicon Valley, and many more that are produced by HBO.
This big of a streaming service is unavailable outside of the US. It isn't even unavailable in Canada which is its neighboring country.
The only way you can watch HBO Now in Canada is by using a VPN. We've mentioned a few VPNs that we tested and were able to give us access to HBO. 
We have also provided a way to sign up with HBO if you're outside of the US. Do you have a favorite HBO Show? Let us know in the comments below.