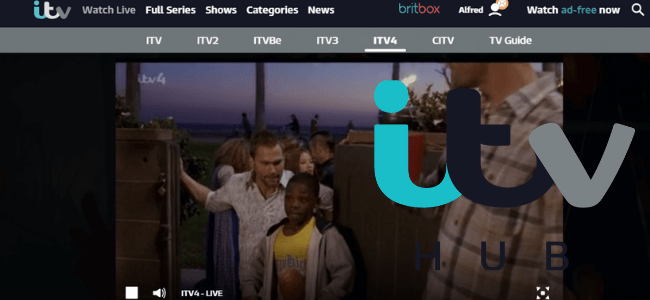 ITV Hub is a UK-based streaming channel and that's common knowledge that you won't be able to stream outside of the UK unless you're connected to a VPN. 
Not all VPNs that have UK servers are able to give you access to ITV Hub because of its strong geo-restrictions. 
To watch ITV Hub in Canada or in any other country, you will need a reliable VPN that happens to get past ITV Hub restrictions with ease.
We recommend using Surfshark VPN as in this guide we tested this VPN to stream the ITV4 channel live with its Glasgow server.
If you don't use a VPN and start using ITV Hub content, you will see a message that says:
"Sorry! This video isn't available right now."
This basically means ITV Hub is preventing you access its content. To get straight to the point, here are the steps to watch ITV Hub in Canada. 
---
How to Sign Up with ITV Hub
If you haven't already signed up with ITV Hub, here's a quick process to sign yourself up with the greatest UK streaming service. 
You will be able to sign up with ITV Hub without having the need to connect with any VPN. However, you won't be able to stream anything once you create an account without connecting to a VPN. Surfshark is our top choice.
Step 1: Open the ITV Hub website and click on Sign IN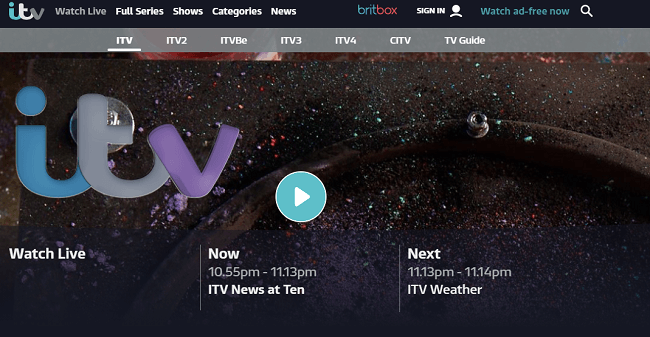 Step 2: Now you need to click on Sign Up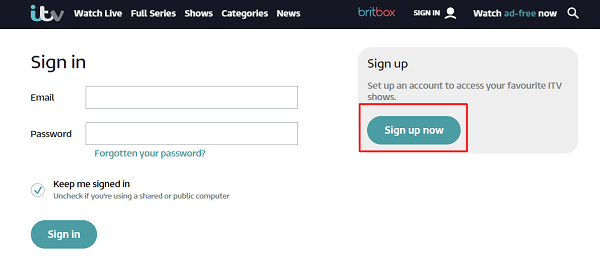 Step 3: Enter your personal details but you would need to enter a fake UK postal code (search it on the internet) and click Continue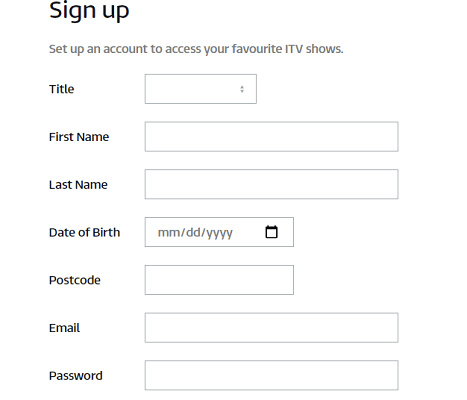 Step 4: The message will appear saying that you can watch ITV Hub with ads for free or pay up GBP3.99/month with 7 days free trial.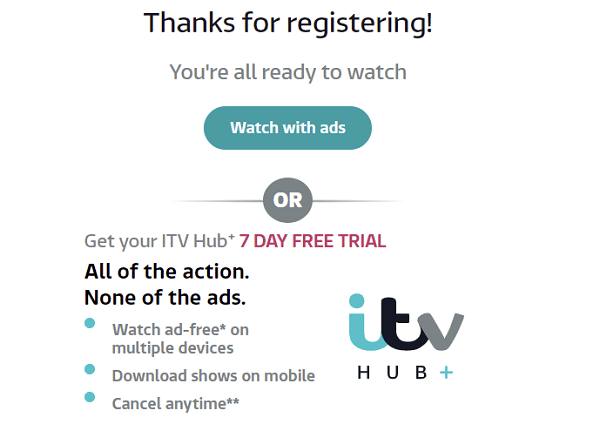 ---
How to Watch ITV Hub in Canada
Here are the steps you need to follow in order to unblock ITV Hub in Canada or anywhere in the world:
1. Subscribe to a VPN (Surfshark is our top choice)
2. Download and Install Surfshark on your preferable device
3. Enter Login details and connect to the UK server (e.g. Glasgow)
4. Once connected to the UK server, open the ITV Hub website 
5. Login with ITV Hub (verify your email) and start streaming!
---
What is the Best VPN to Watch ITV Hub in Canada?
As discussed above, ITV Hub can only be accessed in Canada with the help of a VPN and that VPN must be able to bypass ITV Hub geo-restrictions.
So, after testing 30+ premium VPNs, we were convinced that only a handful of them were able to unblock ITV Hub.
Based on the tests we performed, the best VPN to watch ITV Hub at the moment is Surfshark VPN. 
In the first attempt, when I connected Surfshark to the UK server (Glasgow server), I was able to access ITV Hub in my hometown Hamilton, Ontario. 
Here's the screenshot of me watching ITV4 live in Canada: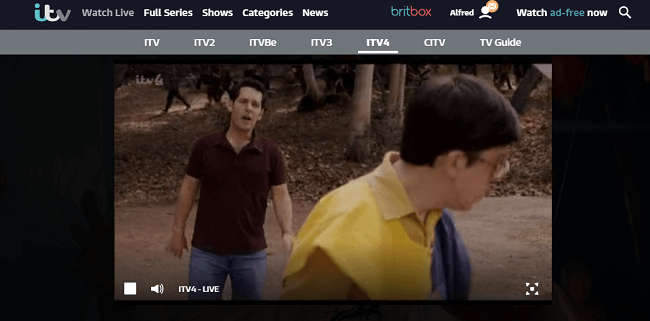 ---
1. Surfshark
Surfshark is a perfect VPN to watch ITV Hub from abroad either in Canada or any other country because it has 50+ UK servers and easily bypasses restrictions.
You can stream ITV Hub on an unlimited number of devices with Surfshark because there's simply no limit on how many devices you connect. 
While I was trying to access ITV Hub, I connected to its Glasgow UK server which easily granted me access. 
Surfshark is super affordable too which is available for only $2.49/month (2-year plan) and gives you a 30-days money-back guarantee. 
Along with ITV Hub, you get to access YouTube TV and Channel 9 as well.
---
2. NordVPN
NordVPN is another top recommendation that requires no introduction because it's been around for several years.
It has over 440+ UK servers and in a few attempts, I was able to access ITV Hub and enter my login details without seeing a geo-restriction error. 
It has a decent speed, reliable connection, and is considered the most secure VPN because of its double VPN feature. 
Unlike Surfshark, you can only connect with 6 devices simultaneously. It has a reasonable price as well as it offers $3.71/month for its 2-year plan. 
---
3. Express VPN
ExpressVPN is our final choice which has the fastest speed in all VPNs. I was able to unblock ITV Hub in multiple attempts but still, it worked for me and with the fastest speed possible as I said. 
It has servers in 4 UK Locations that include Docklands, East London, London, and Wembley.
I connected to their Wembley server at first but I wasn't able to unblock ITV Hub. But then I connected to their East London server and I was able to access ITV Hub content. 
ExpressVPN can be a bit on the expensive side, available for $8.32/month. However, you also get a 30-days money-back guarantee. 
---
List of ITV Hub Shows
There are so many categories ITV Hub has to offer. For instance, there is a Drama & Soaps category which includes shows like McDonald and Dodds, The Sister, Bancroft, Flesh and Blood, and more. 
For children, it has some amazing shows like Aloha, Scooby-doo!, BabyRiki, Ben 10, Buck and Buddy, Chloe's Closet, DC Superhero Girls, and more. 
In the Comedy section, you will find shows like American Dad, Celebrity Juice, Family Guy, Mr. Bean, Kate, and Koji, Outside Edge, the Stand-Up Sketch Show, etc. 
In short, you will find anything to everything for all age groups and family members. 
---
FAQs – ITV Hub
Is ITV Hub free?
Yes, ITV Hub is absolutely free to watch but it will include ads. To watch ads free, you will need to get a premium account for GBP3.99/month.
What's the difference between ITV Hub and ITV Player?
ITV Hub was designed to replace the ITV website and the ITV Player. The Hub provides instant access for phones, PCs, and connected TVs.
Can I watch ITV in France?
You can watch ITV Hub anywhere in the world if you have the right VPN. A VPN will trick ITV Hub by replacing your original IP address with that of a UK IP address. 
---
Conclusion
ITV Hub is a UK streaming that is strictly available in the UK. If you're living outside of UK, for example in Canada, you will need a VPN that can bypass ITV Hub restrictions.
One such VPN that works perfectly with ITV Hub is Surfshark. With its 4 UK server locations and about 440 servers in the UK alone, you can access any ITV Hub content. 
If there's still an error, you can switch to a different UK server and start streaming content.