Lifetime or My Lifetime is a US-based streaming service that is unavailable in Canada. You can watch Lifetime in Canada if you have a US-based TV provider which most Canucks don't have.
You can still watch some of its free content in Canada that doesn't require you to enter a US TV Cable provider, and that is with the help of a VPN. 
Every time a user tries to access its content from Canada without a VPN, they receive a message saying: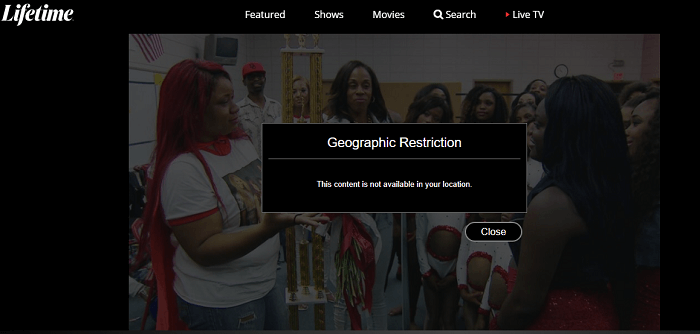 I was able to access Lifetime in Canada by using Surfshark VPN and other best VPNs which I will be discussing in this guide.
---
How to Watch Lifetime in Canada
My Lifetime streaming service contains some of the best TV shows and movies that are free to watch. Here's a simple guide explaining how to use a VPN to access Lifetime in Canada:
Step 1: First you need to subscribe with a VPN (Surfshark VPN is our top choice)
Step 2: Download and Install Surfshark app on your preferred device
Step 3: Open the app and connect to the US server (e.g. Boston server)
Step 4: Now visit the Lifetime website and select content that doesn't require sign in
Step 5: Enjoy watching free content!
---
What Can you Watch on Lifetime for Free Without Signing In?
Lifetime does allow users to watch free content without signing in with the US TV cable provider. That is why you can watch these shows with the help of a VPN in Canada or anywhere else in the world.
Some of these shows include BlackLove, Married at First Sight, Marrying Millions, Little Women: Atlanta, The Rap Game, Dance Moms, Abby's Ultimate Dance Competition, and Bring It.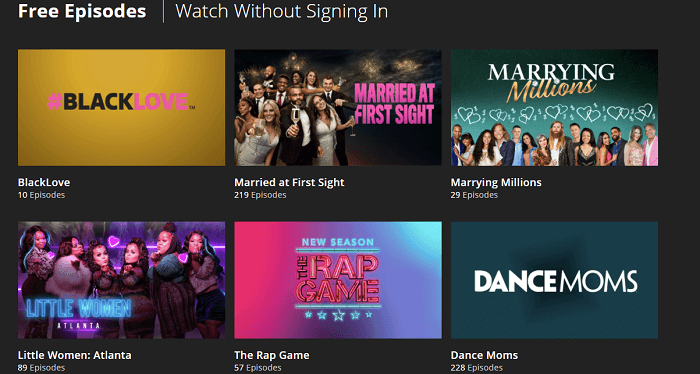 If you have a US TV cable provider, you can watch some of the premium movies like Circle of Deception, A House on Fire, Flower in the Attic, If there be Thorns, Petals on the Wind, and more.
---
What are the Best VPNs that Unblocks Lifetime in Canada?
Lifetime streaming service requires you to sign with a US TV cable provider which remains to be impossible for Canadian residents to acquire. However, some of its content is free to watch and doesn't require you to sign in.
Despite this fact, the free content can only be accessible in Canada if you use a VPN that happens to unblock the service.
We recommend using Surfshark VPN. I tried unblocking the Lifetime service using Surfshark by connecting to its Boston server and was successfully able to stream 'Bring IT' outside of the US without any geo-restriction error. Here is the screenshot: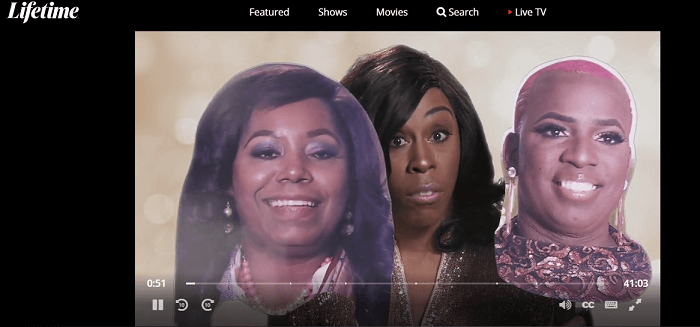 We have listed 3 of the best VPNs that I tested and was able to watch Lifetime in Canada. Have a look at these VPNs:
---
1. Surfshark
Surfshark is our recommended VPN to unblock Lifetime in Canada. It has 500+ US servers in 20+ cities and was easily able to give me access to the Lifetime content library.
Even if you get a single Surfshark connection, you get to use this VPN on unlimited devices. It also protects your device against malware and viruses.
It is super affordable too! Its 2-year plan only costs you $2.49/month with a 30-day money-back guarantee.
---
2. NordVPN
NordVPN is another recommended option that helps you watch Lifetime from anywhere including the Canadian region. It has 1,970+ US servers in 15 cities which is the reason why it has been recommended by us.
Not only that, NordVPN has strong encryption i.e. 256-bit encryption and it comes with a Double VPN connection that encrypts your internet connection not once but twice.
With NordVPN, you get an ultra-fast VPN connection and uninterrupted streaming. This VPN would cost you only $3.71/month with the 30-day refund policy.
---
3. ExpressVPN
ExpressVPN is the one that has the fastest VPN connection within our list of recommended VPNs. It has 23+ servers in the entire US and all of these servers help you unblock Lifetime from outside the US.
It has best-in-class encryption that will protect your data against hackers, ISPs, and the Government. It doesn't store any kind of your logs either, which means, everything that you do over the internet with ExpressVPN, remains private.
ExpressVPN is a touch expensive and is available for $8.32/month for its 1-year plan. It is available on all devices and also gives you a 30-day money-back guarantee.
---
What is Lifetime Movie Club and Can You Watch it in Canada?
Lifetime Movie Club is a separate video streaming service that offers new and classic Lifetime movies. The good thing is, this service does not require you to sign in with the US TV cable provider. 
Anyone can sign up with Lifetime Movie Club but still, the service is only available in the US only. You can subscribe to its service for only $3.99/month or $39.99 for the entire year. 
You can download its app from the App Store or Play Store, or you can visit its website. But if you live in Canada, you're going to need a VPN (Surfshark is our top choice) and then you will be able to subscribe to its service and watch its content.
---
Frequently Asked Questions
Does Netflix have Lifetime?
No, Netflix does not contain any Lifetime Movie or TV Shows on its content library.
How much does a Lifetime TV subscription cost?
Lifetime TV does not have any subscription cost. You can watch it for free if you have a US TV cable provider sign-in details. That means, only US residents can access Lifetime TV.
Is Lifetime TV and Lifetime Movie Club the same?
No. Lifetime TV requires you to sign in with a US TV cable provider, whereas, the Lifetime Movie Club is independent and anyone can sign up with the service for $3.99/month.
Is Lifetime Channel on Amazon Prime?
Yes, Lifetime Movie Club is also available on Amazon Prime but it would only work if you have a Lifetime subscription.
---
Conclusion
Lifetime is a streaming service that requires a US TV cable provider to sign in if you want to watch it from outside of the US. However, there is still a way to watch Lifetime in Canada if you have a VPN.
You could only be able to watch the free episodes of some TV shows that don't require sign-in but requires the use of a VPN.
We have discussed the VPNs that we have recommended that help you unblock Lifetime in Canada or anywhere around the world.