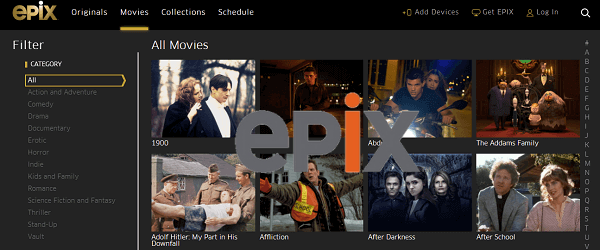 Epix is the latest streaming service that is only available for US viewers. You can watch EPIX in three ways. You can watch it with a TV provider (Comcast, Xfinity, Cox, etc), watch it with a Digital Provider (Amazon Prime, Sling TV, YouTube TV, etc), or if you don't have any of these, then you can watch it on the app for only $5.99/month (7-days free trial).
The catch is, if you live in Canada, you won't be able to watch it with any of those methods unless you use a VPN. 
In this guide, I'll be discussing how to watch EPIX in Canada or outside of the US for that matter. I will also be telling you how to sign up with EPIX using a VPN such as Surfshark. 
You can jump over to the quick steps to watch EPIX in Canada or enjoy the complete ride with us. 
---
How to Watch EPIX in Canada (Outside US)
The only way you can watch EPIX is by using its app which happens to be unavailable outside of the US as well.
Before you can start streaming with EPIX, make sure to install and use Surfshark VPN on your mobile and connect to the US server.
Now follow these steps:
Step 1: Subscribe to a VPN (Surfshark is our top choice)
Step 2: Now Download and Install the VPN app on your mobile
Step 3: Once installed, open the VPN app and connect to the US server (e.g. Manassas)
Step 4: Now open the EPIX app
Step 5: Log in with your account
Step 6: Choose any content and start streaming any content!
---
How to Sign Up with EPIX from Outside US
You won't be able to sign up on EPIX without the use of a VPN. EPIX offers 7 days free trial but requires you to enter your credit card information. 
Follow these steps to sign up with EPIX:
Step 1: Subscribe to a VPN (Surfshark is our top choice)
Step 2: Download and Install the VPN app on your device
Step 3: Open the app and connect to the US server
Step 4: Now go to the EPIX website and click on Get EPIX from the top menu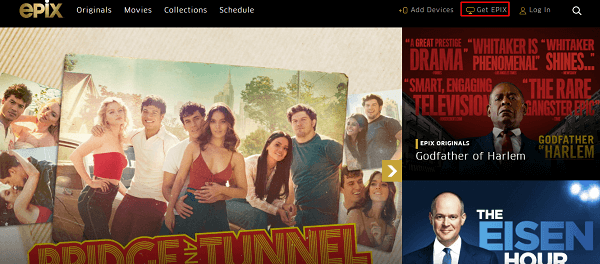 Step 5: Scroll down and select the option 'Get the App' under the option 'Watch with the App'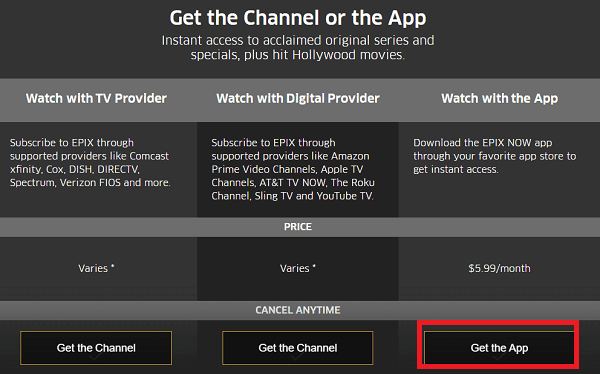 Step 6: Now select 'Start My Membership'

Step 7: Enter your email address/password to create your account and click Continue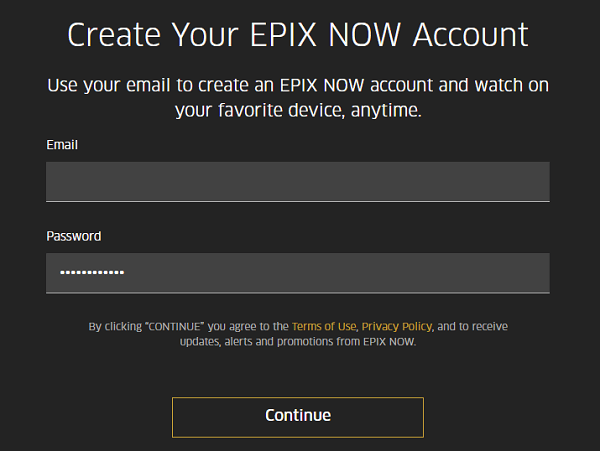 Step 8: You will see these options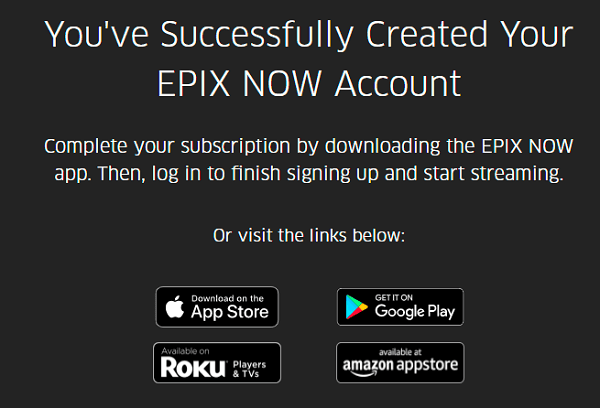 Note: EPIX app won't be available for download on your Play Store or iTunes if you are available outside of the US. For that purpose, you need to download EPIX Now APK on your Android. 
Step 9: Once the EPIX Now apk is downloaded on your mobile, click Install when it appears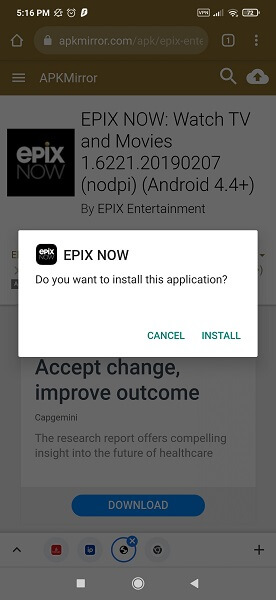 Step 10: When the EPIX app opens, click on Log In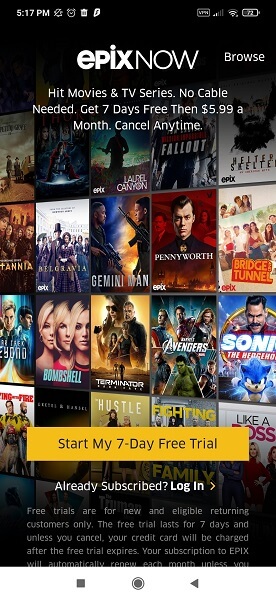 Step 11: Enter your Email address/Password and then click Log In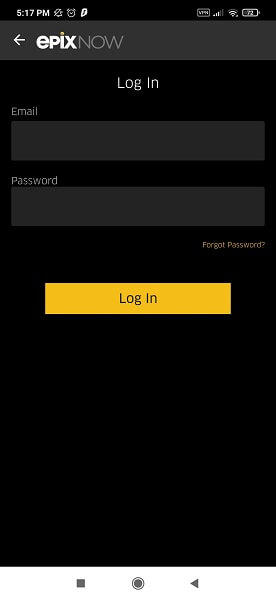 Step 12: Click on 'Add Credit Card or Debit Card'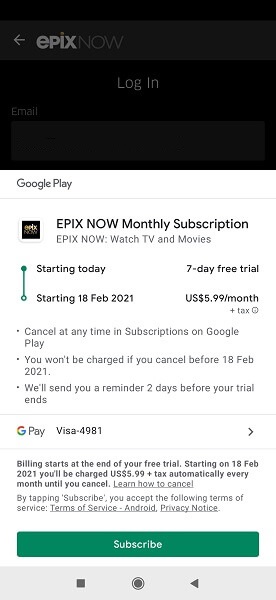 Step 13: Select Subscribe and you're done with sign up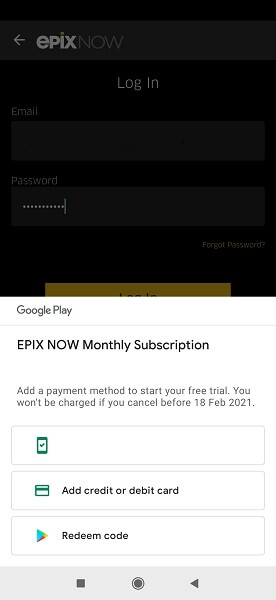 ---
What Can you Watch on EPIX?
There are a lot of Movies and TV series that you can watch on EPIX. In the Originals category, you can watch TV series like Bridge and Tunnel, Godfather of Harlem, Pennyworth, Belgravia, War of the Worlds, and more. 

Even though EPIX has every category lined up for viewers, it has a good Kids and Family section that you need to explore. You can watch Movies like Sonic the Hedgehog, Playing with Fire, Dora and the Lost City of Gold, The Addams Family, etc. 
There's a Collection section as well where you can all sorts of Movies genres in one place. You can find genres like Trending Movies, Coming Soon to EPIX, Valentine's special, Comedy, Thriller, Adventure, and more. 
---
How to Watch Movies on EPIX 
EPIX is a perfect streaming platform to watch the latest Movies, TV series, and Documentaries. In fact, you can consider it as an alternative to Netflix, Disney Plus, or HBO Max is much affordable. 
I used Surfshark VPN to unblock EPIX since the streaming service is only available in the US and I am available in Canada. 
I connected to its Manassas server and it gave me access to its website on the first attempt. This is the interface of EPIX.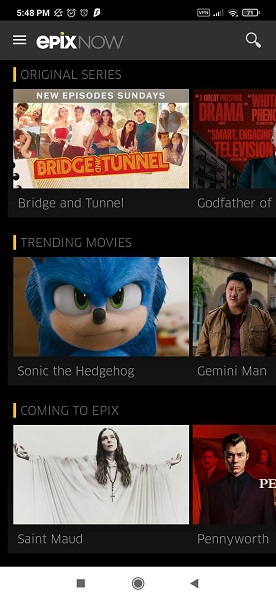 From the top menu, you can choose either Originals, Movies, Collections, or Schedule option to watch your favorite content. 
Once you select a Movies option, you can find the list of all kinds of Movies. So you have to choose the genre and then select any Movie. I chose to stream 'Sonic the Hedgehog'. I was able to stream the movie without a problem.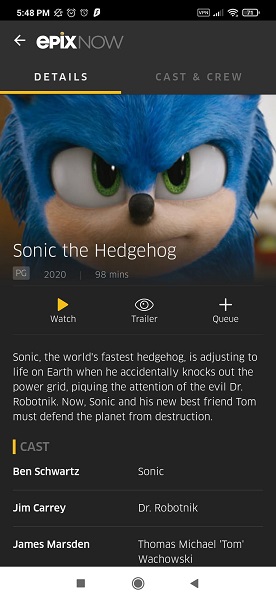 ---
What are the Best VPNs to Watch EPIX in Canada?
Have a look at the top VPN recommendation to watch EPIX online.
Surfshark (Our #1 VPN Choice)
Surfshark
Surfshark VPN is our top recommendation to watch EPIX online from anywhere. Among the many VPNs we tested, it is the perfect VPN for safely streaming EPIX.
It has 500+ US servers in 20+ US cities that all help you in unblocking content in the US, especially EPIX. Your traffic on the internet will also remain secure and anonymous, and you can use Surfshark on unlimited devices with a single account. 
You will find Surfshark VPN to be very affordable unlike other VPNs as it is available for only $2.49/month with a 30-day money-back guarantee. 
---
NordVPN
NordVPN is another top recommendation in our list of VPNs that unblock EPIX in Canada due to its strong encryption and a great list of servers. 
It has 1,970+ servers in over 15 cities in the US which makes it comfortable for you to watch EPIX in a single attempt. It has a Kill Switch feature and malware protection that keeps your device protected from unwanted malware. 
With a single account, you can connect NordVPN to 6 devices at the same time. Also, you get NordVPN at a good price i.e. $3.71/month with a 30-day money-back guarantee. 
---
ExpressVPN
ExpressVPN is our third but our valuable option to access EPIX content from anywhere. It's super fast speed and incredible encryption i.e. 256-bit military-grade encryption. 
It has 23+ US servers that unblock US content and has a Kill Switch feature that kills the internet whenever a VPN connection drops to keep your identity from being exposed. 
ExpressVPN is perfect for streaming because of its speed and does not keep any kind of logs. It is available for $8.32/month but offers a 30-day money-back guarantee to try out its service. 
---
FAQs – Epix
1. What are the three different ways to stream EPIX?
You can stream Epix with the help of a TV cable provider, with a streaming service such as YouTube TV, Sling, Hulu, and you can also watch EPIX on its app. 
2. On which devices EPIX works?
Epix is compatible with Windows, Mac, Android, iOS, Amazon Fire TV, Gaming Consoles, Chromecast, Honda, PlayStation 4, Roku, Android TVs, and Xbox One.
3. How much does Epix cost a month?
The most popular pricing plan of Epix is its $5.99/month plan.
---
Conclusion
The only easiest way to watch EPIX online is by using a VPN that helps you unblock the website. 
EPIX can be watched only in the US and its content is restricted elsewhere. Even you cannot sign up outside the US. 
There are three ways to watch EPIX online. The first way is to watch it with a TV cable provider, the second way is to watch it with YouTube TV, Sling, or Hulu TV subscription. The third way is to watch it on your mobile for $5.99/month and with 7-days free trial.