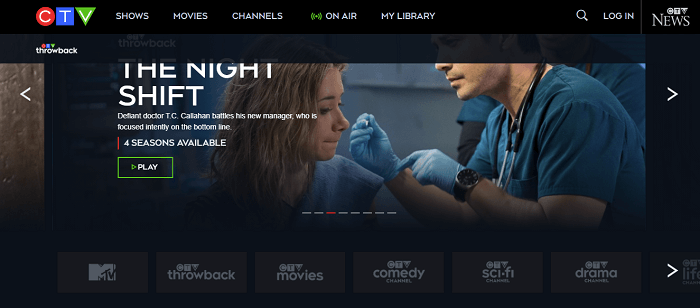 CTV is the most-watched Canadian streaming service just above Global TV, but still, it isn't available outside of Canada.
Even if you're outside of Canada, you can easily access the CTV website, but you won't be able to stream Live TV, TV Shows, and other content. 
The solution to watching CTV outside Canada is by using a VPN because whenever you try to stream CTV outside of Canada without a VPN, you will see the following message appears:
"We're sorry, this content is only available for viewing in Canada"
Since the service is absolutely free to watch, Canucks that are traveling abroad or moving away from Canada will need a VPN (Surfshark is our top choice).
With a VPN, you get a Canadian IP address that will give you access to this channel from outside Canada.
How to Watch CTV Outside of Canada
It is not necessary to sign up with CTV to what your favorite show from their website or the CTV Go app. You simply need to connect with a VPN, connect to their Canadian server, and start streaming.
But if you don't use a VPN, all you could see is a white or black screen with nothing streaming on it. 
Here are the steps you need to follow:
Subscribe to a VPN (Surfshark is our #1 choice)
Download and Install the VPN app on your device
Open the app and enter your login details
Connect to the Canadian server (e.g. Montreal)
Once connected, open the CTV website or CTV Go app in Incognito mode of your browser
Now log in with your ID/Password, select an episode, and start streaming!
While following the above-mentioned steps, I was able to watch 'Your Morning' TV show Season 5 Episode 95 on CTV: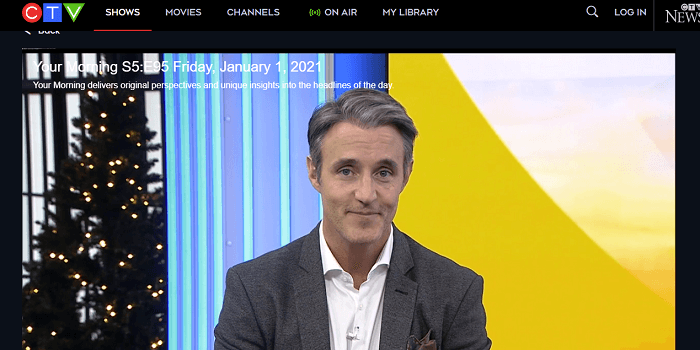 What are the Best VPNs to Watch CTV outside Canada?
I tested about 35+ VPNs to see which VPN performed better while unblocking CTV outside of Canada. 
I found only 3 VPNs that worked really well because of their abundant Canadian servers, fast speed, and strong encryption. 
To unblock CTV from anywhere, below mentioned VPN's are the best ones to choose from:
1. Surfshark
Surfshark is our recommended choice when it comes to unblocking CTV outside of Canada because it has 90 Canadian servers that are located in 3 different cities.
I connected to its Vancouver server and I was granted access to CTV within seconds and it helped me streaming my favorite content.
You will find this VPN quite affordable too as it's available for only $2.49/month. With that, you get to connect unlimited devices with a single account.
2. NordVPN
NordVPN is another choice to unblock CTV because of its strong encryption and its vast server network. 
It has about 480+ Canadian servers that are located in 3 Canadian cities which makes it super easy to access any Canadian content including CTV. 
Its speed is quite remarkable as well and it costs reasonably too available for $3.71/month with a 30-days refund policy. 
3. ExpressVPN
ExpressVPN also manages to make our list of best VPNs for CTV outside of Canada because it has the fastest speed available. 
Because of its fast speed and 4 servers in Canada, it is the perfect VPN for Canadian users that are living away from their homes. 
It is slightly expensive at $8.32/month but it's totally worth buying. Also, you get 'no questions asked' 30-days money-back guarantee.  
What Can You Watch on CTV?
First of all, there's a Live TV section within CTV that brings you about every news related to Canada and its people. You can watch Live TV 24/7 all week long.
There's a TV Show section as well where you can watch some of the News Programs and CTV News Channels. These include CTV National News, Question Period, W5, Power Play, and Pop Life.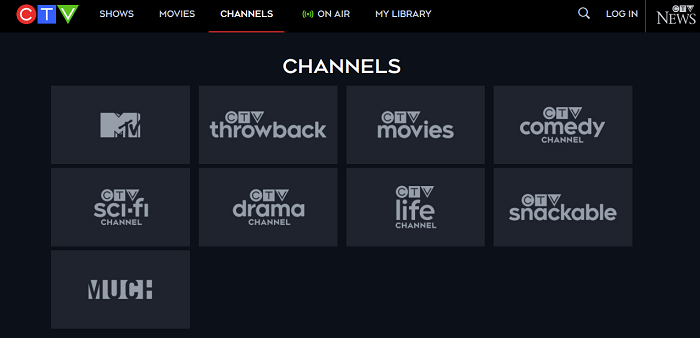 There's a Video section where you watch clips and videos related to News, Health, Lifestyle, Technology, Entertainment, Autos, and consumers. 
In the channel's section, you can watch some of your favorite channels like MTV, CTV Throwback, CTV Comedy Channel, CTV Sci-Fi, CTV Drama Channel, and more. 
Conclusion
CTV is a Canadian premium channel and people outside Canada cannot watch it. The only way to watch CTV outside Canada is by using a VPN.  
If you're moving out of Canada or are traveling abroad, but at the same time you want to catch up with the latest news and TV Shows episode from the local channel, then you probably need a VPN.
Let us know which is your favorite TV Show which is available on CTV in the comment section below.