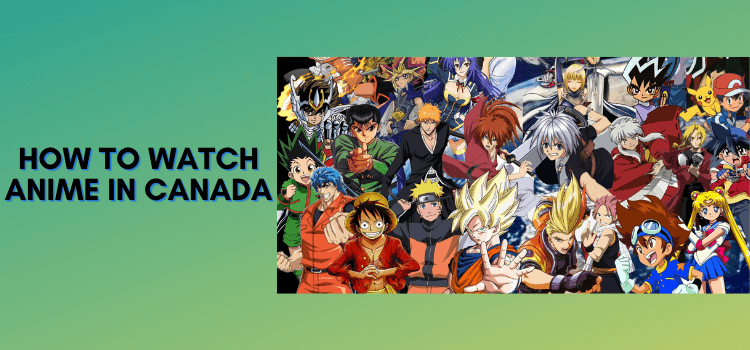 Watching the 'Japanese style' of Animation in Canada is on the rise and that's mainly because of the grown popularity of shows like Dragon Ball, Sailor Moon, and Naruto. 
Even services like Netflix, Prime Video, and other platforms now offer new and exclusive anime titles in the US, but still not in Canada. 
There are plenty of ways to watch Anime in Canada but most of these methods require a VPN since they are geo-restricted in Canada. ExpressVPN is our recommended choice – 3 Months Free.
We compiled a list of streaming services to watch Anime in Canada that either contain English subtitles or are dubbed in English.
Our Recommended VPN – ExpressVPN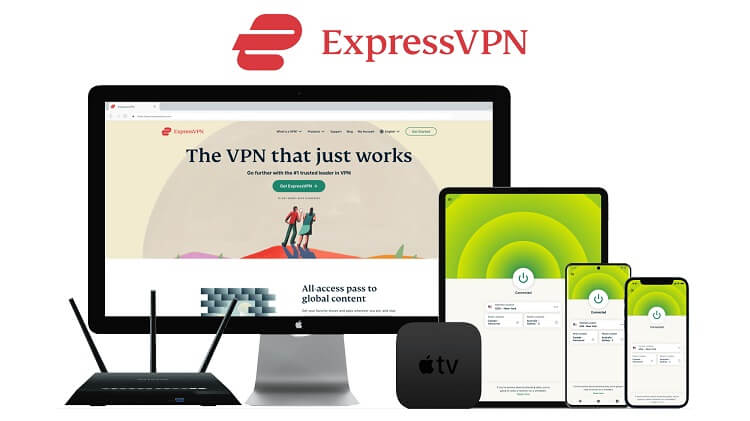 ExpressVPN is our recommended choice when it comes to watching Anime in Canada as it easily bypasses its geo-restrictions and keeps your online identity safe while streaming.
Get yourself ExpressVPN today and enjoy 3 extra months for free. You also get a 30-day money-back guarantee so use all of its features risk-free for 30-days.
---
How to Watch Anime in Canada 
Among the many options to watch Anime in Canada, the best method is to watch it with VRV. It is a freemium service, which means you can watch some of the content for free, while for watching other content, you need to subscribe for $9.99/mo with a 30-days free trial.
You can always skip to the free method to watch Anime, but if you don't then follow these steps to watch Anime in Canada with VRV:
Step 1: Subscribe to a good VPN (ExpressVPN is our #1 choice)
Step 2: Download and Install ExpressVPN on your preferred device
Step 3: Open the VPN app and connect to the US server (e.g. New York)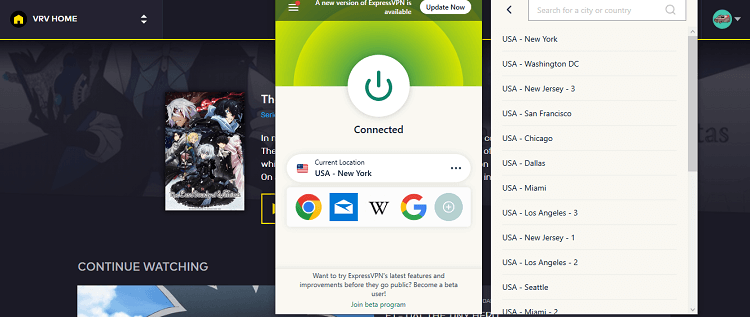 Step 4: Go to the VRV website and enter your email address and select Create Account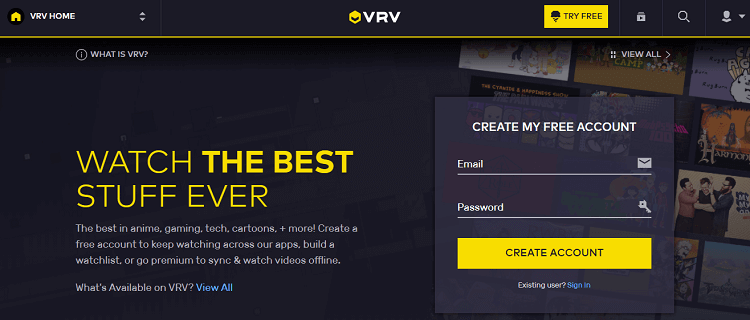 Step 5: Select your Avatar and enter your name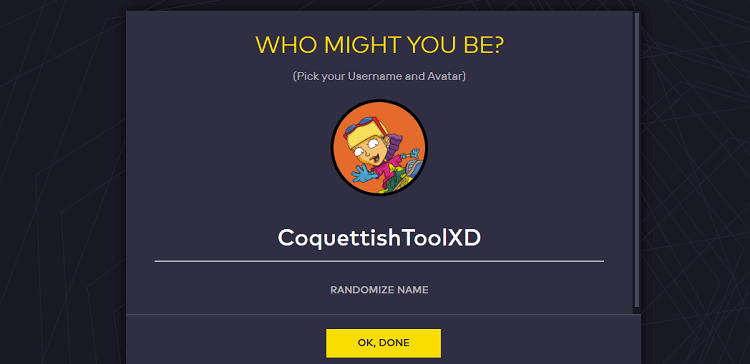 Step 6: Select Not Now to watch for free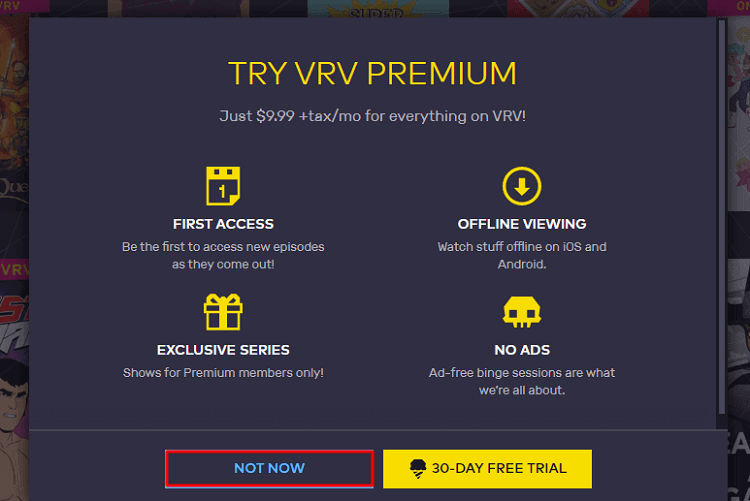 Step 7: Search for any content you want to stream e.g. Dragon Ball

Step 8: Click on Start Watching

Step 9: Click Play and enjoy streaming!

---
4 Best Ways to Watch Anime in Canada
Among the various ways to watch Anime in the Canadian region, we have discussed 4 ways. All of these streaming services are freemium (free + premium) except for Netflix, where you have to pay a subscription fee to access the service.
We have discussed their premium subscription, device compatibility, whether you require a VPN to access, and more.
VRV
Crunchyroll
Funimation
Netflix Japan
---
1. VRV

VRV is available on a variety of platforms, including Android, iOS, the Kindle, Amazon Fire TV, Android TV, Apple TV, Chromecast, Roku, LG and Samsung smart TVs, PlayStation 4, and Xbox One. It is also available on Amazon Fire Cube and FireStick. 
VRV sticks to the honor code rather than giving you an exact number of streams. If you are comfortable sharing the password, you can allow everyone in your family to use one account. 
VRV Premium gives you access to a lot of content, including Crunchyroll content, for just $9.99 a month.
---
2. Crunchyroll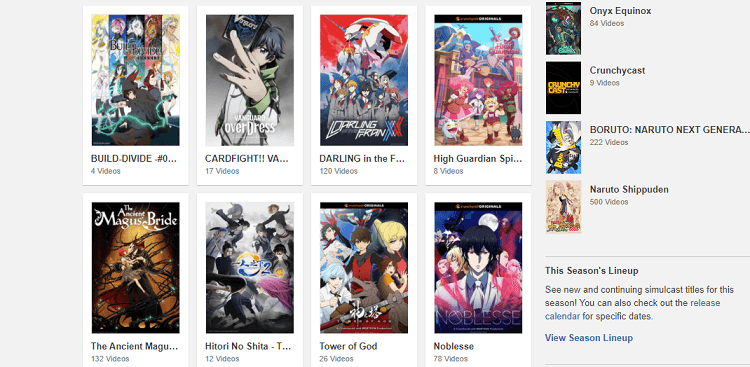 Crunchyroll is an anime streaming service that has strong support for simulcasts and a large catalog, making it one of the best ways to watch anime without cable.
The free version features ad-supported content but is not able to play all Crunchyroll's anime and manga. Premium users of Crunchyroll's $7.99-per-month plan are not subject to those limitations. You can enjoy 10,000 anime episodes at 1080p through your premium subscription.
In addition to media streaming platforms, Crunchyroll is available on multiple platforms and devices. Chromecast, Apple TV, Roku, and Fire TV. For mobile devices such as Android and iOS, these platforms work just as well.
---
3. Funimation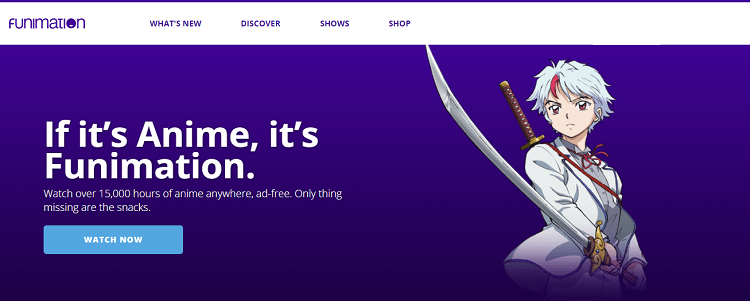 Funimation streaming service includes dubbed content. For those that don't enjoy subtitles. To access all of the 817 shows available on Funimation, you need a premium or ultra-premium subscription.
Based on your budget and preferences, you can choose between three plans. First up, there is a $5.99 USD monthly plan or $59.99 USD a year plan. It offers ad-free anime for the whole year. 
There is also a premium plus plan that costs $7.99 monthly, or $79.99 USD per year. The third premium is Plus Ultra, which costs $99.99 USD per year. 
Funimation is available on a variety of platforms, including Android, iOS, the Kindle, Amazon Fire TV, Android TV, Apple TV, Chromecast, Roku, LG and Samsung smart TVs, PlayStation 4, and Xbox One, regardless of the subscription price.
---
4. Netflix Japan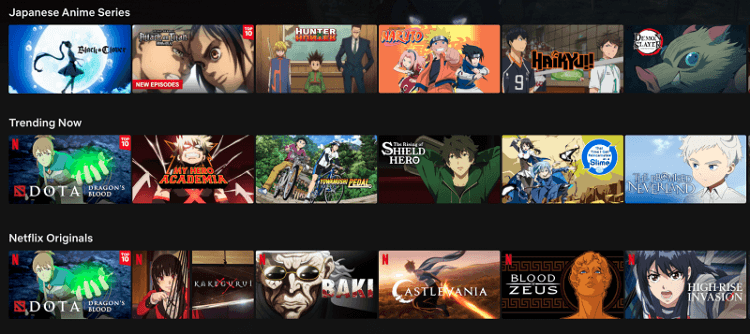 Netflix is one of the places to get started with anime in Canada. Netflix Japan is streaming some of the best anime shows of all time. But you will need to have a VPN and connect to the Japanese server in order to access Netflix Japan.
Subscribe to ExpressVPN and then connect to a Japanese server (Tokyo). After that, you will see an unlimited number of Manga and Anime on your homepage to surf. 
The basic plans cost about $9.99 per month. Whereas, the premium plan costs about $18.99 per month. 
The Netflix app is available on any Internet-connected device. It can be a streaming media player, smart TV, game console, set-top box, Blu-ray player, smartphone, tablet, PC, or laptop.
---
How to Watch Anime in Canada on Mobile
With the help of FireAnime APK, you can watch tons of dubbed and subbed Japanese Anime in Canada and that also without having to pay any subscription fee. But since it's a third-party app, you will need to use a VPN. 
Step 1: Subscribe to ExpressVPN
Step 2: Download and Install the ExpressVPN on your phone
Step 3: Open the ExpressVPN app and connect to the US server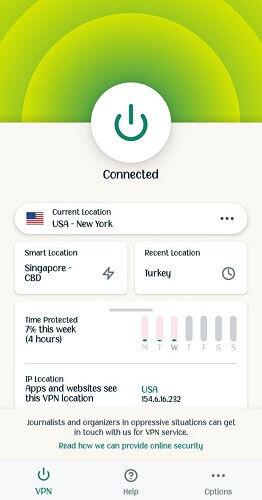 Step 4: Now download Fire Anime APK from this link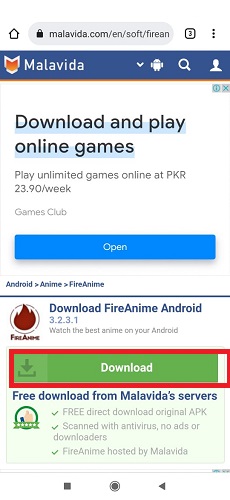 Step 5: Once the APK is downloaded, click Install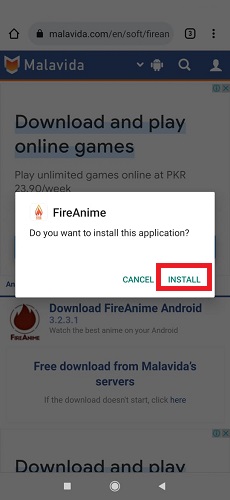 Step 6: Once installed, click Open. Select Get Started option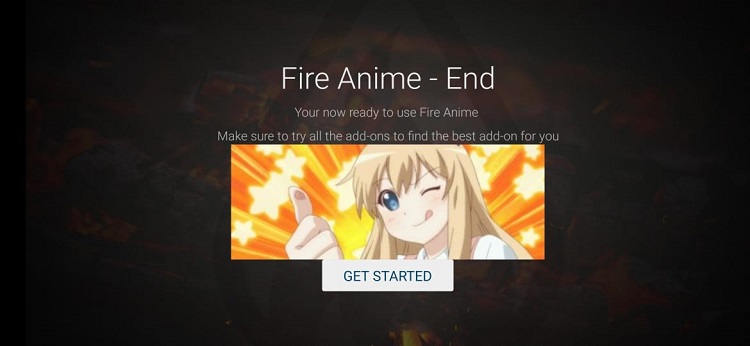 Step 7: You will be asked which device you want to stream the shows, so click Mobile and select Confirm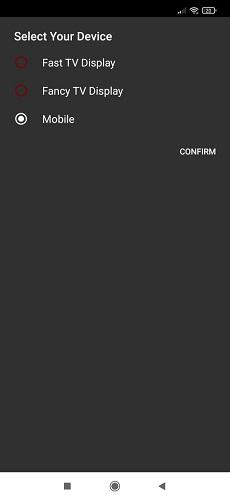 Step 8: This is the interface of Fire Anime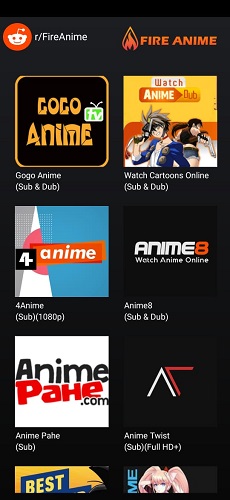 Step 9: Before streaming, you will once again be reminded that streaming content from a third-party app can be risky so it is better to use a VPN i.e. ExpressVPN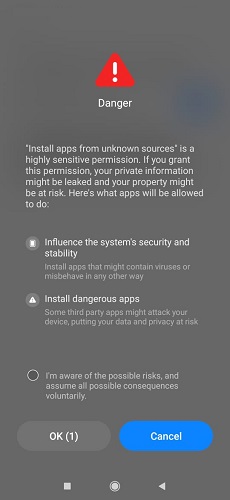 Step 10: Start unlimited streaming of your favorite anime shows

---
20 Best Anime Series with IMDb Rating
Following are some of the best Anime series according to IMDb ratings that can you can watch in Canada using the above-mentioned methods:
Death Note – 9.0/10
Attack on Titan – 9.0/10
Cowboy Bebop – 8.9/10
Fullmetal Alchemist: Brotherhood – 9.1/10
One Piece – 8.9/10
Hunter x Hunter – 9.0/10
Dragon Ball Z – 8.8/10
Neon Genesis Evangelion – 8.5/10
Steins; Gate – 8.8/10
Code Gease – 8.7/10
Monster – 8.7/10
Berserk – 8.7/10
Samurai Champloo – 8.6/10
Trigun – 8.2/10
Ghost in the Shell: Stand Alone Complex – 8.5/10
Mushi-Shi – 8.5/10
Gurren Lagann – 8.3/10
Yu Yu Hakusho: Ghost Files – 8.5/10
Ruroni Kenshin – 8.5/10
Dragon Ball Z Kai – 8.3/10
---
Other Shows/Movies to Watch in Canada
You can other shows/movies in Canada as well:
---
FAQs – Anime 
How much does Crunchyroll cost?
This subscription has a 14-day free trial and is $7.99 per month. The Crunchyroll Fan subscription gives you extra advantages and access to the whole library of anime, manga, and dorama in addition to completely eliminating all commercials and being ad-free.
Is AnimeLab available in Canada?
AnimeLab is one of the best streaming services to watch anime but unfortunately, it is unavailable in Canada.
Which country does Netflix have the most anime in?
You can find most anime series/movies on Netflix Japan that you can access in Canada by connecting to a Japanese server oven a reliable VPN.
---
Final Words
There's been an increase in the trend to watch Anime in Canada so we've compiled a list of streaming services that offer the best Anime content from around the world. 
VRV, Crunchyroll, Funimation, and Netflix (Japan) are some of the services that have the best Anime content. Some of these services do require the use of a VPN, and our recommendation for the best VPN is ExpressVPN.