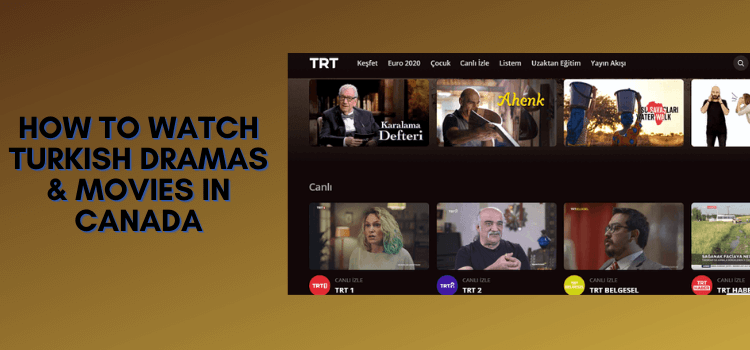 Famous Turkish dramas and movies like Çocukluk, Gönül Dağı, and Kefaret, etc. are the reason that even the people residing in Canada want to watch them. 
There are plenty of ways to watch Turkish dramas and movies in Canada with some of the free Turkish streaming services like PuhuTV, TRT1, and BluTV. But it requires you to have a VPN since these services are only available in Turkey. ExpressVPN is our recommended choice.
Our Recommended VPN – ExpressVPN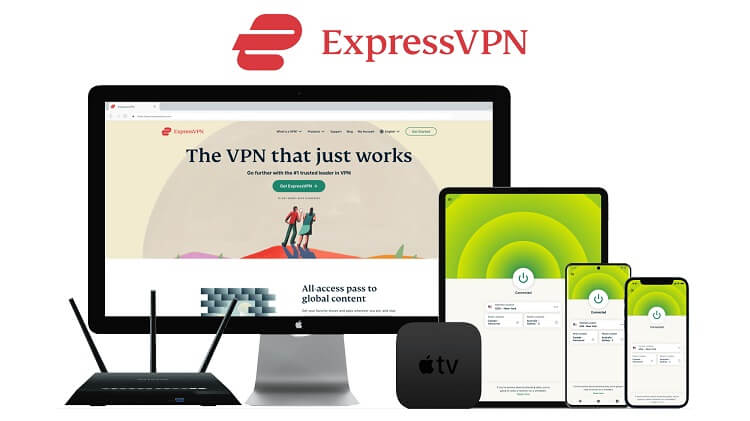 ExpressVPN is our recommended choice when it comes to unblocking Turkish Channels in Canada as it easily bypasses its geo-restrictions and keeps your online identity safe while streaming.
Get yourself ExpressVPN today and enjoy 3 extra months for free. You also get a 30-day money-back guarantee so use all of its features risk-free for 30-days.
We compiled a list of apps and services that happens to stream Turkish dramas in Canada and also how you can stream those Turkish dramas and movies on mobile.
---
How to Watch Turkish Channels in Canada
Among all the channels mentioned here, the best method to watch Turkish dramas in Canada is with PuhuTV. But unfortunately, the website is geo-restricted, which is why you need a VPN.
This site is ad-supported and all content is free to watch. Registering and logging in via Facebook are optional.
Step 1: Subscribe to a good VPN service (ExpressVPN is our #1 choice)
Step 2: Download and Install ExpressVPN on your preferred device
Step 3: Open the VPN app and connect to the Turkish server (e.g. Ankara)
Step 4: Go to the PuhuTV website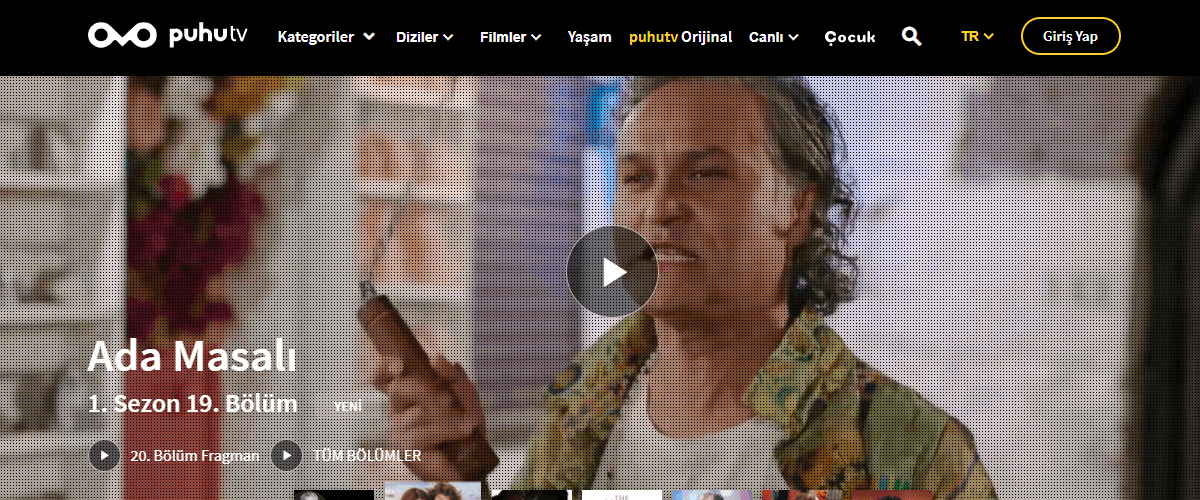 Step 5: Now select whichever show you want to watch

Step 6: Stream as many dramas and movies as you like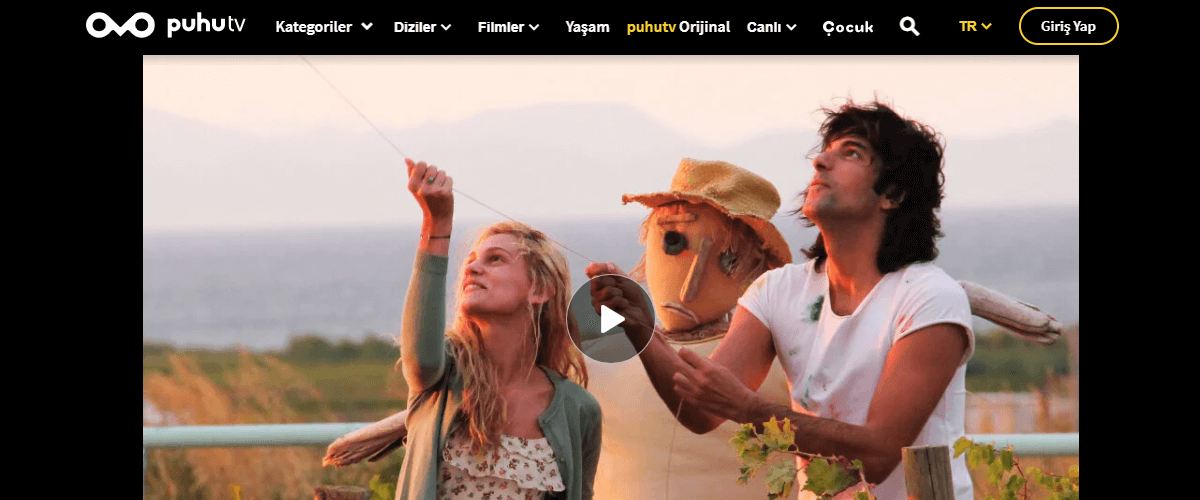 ---
3 Best Ways to Watch Turkish Dramas in Canada
You don't have to worry if you live in Canada and want to access Turkish content. We have listed down 3 of the best ways you can watch famous Turkish Dramas and movies.
We have discussed everything about these services from shows that you can watch, pricing plan (if any), device compatibility, and more:
PUHUTV

TRT1

Blu TV
---
1. PUHUTV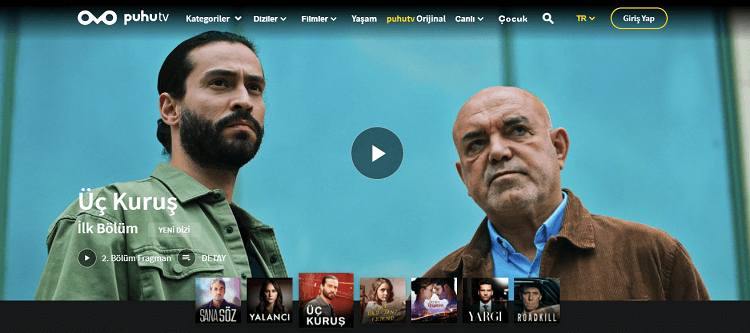 PuhuTV has a variety of Turkish TV series available. You cannot access PuhuTV's content from Canada without a VPN, since it is only available to Turks. ExpressVPN is our recommended choice.
In addition to being available on the web, PuhuTV also has an Android and iOS app. No paid version is available; all content is free and ad-supported. There is an optional registration process, and a Facebook login is also available.
Read more: How to Watch PuhuTV in Canada
---
2. TRT1 
TRT1 is another free streaming channel and service that happens to stream Turkish content whether it be Movies or TV Shows.  
Like PuhuTV, TRT1 is also available in Turkey only. That is why you will be needing a VPN to access the service in Canada. ExpressVPN is simply our recommended choice that has servers in 3 Turkish cities. 
Read More: How to Watch TRT1 in Canada.
---
3. BluTV 

BluTV is one of the biggest streaming platforms in Turkey which is also a free streaming service like the others that I have mentioned. Global video-on-demand service BluTV holds the largest market share of digital media platforms in Turkey, surpassing Netflix according to first-quarter data.
The service is only free for 7 days but after that, you will need to pay ₺12.90/month. BluTV is showing a number of series, movies, Live TV, and documentaries. You can surf through thousands of options and enjoy the Turkish content. It is also geo-restricted in Canada, which means you will also have to use a VPN (ExpressVPN).
---
How to Watch Turkish Dramas and Movies in Canada on Mobile
You can even watch your favorite Turkish shows on your phone with the help of Rapid Streamz APK. You won't even have to pay a subscription fee, but since this is a third-party app, you will need a VPN.
Step 1: Subscribe to ExpressVPN
Step 2: Download and Install ExpressVPN app on your device
Step 3: Open the VPN and connect to the Turkish server
Step 4: Now download Rapid Streamz APK from this link and click on the Download App option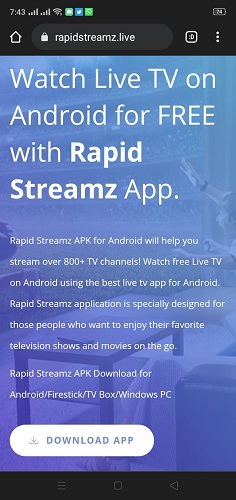 Step 5: Once downloaded, click Install to install it on your Android phone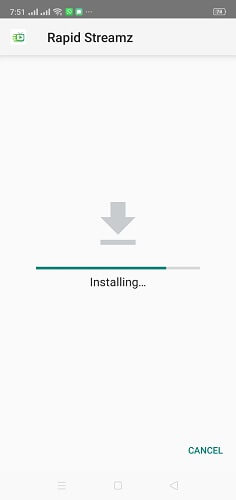 Step 6: After accepting the "terms and conditions" you can choose whichever country's channels you want to watch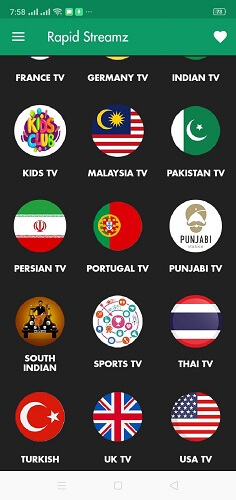 Step 7: Select a channel you want to watch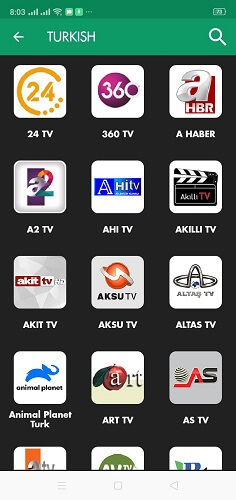 Step 8: Now select a player you want to stream on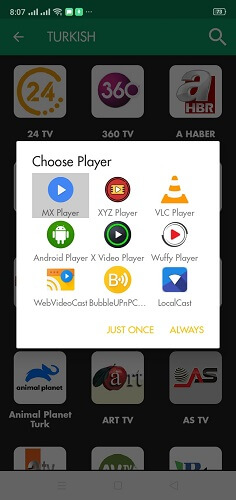 Step 9: Now you can stream the live broadcast of the selected show

---
What Other Country Channels You Can Watch in Canada?
Apart from Turkey, you can watch other countries' channels as well but only if you have a VPN. Here's a list of country's channels that you can watch:
---
Final Words
Boundaries become an illusion when you have the right VPN by your side. If you want to stream Turkish content then you must have a VPN to pass the geo-restriction and enjoy the unlimited movies and dramas.
Or, you can also download Rapid Streamz to surf the Turkish content without using any VPN. Whatever you may choose, your entertainment is guaranteed and promised.