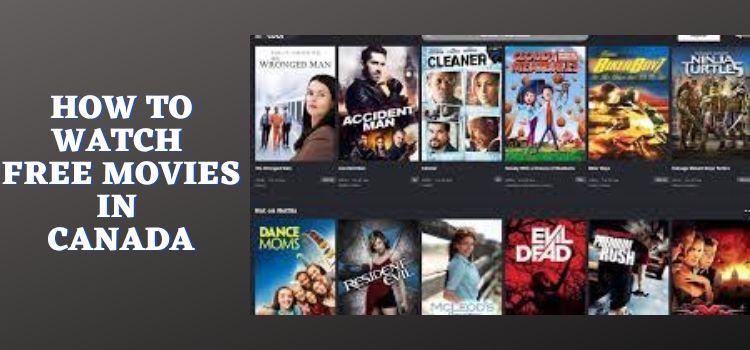 There is no doubt that watching movies is everybody's favorite pastime, and free movies feel even better.
After all, who wouldn't like streaming without emptying their pockets? I have covered an extensive list of free and legal streaming services that helps you watch free movies in Canada. 
Some of these streaming services are geo-restricted in Canada, which is why we would recommend using a VPN. ExpressVPN is our #1 choice.
How to Watch Free Movies in Canada (15+ Services List)
Tubi TV

Roku Channel

Yidio

Kanopy

Classic cinema online

Free movies cinema

CTV

Veoh

MUBI

Moviesfoundonline

Folkstream

Open Culture

Sony Crackle

Popcornflix

Pluto

VUDU
---
1. Tubi TV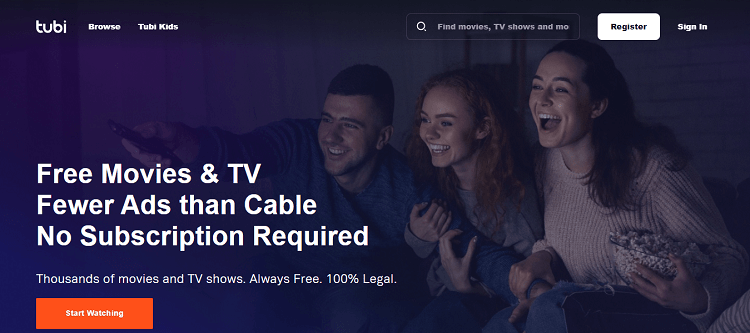 Tubi TV offers legal movies for free. The Tubi TV free movies website has many good movies. You'll never need a credit card. 
There is no exceptional content and not much in the way of new releases, but the selection is huge and seems to be updated all the time.
However, Tubi TV runs advertising before and during movies. Tubi Tv is compatible with, pc, tablets, set-top boxes, and phones.
Below is a list of some of the movies you can find on Tubi TV:
Jaws.  

Into the Blue. 

Everybody Hates Chris.

Tyler Perry's Madea Goes to Jail.

Bone Tomahawk. 
Read More: How to Watch Tubi in Canada
---
2. Roku Channel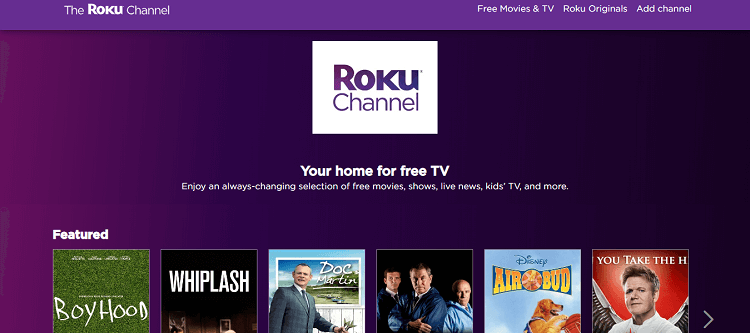 The Roku Channel offers access to free streaming video on demand. The Roku Channel can be added to any Roku TV or streaming player.
This free movie website is financed in part by advertisements, which in turn provide you with HD video and the latest releases. 
Below is the list of some of the movies you can stream online on the Roku Channel and watch free movies in Canada:
The Taking of Pelham 1 2 3

Run All Night 

The Last Stand 

The 5th Wave 
Since The Roku Channel is available only in the US, you would require a VPN (i.e. ExpressVPN) and connect to the US server.
Read More: How to Watch The Roku Channel in Canada
---
3. Yidio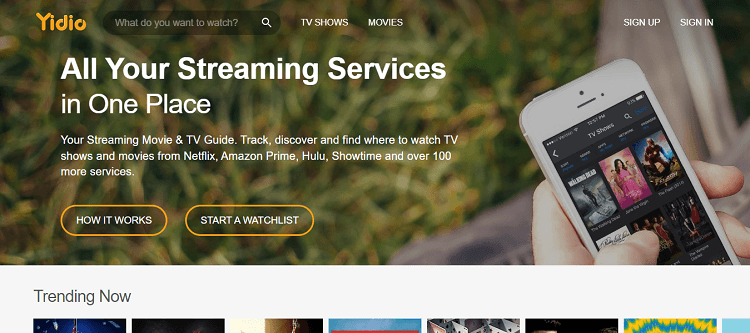 If you're looking for a place to watch free movies in Canada, you should definitely check out Yidio. Many of the movies on Yidio require payment because they have content from services such as Amazon Prime, Netflix, and Vudu.
However, the website includes a "Free" section that only lists free movies. Some of the many film subgenres available include romance, classics, horror, animation, science fiction, fantasy, comedy, cult movies, westerns, action, adventure, and drama.
---
4. Kanopy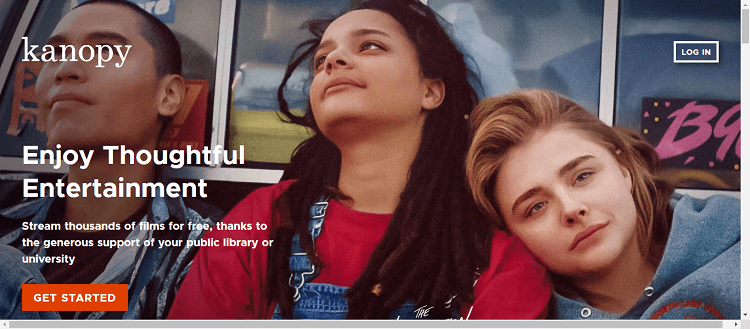 Kanopy is a fantastic resource for finding films to watch on your next game night. When it comes to streaming the best and brightest films of all time, Kanopy has been one of the most popular options.
Their software which lets customers view movies and documentaries without interruptions is remarkable. Kanopy is a free service that provides access to the film collections of public library systems and academic institutions. 
---
5. Classic Cinema Online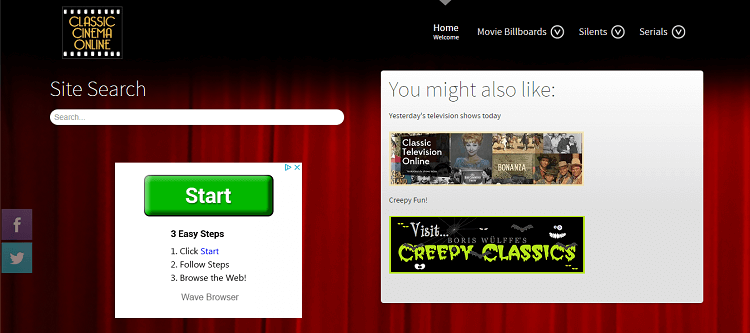 Classic Cinema Online offers free movies from all genres, including comedies and dramas. The viewers can browse a diverse selection of films ranging from action to westerns, each of which is a timeless classic.
Classic Cinema's sheer volume of silent films is what distinguishes it from other websites. It also includes a plethora of vintage film clips and film shorts, all of which have historical significance. 
The website may not have a large film library, but it does have a lot of material for people of all ages. It is definitely a good choice for old-school movies.
---
6. Free Movies Cinema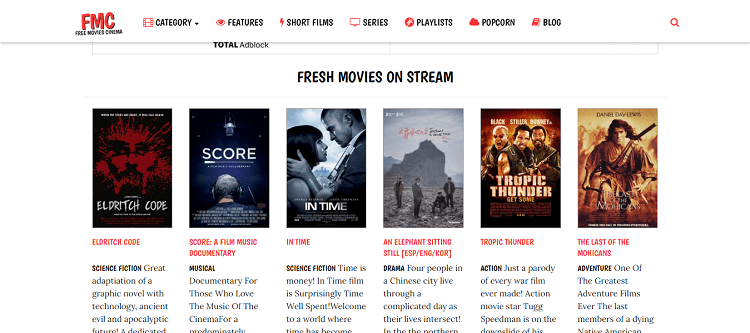 At Free Movies Cinema, you can watch movies and TV shows online for free without creating an account.
Every movie ever made is organized into easy-to-navigate categories on Free Movies Cinema. Movies Cinema's Popular page also has free movies. You can also sort the list by how popular a film is or how many people have seen it.
---
7. CTV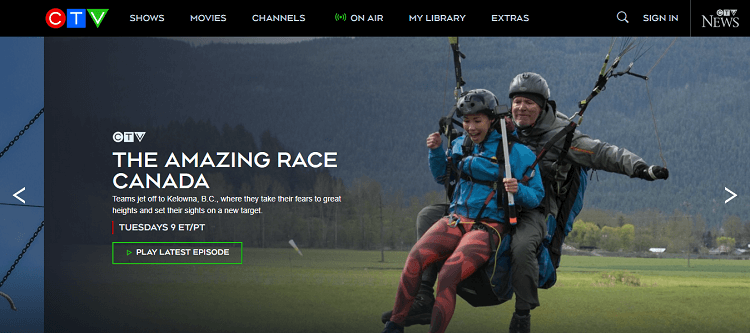 CTV has been broadcasting in Canada since the 1960s, making it one of the country's most innovative and prominent television stations. 
On CTV, you can watch TV shows and movies without a subscription. It's important to remember that many series and movies require a cable subscription to watch, but there's also plenty of content available without one.
CV offers a wide range of American and Canadian TV programming as well as a diverse film library. Although the site contains advertisements, they load quickly.
Read More: How to Watch CTV outside Canada
---
8. Veoh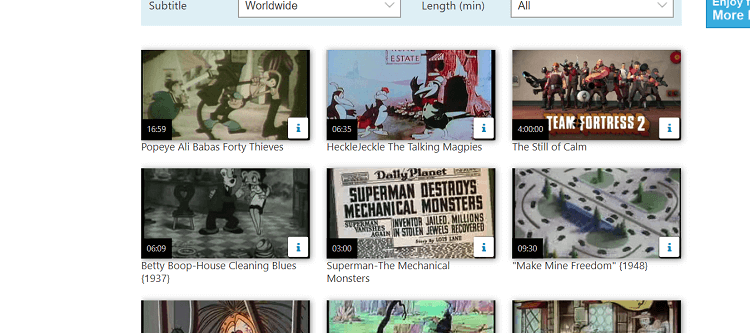 Veoh is one of the best websites in Canada and elsewhere to watch free movies online. It provides a diverse selection of films for your viewing pleasure. Among the many recordings available on the site are over 600 movies.
Veoh is a movie streaming website that provides free movies of various lengths and genres, such as Action & Adventure, Comedy, Crime, Mystery Documentary,  Biography, Drama, Family, Horror, Music & Musicals, Romance, SciFi & Fantasy.
Veoh has an incredibly well-designed web index that allows you to filter results by category, popularity, release date, play time, language, subtitles, and other criteria.
---
9. MUBI

Watch international cult, classic, independent, and award-winning films online with MUBI. You may view movies online for free for a week on this website. 
Your chosen library will be stored for later retrieval, and a monthly subscription to the movie pack will allow you to watch your movies whenever you like.
The platform offers various media you can access from any location. There is a new film MUBI introduces to you every day, and you can keep watching it for an entire month.
MUBI is unavailable in Canada, so once again you will need a VPN (such as ExpressVPN) and connect to the US server prior to streaming.
Read More: How to Watch MUBI in Canada
---
10. Movies found online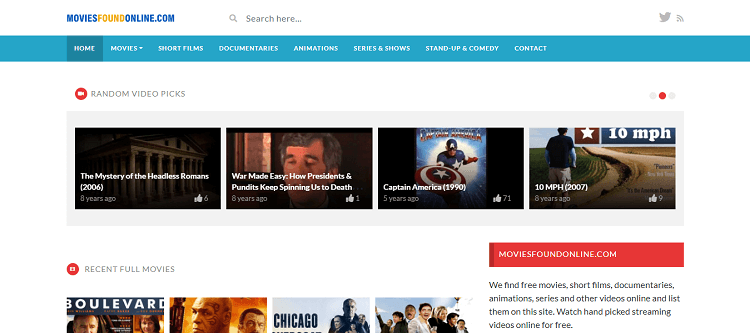 Moviesfoundonline.com is a free online video library that includes full-length features, shorts, documentaries, animations, and television shows. 
The most recent movies are available online, and you can view them legally and for free at Movies Found Online. Hence you can watch and share movies for free.
Action, Mystery, Horror, Comedy, Adventure, Family, Surreal, Fantasy, Western, Short Films, Animation, Bizarre, Science Fiction, Romance, Horror, Thriller, and Biography are just a few of the genres available to you.
The website tracks the most viewed, enjoyed, and reviewed movies daily and is displayed on the site for your convenience. 
---
11. Folkstreams

If you're curious about the rich history and culture of the US, then Folkstreams is the place to go. Each film is in its proper artistic and thematic way. You can read transcripts of some movies if you want to. 
Users can search the collection in a variety of ways, including by film, director, theme, geographical region, and individual names.
Searchable resources include movies, their transcripts, and papers published about movies. This site will definitely appeal to people who are interested in the history of narrative film and the social culture of the United States.
---
12. Openculture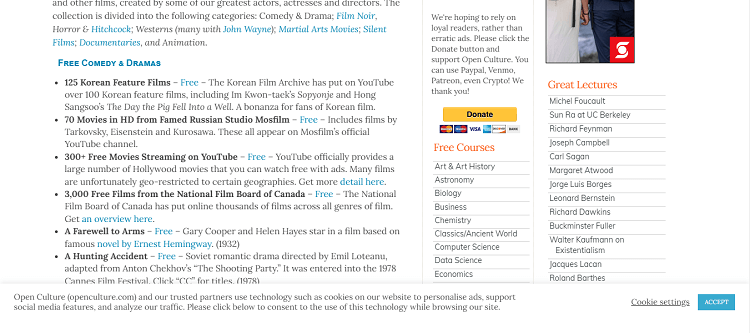 You can view more than 4000 films that Openculture has hand-picked because they are amazing for no cost. It is unique in that there are no membership fees. This service seeks to provide educational content in addition to free streaming movies.
The Open Culture Movies website relies on advertising revenue to operate; however, you can donate to support their effort if you'd like.
---
13. Sony Crackle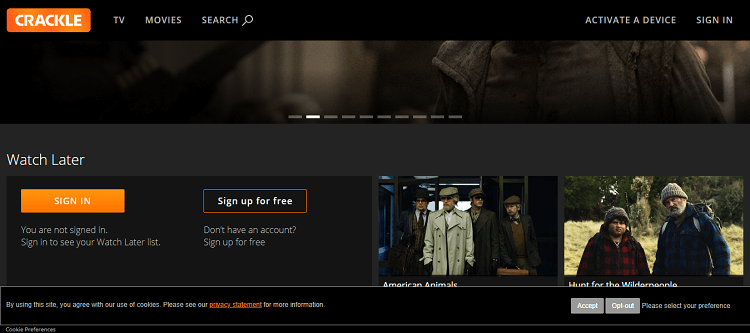 Crackle, Sony's OTT service, is only available in the United States. The name was changed from Grouper to Crackle (Sony Crackle).
Because of its extensive library of original and syndicated programming, Crackle is a must-have for any movie fan. Its genre offerings change frequently, but you can always expect to find good movies here.
In addition to movies, Crackle provides its users with original series. "To Activate a device" in the top-right corner allows you to watch Crackle on your television.
It is completely free to use, with funds raised by advertisements that appear before and during videos. Crackle is free because there is no premium option to support the service on a monthly basis.
However, Crackle is restricted in Canada, so you'll need to use a reliable VPN, such as ExpressVPN, and connect to the US server before streaming.
Read More: How to Watch Crackle in Canada
---
14. Popcornflix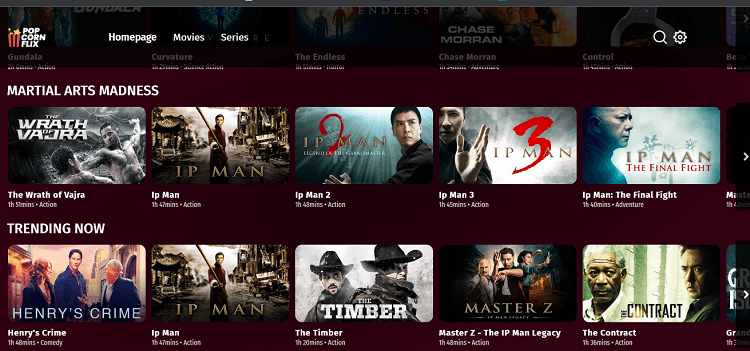 Popcornflix provides a large selection of free movies from various genres that can be viewed without creating an account. Many episodes of popular television shows are also available for free viewing.
Popcornflix, like Crackle, allows you to watch entire movies with little interruption by advertisements. You can sign up for free and start watching a variety of movies that are added on a regular basis.
You can also add comments that are linked to specific frames of the movie, allowing other viewers to read your thoughts as you make them throughout the movie. 
However, Popcornflix is inaccessible in Canada, so you'll need to connect to a US server via a reliable VPN, such as ExpressVPN.
Read More: How to Watch Popcornflix in Canada
---
15. Pluto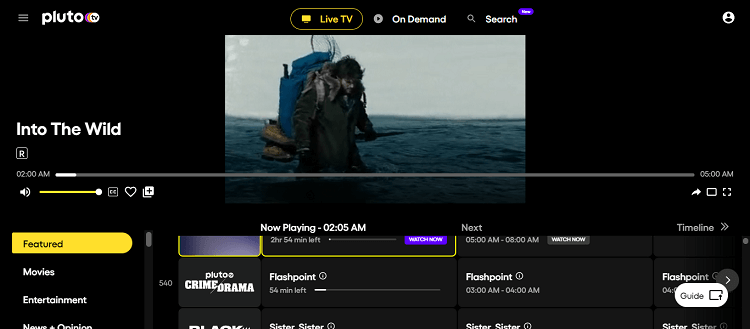 Pluto TV is an online TV streaming service. Unlike many other streaming services such as Prime Video, Netflix, and others, Pluto TV is free. 
Pluto TV's content has a broad range of legally free sources and organizes content into categories such as news, sports, entertainment, music, radio, and many others. There's a Live TV section where you can browse channels as you would with a cable subscription. 
Pluto TV is currently available on a wide range of devices. Pluto TV apps are available for Windows, Mac, Android, iOS, Amazon Fire TV Stick, Apple TV, PlayStation 4, and Chromecast, among other platforms and devices.
There are advertisements in the middle of films, but they are far fewer and less frequent than on paid channels. However, Pluto is inaccessible in Canada.
Hence you will need to connect to a US server from a reliable VPN, such as ExpressVPN.
Read More: How to Watch Pluto TV in Canada
---
16. VUDU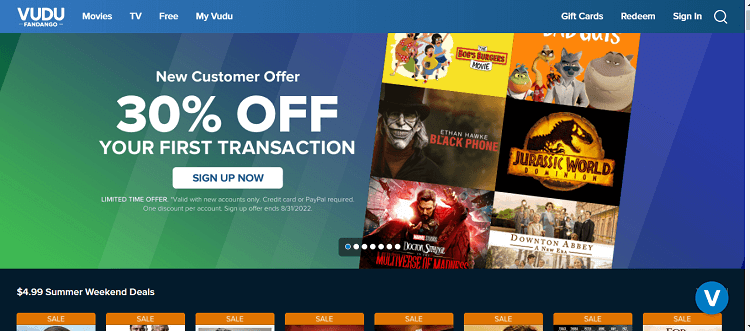 Vudu is best known for digital video rentals and sales, but it also has a large library of movies available for free streaming.
Vudu's free area, like Crackle's, provides complete movies with minimal ad breaks. Vudu is able to legally provide users with free movies and TV episodes by hosting films with advertisements.
This service requires a Vudu account, but creating one is free and well worth your time. You can use your Vudu account to watch movies and TV shows online, as well as buy and rent movies and TV shows
However, Vudu is inaccessible in Canada, so you'll need to use a reliable VPN, such as ExpressVPN to connect to a US server before streaming.
Read More: How to Watch VUDU in Canada
---
FAQs – Free Movies in Canada
Is Tubi legal in Canada?
Yes! The streaming of Tubi TV is not illegal in Canada. The use of virtual private networks (VPNs) to access and view content on geo-blocked websites like Tubi tv is not illegal in Canada.
Is free streaming legal in Canada?
Simply because a website provides its content without charge does not make it illegal. They are legitimate if they obtain their content in an legal manner. The only reason why streaming sites are forbidden is because of copyright violations. 
---
Conclusion
In the article above, I have listed down a list of websites where you can watch free movies in Canada and enjoy them.
Some of the websites are inaccessible in Canada due to geo-restrictions. However, you can easily access them by using a reliable VPN, such as ExpressVPN. I also have added websites that are accessible in Canada without any restrictions.