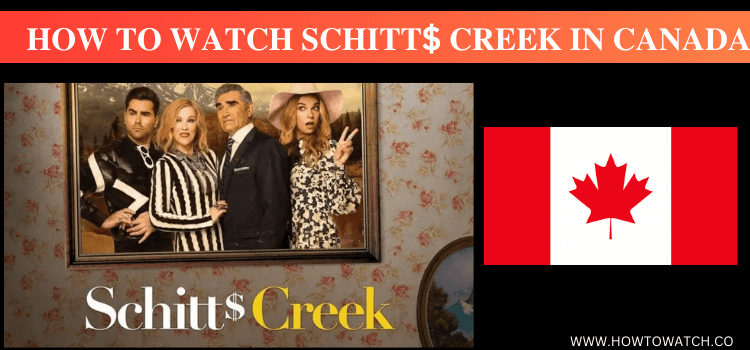 Schitt's Creek is a comedy Sitcom that has become wildly famous in recent years. The show has received widespread critical praise for its clever comedy.
It's the story of a married couple who suddenly goes bankrupt and lives in an ugly small town named Schitts Creek. It has a total of 6 seasons and the last season was released in 2020.
You can watch Schitt's Creek in Canada with CBC Gem (which is free and available in Canada) and also on Hulu, Prime Video, and Netflix.
If you're streaming on Hulu, then you will need to use a VPN (i.e. ExpressVPN) and connect to the US server because the service is geo-blocked in Canada. You get to unlock many TV series with Hulu.
Our Recommended VPN – ExpressVPN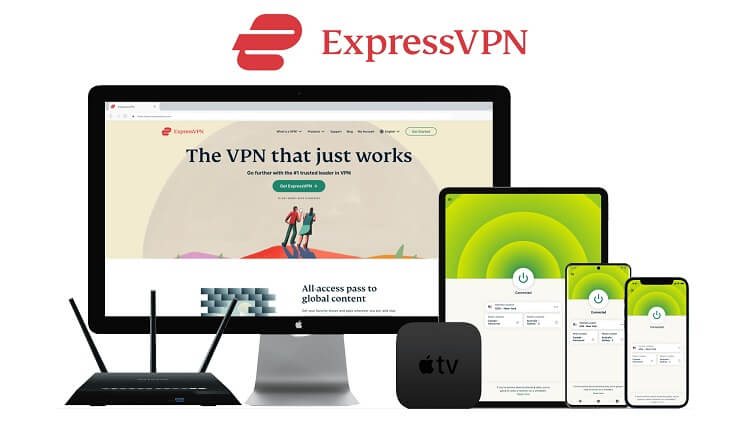 ExpressVPN is our recommended choice when it comes to watching Schitts Creek in Canada, as it easily bypasses Hulu geo-restrictions and keeps your online identity safe while streaming.
Get yourself ExpressVPN today and enjoy 3 extra months for free. You also get a 30-day money-back guarantee so use all of its features risk-free for 30 days.
---
How to Watch Schitts Creek in Canada [Easy Ways]
The most convenient way to catch up on Schitts Creek is CBC Gem. You can watch the show on the platform for free.
You will need to sign up for a free registration with CBC. Follow these steps to watch Schitts Creek in Canada:
Step 1: Go to the CBC Gem website and click on the search icon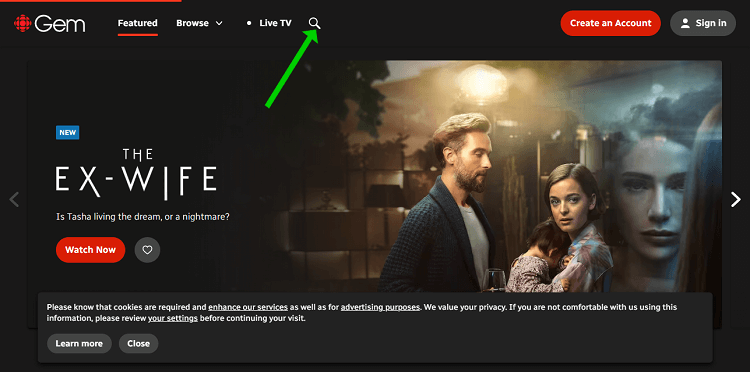 Step 2: Search for Schitts Creek and click on the relevant option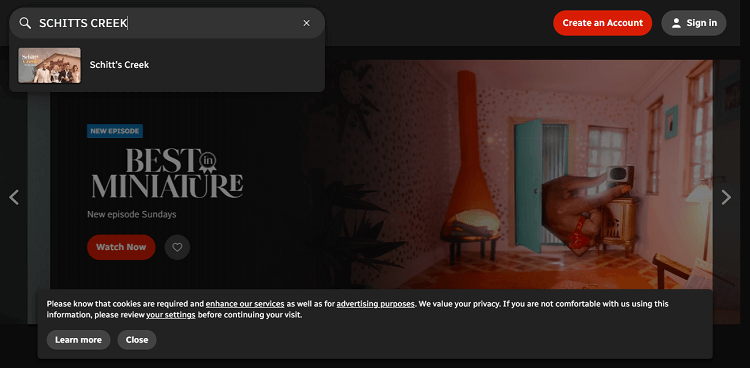 Step 3: Choose the episode you want e.g S1E1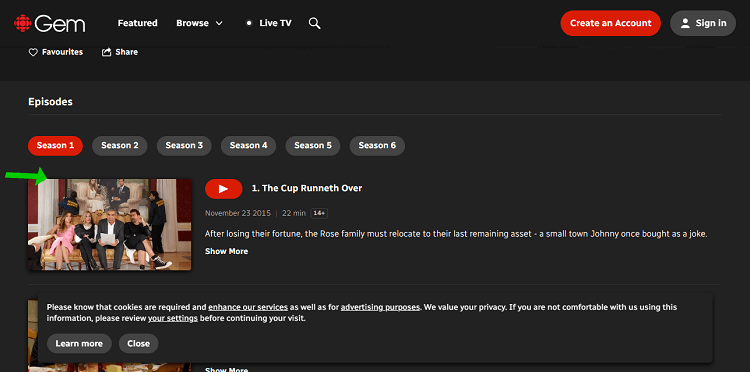 Step 4: Wait for the ads and start streaming!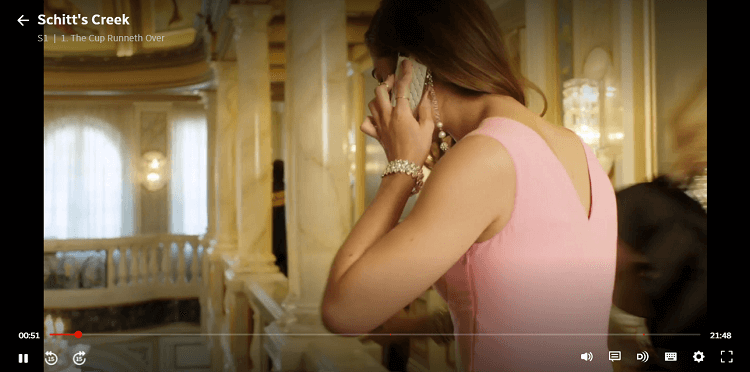 ---
4 Ways to Watch Schitts Creek in Canada
There are several ways to watch Schitts Creek in Canada. I have discussed both free and premium ways. You can choose the one that works best for you.
1. CBC Gem (Free)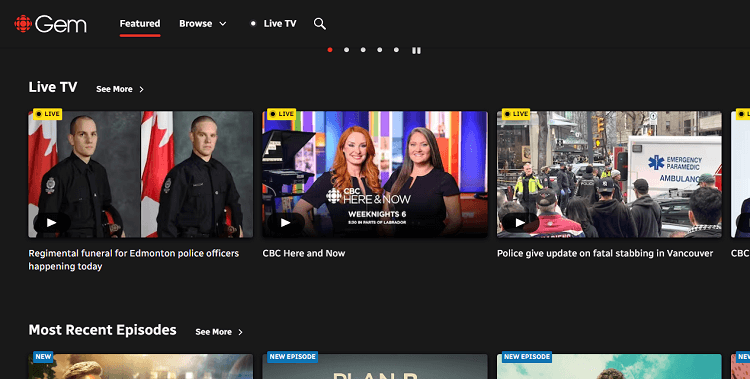 In Canada, CBC Gem is your best bet for catching up on Schitt's Creek. All six seasons of Schitt's Creek are available to view for free.
The one drawback to CBC Gem is that it has ads, so you might have to sit through a few ads while you watch the show. It's a minor inconvenience, but it's worth it to avoid paying.
---
2. Hulu (Premium)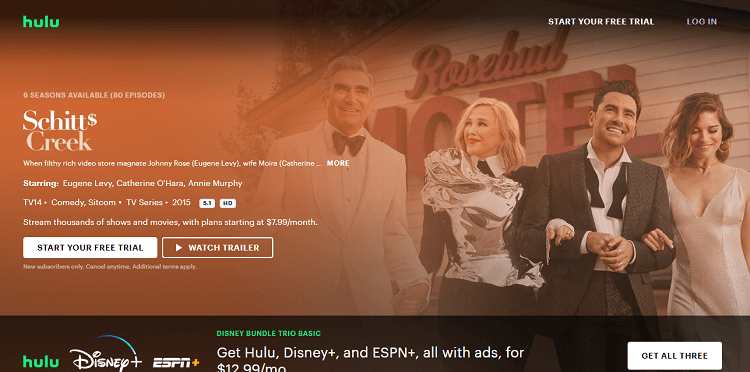 One of the ways to catch up on Schitts Creek is Hulu. The streaming platform has exclusive rights in the US to stream the show.
Hulu's costs start from $7.99/month. Hulu not only has Schitt's Creek but also a huge library of other TV programs and videos.
However, the US streaming platform is not available in Canada. Hence, you will need a premium VPN, such as ExpressVPN to access Hulu.
Read More: Watch Hulu in Canada
---
3. Netflix (Premium)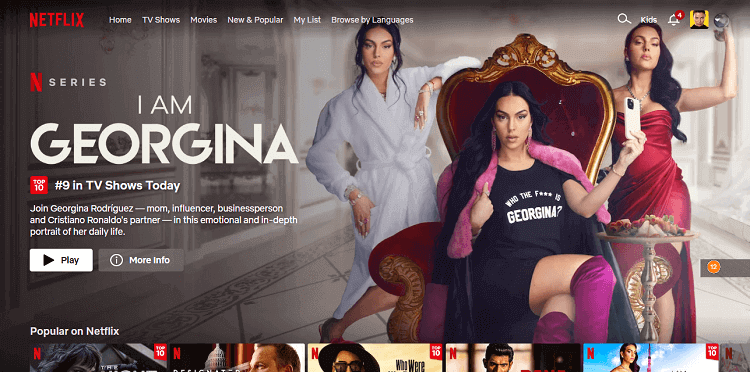 In Canada, Schitt's Creek is no longer available on Netflix. However, the UK Netflix still has all six seasons of the show available. 
The cheapest Netflix package costs $9.99/month, and the most expensive costs $19.99/month. It is important to use a VPN such as ExpressVPN and connect to a UK server to watch the show on Netflix.
Read More: Watch American Netflix in Canada
---
4. Prime Video (Premium)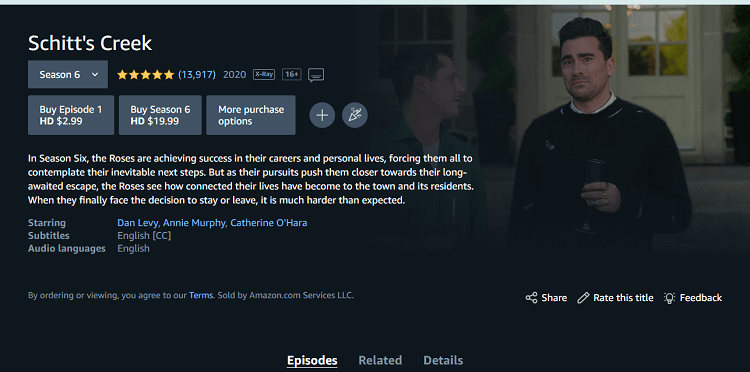 You can buy seasons of Schitt's Creek from Prime Video. Unfortunately, this is restricted to US audiences only, hence you will need to use a VPN such as ExpressVPN.
You can purchases episodes for an average of $1.99, while full seasons can cost anywhere from $14.99 to $29.99
Read More: Watch Prime Video in Canada
---
Schitt's Creek: Rags to Riches
The Canadian comedy series Schitt's Creek rapidly acquired a devoted fan base after its 2015 debut. The program follows the family as they settle into their new home and engage with the eccentric locals.
Eugene Levy's real-life son, Dan Levy, also stars in the show, playing Eugene's character's son, David Rose. Catherine O'Hara as Moira Rose and Annie Murphy as Alexis Rose round out the household.
The show's comedy and emotion come from its diverse cast of characters. People like Roland Schitt (Chris Elliott), mayor of Schitt's Creek, and Stevie Budd, motel attendant, are just as unforgettable. 
Schitt's Creek deviates from the typical "rags-to-riches" plot by examining what happens when a formerly privileged family loses its status and fortune.
The program is humorous and touching, with a strong emphasis on the importance of family and individual development.
Overall, Schitt's Creek is an uplifting comedy that delivers a touching message about the value of family and self-improvement.  Its diverse ensemble of personalities and innovative storytelling style has made it a global hit.
---
Other Shows to watch in Canada
If you love spending your free time watching shows, we have more recommendations for you, They include: 
The story depicts a young man from Philadelphia who is moved to the wealthy neighborhood of Bel-Air, Los Angeles, to live with his wealthy aunt and uncle.
Naruto Uzumaki, is the protagonist of the show. The show takes place in a parallel universe where ninjas are both admired and despised for their combat skills.
A feisty police detective is assigned to investigate a string of brutal killings in a sleepy West Yorkshire village.
You can also watch other TV series in Canada such as Catfish: The TV Show, Summer House, The Real Housewives, King Charles: The Boy Who Walked Alone, etc.
---
FAQs – Schitts Creek
Is Schitt's Creek based on a true story?
No, Schitt's Creek is not based on a true story. It was created by Eugene Levy and his son Dan Levy, who also star in the show.
Why did Schitt's Creek end after six seasons?
The decision to end Schitt's Creek after six seasons was a creative one as creators felt that the story had reached its natural conclusion.
Has Schitt's Creek won any awards?
Yes, Schitt's Creek has won numerous awards, including several Emmy Awards, Screen Actors Guild Awards, and Critics' Choice Awards.
---
Conclusion
In conclusion, Schitt's Creek emerges as a critically praised and hilarious comedy that has seen massive success in recent years. You can watch Schitts Creek in Canada in several ways. 
CBC Gem is the most convenient method to view the show because it is free and available in Canada.
Premium services like Hulu, Netflix, and Amazon Prime Video are also accessible, but users will need to pay extra for a VPN in order to do so. It is important to use a trusted VPN such as ExpressVPN to bypass geo-restrictions.